– Karim Sayad follows four former smugglers from Nigeria wrestling with a reality light on other options, and successfully captures the desperate poetry of their plight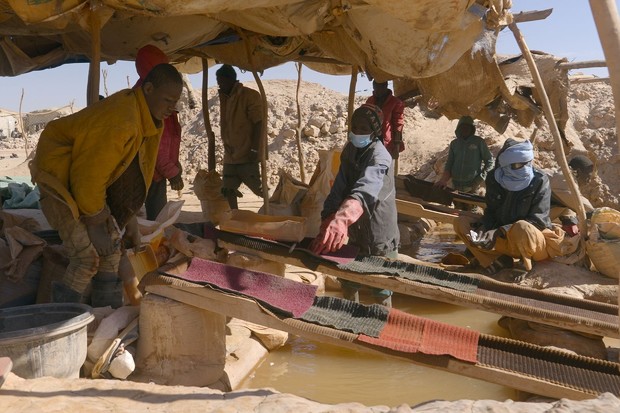 Shot in Agadez, the biggest city in northern Nigeria, located in the Sahara Desert, 2G [+see also:
trailer
film profile] – which is the fourth feature film by Swiss-Algerian director Karim Sayad, presented in a world premiere within the Frontlight section of IDFA – is a hypnotic film capturing the contradictions inherent to a region which has made survival its creed. Bathed in the crepuscular and fleeting light of the desert (wonderfully captured by the director, despite the obvious technical challenges at play), the film focuses on a group of men: Ibrahim, his son Abdelsalam, Daouda and El Bak, who, following the government's ban on transporting illegal migrants across the desert, are forced to find alternative solutions to survive. The act of trafficking human beings, which the film's protagonists carried out with genuine detachment, as if a necessary and unavoidable task, could never be condoned, but the reasons these protagonists put forward and the lack of alternatives available to them urge us to think about what these "tyrants" truly have to contend with.
Attempting to lay out the facts objectively, without judgement, so as to highlight the complexity and ambiguity of such cruelly commonplace commercial transactions, Sayad immerses us in an apocalyptic-toned universe, dominated by contrasts in light which mimic the violence of feeling felt by his protagonists. Converted into reckless, desert-based gold-seekers and drivers who'll do anything to deliver a few bags of pulverised stone, Ibrahim, Abdelsalam, Daouda and El Bak modestly share their lives with us by way of an ever-relevant voice-over.
Although traces of their previous lives as smugglers continue to seep into their current reality (the scene where Ibrahim and his son, while bouncing along in their car, cross paths with a van which is clearly full to bursting with migrants, is particularly significant in this respect), they're now wholly devoted to survival. Resigned to their fate, which some see as preferable to an exile which comes with no guarantees, former smugglers such as these fall into two categories: those who throw themselves into prospecting for gold, afraid of nothing but God, and those who opt for the less lucrative but also less risky activity ("Gold changes you," as one of the protagonists insists) of transporting goods across the desert.
Dominated by men, by cars suffocated by sand whirling up around them in a dizzying dance, and by a staggering expanse where the light seems to hail from whole other worlds, 2G is a film emanating a serene yet cruel aura, a pragmatic but poetic air. Like the desert light and the embittered, greedy faces of those who finally succeed in finding gold, anything seems capable of changing in an instant.
The film's music – entrusted to Vuk Vukmanovic who also composed the end-credit song for The Battle of Algiers by directorial masters Ennio Morricone and Bruno Nicolai – provides the story with some much-needed breathing space. And through Sayad's close-ups on the protagonists' restless and dust-covered hands, meanwhile, as they adjust their turbans or try to locate even the weakest of telephone signals, these characters' movements become moments of choreography, releasing them from their burdens and liberating them from the toil of everyday life. Like the bean plant which one of the gold-seekers is growing in the desert, the film's protagonists are trying to survive in a place which might very well be hostile, but which is also very much their home.
2G is produced by Close Up Films together with SRG SSR and RTS Radio Télévision Suisse. Filmotor S.R.O. are managing international sales.
(Translated from Italian)