– The Italian picture has also snagged the Award for Best Actor, whilst the gong for Best First Feature went to Loren Taylor's The Moon Is Upside Down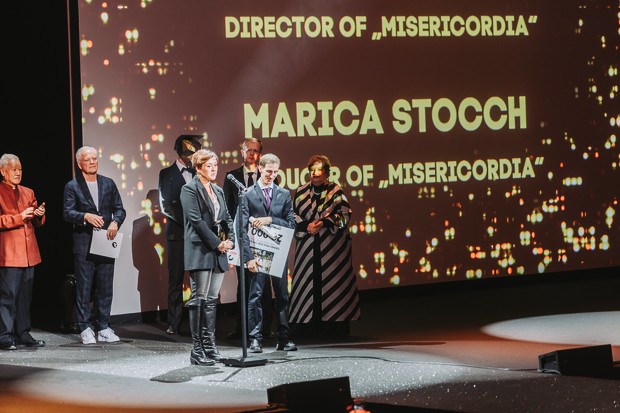 Misericordia producer Marica Stocchi and actor Simone Zambelli together on stage (© Liis Reiman)
It's a wrap for the 27th Tallinn Black Nights Film Festival, which unspooled from 3-19 November. This year's award winners were announced at the closing gala, held at the Estonian capital's Alexela Concert Hall on Saturday night.
Ten years on from Paolo Sorrentino's The Great Beauty [+see also:
film review
trailer
interview: Paolo Sorrentino
film profile], Italy snagged the Grand Prix once again with Emma Dante's Misericordia [+see also:
film review
trailer
interview: Emma Dante
film profile], the film adaptation of Dante's 2020 stage play. The story follows three prostitutes who live in a wasteland where a village of outcasts has emerged. There, the only ray of light in their lives is Arturo, whom they care for together. The actor portraying Arturo, Simone Zambelli, scooped the Award for Best Actor. The jury described Misericordia as "a powerful film about how to stay supportive and, above all, exhibit humanity in a marginalised environment".
Meanwhile, the Best Director Award was handed to Manuel Martín Cuenca for Andrea's Love [+see also:
film review
trailer
interview: Manuel Martín Cuenca
film profile] (Spain). The jury praised "his ability to direct a human story told with heart, flair, and respect for its characters and their circumstances". Andrea's Love also scooped the Best Script Award, which was bestowed upon Cuenca and co-writer Lola Mayo.
Next, both Lubna Azabal and Kim Higelin won the Award for Best Actress. Azabal was praised for "her powerful and stunning portrayal of an idealistic teacher struggling with preconceived ideas" in Jawad Rhalib's Amal [+see also:
film review
interview: Jawad Rhalib
film profile] (Belgium), while Higelin received hers thanks to "her moving, multi-layered performance as a teenager, whose painful coming of age is caught up in a toxic relationship" in Vanessa Filho's Consent [+see also:
film review
film profile] (France/Belgium).
In the First Feature Competition, the top prize went to Loren Taylor's The Moon Is Upside Down (New Zealand), crowned Best Film. The jurors labelled it "a bittersweet, multi-layered combination of three stories intertwined in a perfect way, about people who try to find their place in the world".
Finally, the two Lifetime Achievement Awards were granted to Estonian composer Rein Rannap and British helmer Mike Newell, whilst the two Dennis Davidson's Spotlight Awards went to Yorgos Lanthimos for Poor Things [+see also:
film review
trailer
Q&A: Yorgos Lanthimos
film profile] (USA/UK/Ireland) and Jonathan Glazer for The Zone of Interest [+see also:
film review
trailer
film profile] (USA/UK/Poland).
Here is the full list of this year's award winners:
Competition
Grand Prix for Best Film
Misericordia [+see also:
film review
trailer
interview: Emma Dante
film profile] – Emma Dante (Italy)
Best Director
Manuel Martín Cuenca – Andrea's Love [+see also:
film review
trailer
interview: Manuel Martín Cuenca
film profile] (Spain)
Best Cinematography
Goert Giltay – Natasha's Dance [+see also:
film review
film profile] (Netherlands)
Best Script
Manuel Martín Cuenca, Lola Mayo – Andrea's Love 
Best Actor
Simone Zambelli – Misericordia
Best Actress (ex aequo)
Lubna Azabal – Amal [+see also:
film review
interview: Jawad Rhalib
film profile] (Belgium)
Kim Higelin – Consent [+see also:
film review
film profile] (France/Belgium)
Best Original Score
David Van Keer, Birger Embrechts – The Magnet Man [+see also:
film review
film profile] (Belgium/Luxembourg/France/Netherlands)
Best Production Design
Rezo Gigineishvili – Patient #1 [+see also:
film review
film profile] (Georgia)
First Feature Competition
Best Film Award
The Moon Is Upside Down – Loren Taylor (New Zealand)
Special Jury Prizes
Mo Mamma [+see also:
film review
film profile] – Eeva Mägi (Estonia)
Tentigo – Ilango Ram (Sri Lanka/India)
Rebels with a Cause Competition
Best Film
Five and a Half Love Stories in an Apartment in Vilnius, Lithuania [+see also:
film review
interview: Tomas Vengris
film profile] – Tomas Vengris (Lithuania/Latvia/Ireland)
Best Director
Agustín Toscano – I Trust You (Argentina)
Best Short
Element – Will Niava (Ivory Coast) 
Critics' Picks Competition
Best Film
The Land Where Winds Stood Still – Ardak Amirkulov (Kazakhstan)
Best Director
Guel Arraes – Great Sertão (Brazil)
Special Mention
Maya Kenig – The Milky Way [+see also:
film review
film profile]  (Israel/France)
Baltic Film Competition
Best Baltic Film
Smoke Sauna Sisterhood [+see also:
film review
trailer
interview: Anna Hints
film profile] – Anna Hints (Estonia/France/Iceland)
Best Baltic Producer for Co-production
Slow [+see also:
film review
trailer
interview: Marija Kavtaradze
film profile] – Marija Kavtaradze (Lithuania/Spain/Sweden)
Audience Award
Once Again (for the very first time) – Boaz Yakin (USA)
FIPRESCI Award
Falling Into Place [+see also:
film review
film profile] – Aylin Tezel (Germany)
NETPAC Award
Inpaintings – Ozan Yoleri (Turkey)
Lifetime Achievement Awards
Rein Rannap (Estonia)
Mike Newell (UK)
Dennis Davidson's Spotlight Awards 
Yorgos Lanthimos – Poor Things [+see also:
film review
trailer
Q&A: Yorgos Lanthimos
film profile] (USA/UK/Ireland)
Jonathan Glazer – The Zone of Interest [+see also:
film review
trailer
film profile] (USA/UK/Poland)