– Arkadiy Nepytaliuk's single-location comedy shows a working-class Ukrainian family aiming to rid itself of homophobia and prejudice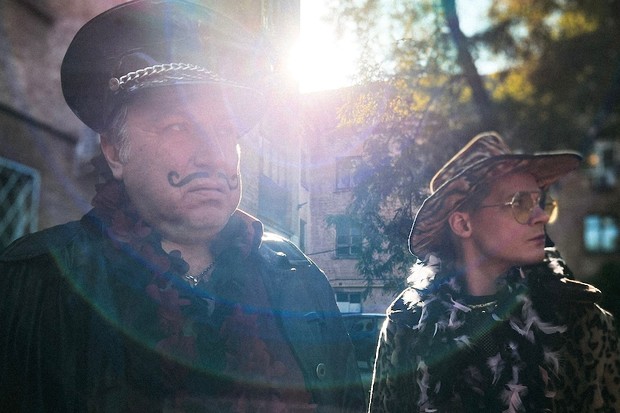 Oleksandr Yarema and Oleksandr Piskunov in Lessons of Tolerance
How can you shift hearts and minds towards different political positions and better social attitudes? Should your approach be traditionally pedagogic or even interventionist, or is progress necessarily gradual, and dependent on generational shifts? Lessons of Tolerance, the new film by Arkadiy Nepytaliuk, dreams of a utopian and satiric salve to Ukraine's historic homophobia: a "dial a social justice consultant" service, who'll enter your home and walk out 24 days later, having deprogrammed everybody's intolerance (and given a useful government grant to the needy and indebted family). The EU, in their goodwill, are generously funding the initiative. Adapted from a stage play by Ihor Bilyts, which it makes no attempt to hide in its contained mise-en-scène, the film world premiered in Tallinn Black Nights Film Festival's Critics' Picks section, and will next screen at Cottbus. 
With successive polls of the Ukrainian population revealing great hostility towards LGBT rights, especially compared to European countries, and with this tension continuing to be a prevailing culture war issue despite further civil liberties granted in parliament, the progressives of the policy world must wonder how to bring about change (and indeed, cinema itself has had an enormous impact on gay visibility and tolerance in the post-AIDS era). Nepytaliuk and co-screenwriter Ludmila Timoshenko take a good speculative avenue with particular laboratory conditions: placing an articulate gay person within an embodied opposition in the shape of a family, where shifts in viewpoints are bound to take place. With a cock-eyed glance at part of the country's longing to be integrated with Europe – a schism that partially triggered the ongoing war – policy makers know that these procedures won't pay for themselves and require international support. The filmmakers' satire reaps truth with its distorted take on such well-meaning civic projects.
The family involved in the scheme aren't far from a Ukrainian Simpsons – nuclear and stereotypical to the hilt, with blue-collar dad Zenyk (Oleksandr Yarema), an upstanding mom in Nadia (Olena Uzlyuk) and grown-up kids Denys (Oleksandr Piskunov) and Diana (Karolina Mruha) occupying the Bart and Lisa roles of layabout and aspiring performing artist respectively. And Vasyl (Akmal Gurezov), with a "sitcom" logic, is their diametric opposite, with Nepytaliuk aiming to ignite pathos and tension as the family initially attack him with verbal abuse, then quickly warm up to him. 
Lessons of Tolerance gains some mileage from the audacity of its premise, evoking the dry comic fictions of Romanian directors such as Radu Jude and Cristi Puiu if you squint a bit, both of whom have expertly chronicled Eastern Europe's abrupt post-communist changes and unsteady modernisation. Yet in its ten vignettes, separated by inter-titles – jabbing at the 12-step style, self-help banality of these schemes, also seen in Vasyl's deployment of a soft ball toy to assist their group discussion sessions – the family comes to a quick rapprochement, and various sexual revelations are aired and outed. Whilst being justly critical of the patronising, concerned social authorities, and their condescension towards ordinary folk, Lessons of Tolerance also swallows its own satirical medicine, unconvincingly seeing this as an issue easily put to bed, solved with a bit of hugging and learning. 
Lessons of Tolerance is a Ukrainian production staged by Solar Media Entertainment.