– The winners of the Basque section of Zinebi Networking tell us about their project, which focuses on the Cuban judicial archives and the person who has the sole access to them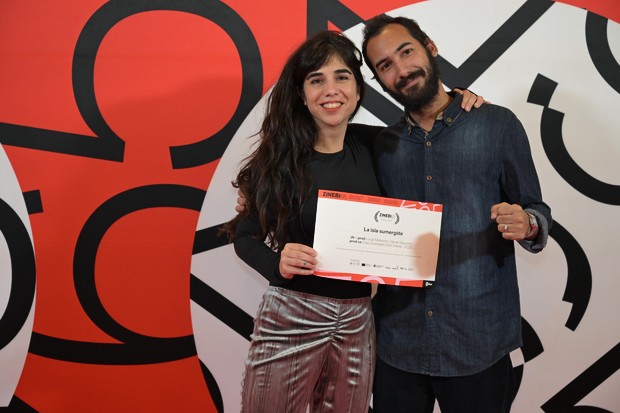 (© Zinebi)
Each year, Zinebi Networking awards two €10,000 prizes, one to the best national project and the other to its Basque equivalent. The winners of the latter are Uruguay's Lucía Malandro and Cuba's Daniel Saucedo with La isla sumergida, which explores Cuba's criminal archives through an intriguing character.
Cineuropa: Congratulations on the prize. Could you tell us a bit about the theme of your project?
Lucía Malandro: La isla sumergida is a film that documents a special relationship between a strange photographic collection, that of Cuba's criminal archives, and the person who safeguards this archive and who is the person who has the sole access to these photographs and criminal files. Everything happens the day these files and photographs are purged and destroyed forever. It is up to our character to decide what has historical value, what will live on in history and what will be lost forever.
Where did the idea for the project come from?
Daniel Saucedo: It started out as an archival project that originally aimed to create the first photographic collection of Cuba's judicial archives, which contain a vast number of images that are seriously threatened not only by bureaucratic mechanisms, but also by the enormous difficulty of accessing these archives. They're images that are super-important in Cuba's history because they really tell an alternative history of the confrontation towards the Cuban revolution. That's where we came in and met this character, Johnny, who turned out to be very interesting. In particular, because for him it's a job that he takes on with all the love and rigour in the world.
What will be the main challenges in bringing this project to light?
LM: We started in 2020, and as it was a purely archival project, we've salvaged about 30,000 photos. The first thing, and we're still working on it, is to find the structure that this film needs. The question is deciding which photos we want to talk about; it's a huge collection, so this has been the major challenge. The photos range from the rawest, nastiest crimes to the more subtle, shall we say, and the challenge is finding the perfect balance.
DS: The other big challenge is trying to tell the story as one that is purely political. Behind it, there's the human story of this character confronted with his own past and his own contradictions, in contact, obviously, with a history that is highly political. I think it's a well-balanced story; it's a human story, of a human being, that's obviously shaped by politics. This is one of the great challenges of the film's narrative, and its emergence also in certain contexts where Cuban politics, the extreme left and these things related to the Cuban revolution, are particularly striking.
How will you divide up the directing?
LM: The team will also be made up of other people, editors and so on, but for a while now, we've been approaching it with me, for example, doing all the editing while Danny has been editing the sound, because this film has a very important structure, and the voice-over is this character that guides and speaks to himself but at the same time helps the audience to understand the images. So, I more or less work with the image and Danny works with the sound as well as writing the script. Then we reverse our roles: I pass him my work and Danny passes me his, and then we edit each other's work.
DS: It is a process of collective creation, completely. There are times when it's not only us who are involved, but also those helping us; even the protagonist of the film will help us, and it's all been for free so far.
What does this prize mean to you?
LM: It really helps. It's a film that we've been making pretty much by ourselves, and it's like a pat on the back, something that reassures us that we're doing well. Cinema, the art in itself, is a very solitary process.
DS: And especially when you have a production process like this film, which isn't conventional at all. It's a process where we collect material over time with the help of friends and so on, so it's nice that at a festival like this, an industry award recognises a production process that couldn't be any less industrial, right? It's very interesting and cool that a festival has such an open-minded vision.
(Translated from Spanish)