Highlights
The previous episode of One Piece focused on intertwining storylines and major character interactions, including Kin'emon and Kikunojo finding Raizo and Shinobu in critical condition due to Ryokugyu's actions.
The upcoming episode will see the Straw Hats finally leaving Wano after defeating Kaido and Big Mom, with the episode focusing on their moments before departure and not expecting any major developments.
One Piece Episode 1084 is set to premiere on either Saturday, November 18th, or Sunday, November 19th, depending on time zones, and will be available on Crunchyroll for international audiences and broadcast on Fuji TV in Japan.
In the previous episode of One Piece, the major focus was on intertwining storylines and some major character interactions. Kin'emon and Kikunojo rushed to Raizo and Shinobu, finding them in critical condition due to Ryokugyu's actions. Meanwhile, Sukiyaki revealed his identity to Momonosuke and others, seeking forgiveness for his past actions. Carrot, entrusted with the Mokomo Dukedom by Inuarashi and Nekomamushi, grappled with her new responsibility. Robin shared Pluton's discovery with the Straw Hat Pirates, while Luffy — opting not to pursue it — and his crew left the castle. The episode also introduced a significant development with Emperor Buggy's alliance, posing a new threat to the Marines.
RELATED: Anime Characters Who Can Definitely Defeat Saitama
The preview of the upcoming episode 1084, titled "Time to Depart – The Land of Wano and the Straw Hats," is also out, which suggests that the Straw Hats will finally be leaving Wano now. With Kaido and Big Mom defeated, the Straw Hats will continue with their journey. Fans shouldn't expect any major developments from the upcoming episode. Rather, it will focus on the crew's moments before they finally depart from Wano.
Release Schedule For One Piece Episode 1084
One Piece's Episode 1084 is slated to premiere either on Saturday, November 18th, or Sunday, November 19th, contingent upon time zone differences. For international audiences, it will be available on Crunchyroll, while Fuji TV will broadcast it in Japan. To assist global fans, here's the broadcast schedule across different regions.
| | |
| --- | --- |
| Time Zones | Release Time |
| Pacific Time | 6:00 PM |
| Mountain Time | 7:00 PM |
| Central Time | 8:00 PM |
| Eastern Time | 9:00 PM |
| British Time | 2:00 AM (Sunday, November 19th) |
| European Time | 3:00 AM (Sunday, November 19th) |
| Indian Time | 7:30 AM (Sunday, November 19th) |
What Happened Previously On One Piece?
In the previous episode, the Akazaya Nine were healing after a rough encounter with Ryokugyu, with Raizo and Shinobu especially in bad shape. They admitted that the Admiral's fearsome reputation kept outsiders away from Wano. Carrot got a surprise when Inuarashi and Nekomamushi asked her to be the new leader. At first, she was in denial, but after some convincing, she accepted.
Later, the episode saw Sukiyaki revealing his true identity and reuniting with Momonosuke and Hiyori. Surprisingly, Akazaya Nine revealed that, except for Kin'emon, they had known his identity all along. On the other hand, Robin shared concerning news about Pluton's presence in Wano.
The Straw Hat Pirates and the others got ready to leave Wano through Tokage Port. They had a quick discussion about where to go next, and during this, Kid showed Luffy a poster. This poster unveiled that Buggy had teamed up with Mihawk and Crocodile to create the Cross Guild, dedicated to assigning bounties to Marines, putting the Marine soldiers at risk.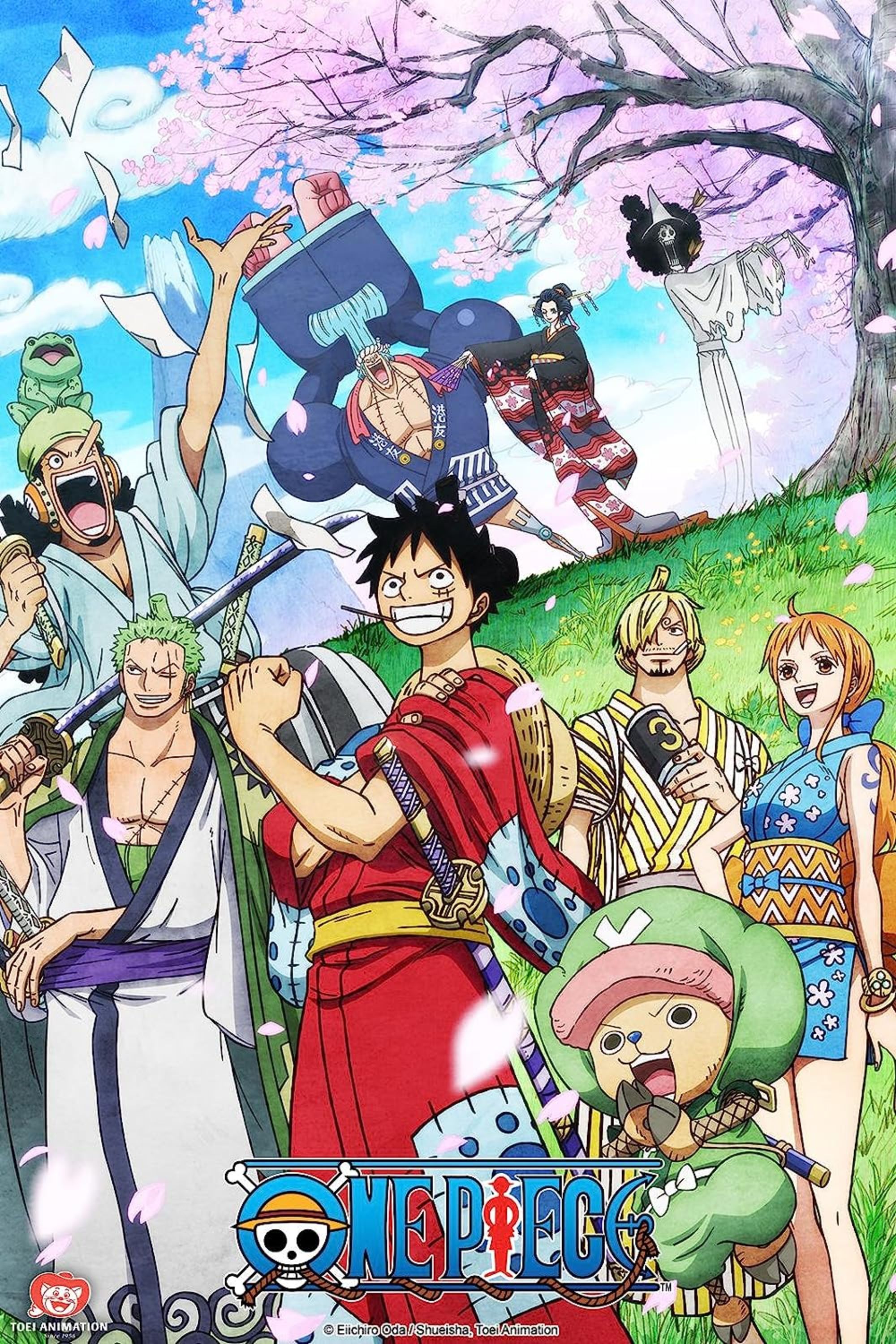 One Piece
Release Date

October 20, 1999

Studio

Toei Animation