– German director Anna Roller's debut feature film is a surprising and formally sophisticated coming-of-age tale which unfolds in a crescendo of tension and confusion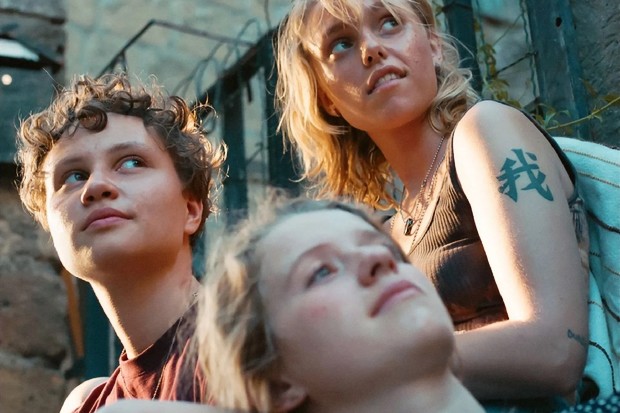 Luna Jordan, Noemi Liv Nicolaisen and Katharina Stark in Dead Girls Dancing
Three young, German, female friends who have recently graduated jump onto a plan and head to Italy for what they hope is a carefree holiday but which actually turns out to be a brusque introduction to adulthood, in German director Anna Roller's surprising debut feature film, Dead Girls Dancing [+see also:
trailer
film profile], which was presented in a world premiere in Tribeca and is now competing in the 24th Lecce European Film Festival. The movie is a German-French co-production but it also boasts a distinctive Italian flavour since it was shot between Umbria and Lazio, notably within a charming commune (Civitella D'Agliano) where there are no longer signs of human life in this story and where the end of the world seems imminent.
We're first introduced to Ira (Luna Jordan), Ka (Noemi Liv Nicolaisen) and Malin (Katharina Stark) as they're lining up at school for the traditional graduation photo, holding their degree and a rose. Afterwards come the celebrations with family and friends, congratulating one another and repeatedly asking "what will you do now?", and the three girls, who don't really know how to respond to this question ("why does everyone keep asking you that? They were 18 once too, weren't they?"), only have one intention right now: to travel through Italy and have a bit of fun. Thus, we follow them along a road leading south, in search of a campsite to take a shower. It's here that they meet the enigmatic Zoe (Sara Giannelli), an Italian the same age as them who's clearly running away from something and who soon becomes the fourth member of the gang, striking up a special relationship with Ira.
A blown tyre sees the four girls seeking shelter in a small village perched on a hill, after being drawn to the bells heard ringing in the distance. On their arrival, they discover there's no-one actually in the village. They knock on all the doors but the houses are all empty, leading us to believe that they've been recently abandoned. They subsequently sneak into one of these homes: they open wardrobes, try on clothes and jewellery, sleep on sofas… In the meantime, they see columns of smoke rising in the distance and the sun burns ever brighter. "It's as if the world around us no longer exists and we're the only ones who don't yet know it", one of them posits. The mystery deepens…
Ultimately, Roller, who also wrote the film's screenplay, divides her movie into three acts: the first is characterised by hot summer hues and paints a realistic picture of a group of eighteen-year-olds seeking out adventure and travelling without their parents for the very first time, with very little money to spend; the second act, wholly set in the ghost village, gradually takes us into a darker, fantastic, dreamlike zone – helped by the wine smuggled into the local church, which our heroines go to town on, on empty stomachs – to the point of flirting with the world of horror (which the title also nods to); the third is marked by a brutal return to reality, and the girls are forced to come to terms with the responsibilities of their older age for the very first time: there's but a moment in time between their graduation photo and their mugshot.
Shored up by her director of photography Felix Pflieger, the director demonstrates a highly personal and sophisticated filming style and an impressive capacity to create haunting atmospheres, not least through her expert use of music. Her young actresses dazzle with spontaneity, so it's a shame that the final part leaves us confused over the reasons behind some of their actions. But "you can't explain everything with logic", as is said in the film, and the same could also be said of Roller's promising debut work, which adds an imperfect but highly unique puzzle piece to the already full-to-bursting coming-of-age genre.
Dead Girls Dancing is produced by Germany's Kalekone Film in co-production with France's Totem Films – who are also managing international sales – and with German firms Claussen+Putz Filmproduktion, Rat Pack Filmproduktion and Bayerischer Rundfunk. The film will be released in Germany on 23 November, courtesy of MUBI.
(Translated from Italian)