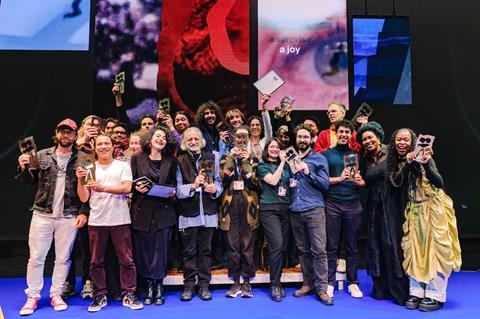 Shoghakat Vardanyan's documentary 1489, which chronicles the Armenian director's search for her missing soldier brother, has won the best film award in international competition at The International Documentary Film Festival Amsterdam (IDFA).
The title 1489 refers to the anonymous number of a "body of an individual missing in action," and was the number assigned to Soghomon Vardanyan, a 21-year-old student and musician who was close to completing his military service when the conflict between Azerbaijan and his home country Armenia over Artsakh (Nagorno-Karabakh) flared up again in September 2020.
On the seventh day of the war, Soghomon went missing. Using her phone camera, his sister Shoghakat films her and her parents' search and their emotional process. 1489 also won the Firpesci Award at IDFA.
The IDFA jury described the film as "ultimately, an unforgettable example of cinema as an act of love," calling it a "piercing light that makes visible the vast hidden interior landscape of grief and creates a tangible presence from unbearable absence."
Elsewhere in the international competition, the IDFA Award for Best Directing went to Mohamed Jabaly's Norway-Palestine co-production Life Is Beautiful, which chronicles how the Palestinian director became trapped while on an exchange in Norway when the borders of his home Gaza were closed for an unspecified period in 2014.
The judges called the film "a timely cinematic expression of the universal need to be recognized in our full humanity" with a "directorial tone that, almost impossibly, manages to find hope and humor amid unimaginable pain."
Meanwhile, the IDFA Award for Best Film in the Envision Competition went to Brazilian film Canuto's Transformation by Ariel Kuaray Ortega and Ernesto de Carvalho, set within the indigenous Mbyá-Guaraní community, 
The Award for Best Directing in the Envision Competition went to Kumjana Novakova for Silence of Reason from North Macedonia and Bosnia-Herzegovina.
Full list of IDFA 2023 winners
Best Film – International Competition:
1489, dir. Shoghakat Vardanyan
Best Directing – International Competition:
Life Is Beautiful, dir. Mohamed Jabaly
Best Editing – International Competition:
The World Is Family, editor Anand Patwardhan
Best Cinematography – International Competition:
Flickering Lights, cinematographers Anupama Srinivasan, Vandita Jain and Mrinmoy Mondal
Best Film – Envision Competition:
Canuto's Transformation, dir. Ariel Kuaray Ortega and Ernesto de Carvalho
Best Directing – Envision Competition:
Silence of Reason, dir. Kumjana Novakova
Outstanding Artistic Contribution – Envision Competition:
Canuto's Transformation, dir. Ariel Kuaray Ortega and Ernesto de Carvalho
Immersive Non-Fiction Award
Turbulence: Jamais Vu, dir. Ben Joseph Andrews and Emma Roberts
Special Jury Award for Creative Technology for Immersive Non-Fiction:
Natalie's Trifecta, dir. Natalie Paneng
Digital Storytelling Award
Anouschka, dir. Tamara Shogaolu
Special Jury Award for Creative Technology for Digital Storytelling:
Borderline Visible, dir. Ant Hampton
Special Mention – IDFA DocLab Award for Digital Storytelling:
Despelote, dir. Julián Cordero and Sebastian Valbuena
Best Short Documentary:
At That Very Moment, dir. Rita Pauls and Federico Luis Tachella
Special Mention – Short Documentary:
My Father, dir. Pegah Ahangarani
Best Youth Documentary (13+):
Sister of Mine, dir. Mariusz Rusiński
Best Youth Documentary (9-12):
And a Happy New Year, dir. Sebastian Mulder
Special Mention – Youth Documentary Competition:
Boyz, dir. Sylvain Cruiziat
Best First Feature:
Chasing the Dazzling Light, dir. Yaser Kassab
Best Dutch Film:
Gerlach, dir. Aliona van der Horst and Luuk Bouwman
Special Mention – Best Dutch Film:
Mother Suriname – Mama Sranan, dir. Tessa Leuwsha
Beeld & Geluid IDFA ReFrame Award:
Selling a Colonial War, dir. In-Soo Radstake
Special Mention – Beeld & Geluid IDFA ReFrame Award:
Milisuthando, dir. Milisuthando Bongela
FIPRESCI Award:
1489, dir. Shoghakat Vardanyan
IDFA Forum Award for Best Pitch:
Son of the Streets, dir. Mohammed Almughanni
IDFA Forum Award for Best Rough Cut:
Coexistence, My Ass!, dir. Amber Fares
IDFA DocLab Forum Award:
Turbulence, dir. Ben Joseph Andrews and Emma Roberts