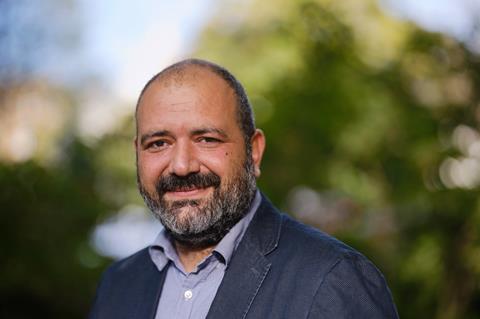 After an eventful week at International Film Festival Amsterdam (IDFA), festival director Orwa Nyrabia is hoping to organise a symposium at which the film community can discuss how best to address the various issues facing festivals as they steer through the choppy waters of geo-political events.
IDFA is one of the first major festivals to have taken place since the October 7th Hamas attacks on Israel and the subsequent Israeli assault on Gaza. IDFA's various programmes and sidebars included films and projects from both Israel and Palestine.
The festival has been marked by protests at the opening ceremony, open letters and petitions from Israeli and Palestinian delegations, complaints by Ukrainian industry executives over the programming of a Russian documentary, criticism of Nyrabia himself and the withdrawal of several films, each met by a series of statements from Nyrabia and his team. 
The symposium will be an opportunity for IDFA representatives to "meet with other colleagues from other festivals and also with independent filmmakers and try to see what is it that is the new era," Nyrabia told Screen this week. "There needs to be a new understanding our role and responsibility as film festivals and as cultural institutions at large. For me, this needs further examination." 
Further details of the event are expected to be announced shortly.
IDFA, Nyrabia continued, is trying to be "as sincere and transparent as possible." He said he would prefer to "speak up and be criticised for it rather than be silent and closing our doors as institutions."
"The only thing I know for sure is that censoring is not an option for anybody to think of," he said, adding that preventing the debates and protests IDFA has witnessed this week would be "walking back against history. Growth, pain, we have to go through it and move on to a new understanding."
Nyrabia spoke of his desire to "embrace this very difficult moment that happened at the festival as a process of learning, as a necessary step to being better, all of us."
"IDFA is about those artists and filmmakers who make up their programming. When they are political, IDFA is political. It is as simple as that to me. We cannot hide behind liberalism…at the same time, I do believe that the political statement of film festivals are their curatorial choices and not their shorthand statements or simplified political expressions," he said.
Under-represented voices  
In spite of what has happened this week, Nyrabia insists he won't be swayed from the goals with which he began the job as artistic director at IDFA in 2018.
"It has been six years that we we've been trying to open up and acknowledge that traditionally many voices are not heard well, or not allowed to be heard well, in the western country scene," the festival director said of the ongoing efforts to make the festival more inclusive. "We opened up this festival to be a platform for voices that are usually not listened to, not given a platform to be heard. This is our mission but of course it means that when the world is on fire and there is so much pain going round, these paradoxes we are trying to highlight and discuss become much more difficult to deal with – and things get out of hand."
"To me this is OK, this is an experience of learning because if we do not face the pains of growth, we do not learn how to move on," the festival director continued.
He talked of how "space" needs to be given by IDFA to "under-represented parts of the world" and of how "their different understanding of geo-politics needs to be allowed and heard" even when this creates clashes.
Nyrabia acknowledged he didn't have any easy answers about how festivals should respond to the ongoing global political crises. "I don't feel insecure about saying I do not know."
In spite of the protests that have overshadowed this year's festival, attendances at cinemas are up on last year. IDFA has been reporting robust audiences.
"We are premiering brilliant films and they are getting great audiences, full cinemas and good reviews from critics. I think it is a moment of progress, a moment of learning and of getting better," Nyrabia said.
Forum buzz titles
On the industry front, Forum titles to generate excitement include Yoav Shamir's The Amazing Tale Of The Peace River Meteorite, which VPRO looks set to acquire for the Netherlands. "With all the misery around, an uplifting project like this was very welcome," said a VPRO spokesperson.
Produced by Tanya Aizikovich and Yoav Shamir for Yoav Shamir Films and Ina Fichman for Intuitive Pictures Inc, the Canada-Israel coproduction tells the story what happens after a mysterious meteorite lands in northern Canada.
Early in the Forum, Al-Jazeera Documentary boarded Forum title Kabul Year Zero, the new film from Aboozar Amini, whose earlier film Kabul, City In The Wind opened IDFA in 2018.
Palestinian-Israeli coproduction Issa's House was also warmly received at its pitch earlier in the week. Directed by Tomer Heymann, it is about non-violent activists guarding a Palestinian-owned home in Hebron.
Not all attendees were happy. "There is always this question, 'who do you make the film for?' and 'Is there an audience for it?' Sometimes, I have the feeling with projects in the Forum they don't really think about that," suggested one acquisitions executive from a Dutch broadcaster. Some sales agents expressed concern about the number of titles from first-time filmmakers. "Buyers won't take a risk on someone they've never heard of," one said. Others fretted about both about the number of micro-budget documentaries and the handful with budgets over $1 million, which they don't believe the market can sustain.