– Arnaud des Pallières explores the female condition in the nineteenth century by way of a group of women forcibly detained in the hellish Pitié-Salpêtrière Hospital in Paris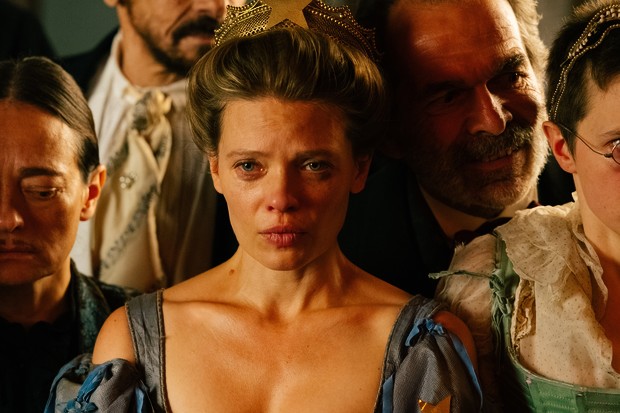 Elina Löwensohn, Mélanie Thierry and Solène Rigot in Party of Fools
The third collaboration between the French director and the screenwriter Christelle Berthevas, Party of Fools – which was selected in the Deauville American Film Festival (A Window onto French Film), as well as in the official competition of the Namur International Francophone Film Festival (FIFF), before landing in the Highlights section of the Geneva International Film Festival (GIFF) – relies on an exceptional (and almost entirely female) cast composed of Mélanie Thierry, Josiane Balasko, Marina Foïs, Carole Bouquet and Yolande Moreau. Together, the protagonists of this film bring to life the torments of those once believed to be uncontrollable: sex workers, those living with disability and "hysterics" (as they were officially known at the time), who were forcibly admitted into asylums and, more specifically, into the labyrinthine Pitié-Salpêtrière Hospital in Paris. Left to oblivion, as if encumbrances which their families and wider society could no longer hide, many of these women never tasted the sweetness of freedom again, freedom which was only available to those who knew how to follow the rules and become part of a patriarchal system which saw them as extras and nothing more.
The specific event which Arnaud des Pallières has decided to depict is the "mad women's ball", an evening where members of high society (who supported the hospital financially) were given the opportunity to interact with the "sick" in a grotesque and barely tolerable spectacle. The protagonist in the story is Fanni (Mélanie Thierry), who voluntarily admits herself to Pitié-Salpêtrière without her family knowing in the hope of finding her mother who was admitted into the hospital when Fanni was still a child. The formalities behind Fanni's section aren't entirely clear (we can't help but wonder whether it really was that easy to be admitted, and why she didn't investigate the matter differently, without endangering her own life), but this doesn't make the story less credible. Ultimately, the film is based on the permeability of truth, on the possibility of perceiving reality in incredibly different ways.
Full to bursting with close-ups which capture every gesture and every tremor, even revealing the pores of the characters' skin, Party of Fools sets itself the aim of giving (back) a voice to the women who have always been denied one. In this sense, it's not through words – which are often used by their aggressors – that their stories are told, but through the pain, anger and incomprehension they've stored up in their bodies. Populated almost exclusively by female characters – the musician sent away by her brother to ensure she's excluded from a will (Carole Bouquet), the young mother, the dreamer-seamstress who turns out to be Fanni's mother (Josiane Balasko), and the sex worker who's more than familiar with the world (Dominique Frot) – the film deliberately excludes those whose voices have already been heard a lot or far too often.
Moving, very well researched and buoyed by an incredibly impressive cast of actresses, this historical drama directed by Arnaud des Pallières never slides into voyeurism. What it shows, in an overtly fictionalised fashion, is the sad reality of existence and the monstrousness of a social system which sees diversity as a flaw.
Party of Fools is produced by Prélude together with France 2 Cinéma and is sold worldwide by Elle Driver. The film is due for release in French cinemas on 7 February 2024, courtesy of Wild Bunch.
(Translated from Italian)