– Caroline Ingvarson's feature debut is a run-of-the-mill thriller-drama hampered by some questionable artistic choices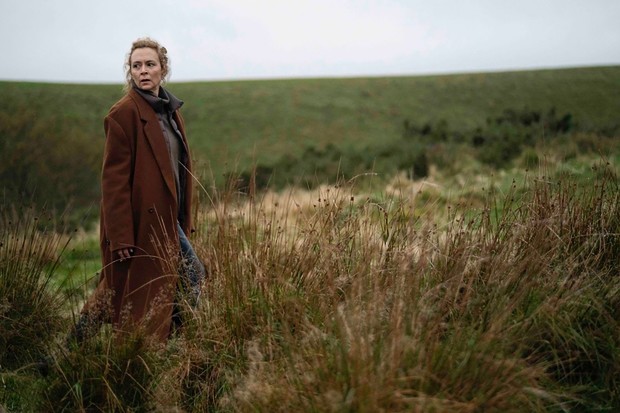 Mirja Turestedt in Unmoored
"Nothing is what it seems at first glance" is a tagline that could be applied to most thrillers, mysteries and suspense flicks. Caroline Ingvarsson's feature debut, Unmoored, freshly premiered in Tallinn Black Nights' First Feature Competition, is definitely a movie that could sport said tagline. The trouble with it, as is also the case with many other films in various genres, is that the creative team behind it assumed that its ideal viewers are slow learners, unable to at least "expect the unexpected" thanks to the movies they have previously seen.
Our protagonist is Maria (Mirja Turestedt, mostly active on Swedish TV), a journalist and TV presenter who hosts a show dealing with serious topics. Along with occasional troubles at work, she also has to deal with problems at home. Her writer husband Magnus (Thomas W Gabrielsson, recently glimpsed in Nikolaj Arcel's The Promised Land [+see also:
film review
trailer
film profile]) is facing rape charges which he staunchly denies, and his publisher Bergman (Sven Ahlström) expects him to finish the project they agreed upon previously. To escape the pressure, the couple decides to go on a trip, but the two cannot agree on a destination. While Maria suggests England, Magnus manages to persuade her to go to Marrakesh in order to visit his friend and the friend's new wife.
The visit does not end well for Maria, who feels like she is the odd one out in a pretty patriarchal gang. During the trip back home, she and Magnus have a heated argument in the car, after which he gets out and wanders off to a beach. She follows him to a bunker, but afterwards starts running away from it, eventually changing the destination of her trip back to her original idea – England. There, she meets a man named Mark (Kris Hitchen, of Sorry We Missed You [+see also:
film review
trailer
Q&A: Ken Loach
film profile] fame), whom she feels instantly attracted to, but strange events start happening around her, such as blackmail attempts via e-mail and a car with a Polish numberplate that seems to follow her around the countryside. A series of flashbacks will show us what happened…
The source of Unmoored's problems lies in Michèle Marshall's script, which is generally predictable and is further weakened by its over-reliance on dialogue, rather than visual storytelling, to drive the exposition in the first third, as well as the roughly sketched-out characters, which are pretty one-dimensional throughout. This forces the actors into a very tough position, and they have no option but to emphasise the characteristics they are given. Unfortunately, their over-acting takes the film, envisioned as a mixture of a relationship drama and a mystery-thriller, straight into the realm of an unintentional comedy.
To be fair, it is not just the actors' fault, but also the director's, as she does not manage to steer them towards giving very inspired or lived-in performances. The switch in the storytelling mode and the dramaturgical devices that Ingvarson uses in the second and the third acts works for a while, and in the first-time director's defence, she does a good job with the crew: the cinematography by Michał Dymek sets the mood, the editing by Agata Cierniak keeps the running time in the region of the low 90 minutes, while the synth-heavy score by Martin Dirkov fine-tunes the tension and ramps it up when necessary. In the end, Unmoored is a film that does not demand much of the viewer, but the reward it offers is underwhelming.
Unmoored is a UK-Polish-Swedish co-production by Desmar and Lava Films in association with Anagram Sweden. The Yellow Affair handles the world sales.