– A sizeable Latvian contingent made up of both younger talents and established professionals is visiting the Estonian festival this month, with a particularly strong presence in the Baltic Competition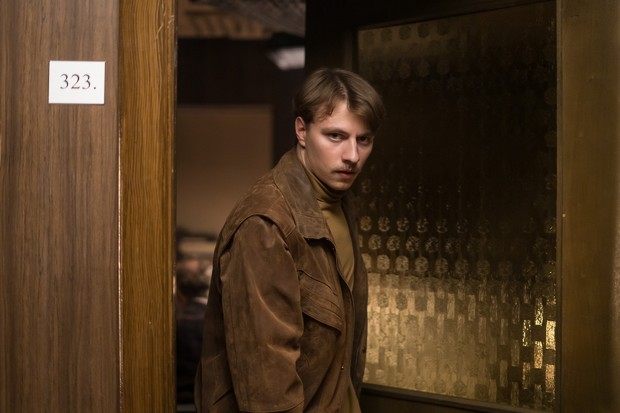 Latvian actor Ritvars Logins, who is taking part in the Black Nights Stars initiative this year
The Tallinn Black Nights Film Festival, running from 3-19 November and celebrating its 27th edition this year, will once again host a sizeable delegation of Latvian filmmakers and industry professionals, including both emerging and established talents.
On this occasion, Latvia's participation in the Estonian gathering will be particularly notable. The Baltic country will bring 11 films to both the competitive and non-competitive sections, as well as five new projects that are taking part in Industry@Tallinn & Baltic Event.
In the Baltic Competition, Latvia will be represented by five titles. Two of them are fiction features already shown in Latvia – namely, Ilze Kunga-Melgaile's My Freedom (with screenings kicking off on 9 November) and Aik Karapetian's The Brazen (screened from 12 November onwards). The third title is Alexander Hahn's latest effort, Taurins Senior, which will celebrate its world premiere on 14 November.
Two documentaries are set to round off Latvia's participation in the strand. The first picture is the story of Stanislavs Tokalovs' family, titled Everything Will Be Alright (screened from 16 November onwards), which has already sparked debate in Latvian society. The second documentary is Vitaly Mansky and Yevhen Titarenko's Eastern Front [+see also:
film review
trailer
interview: Vitaly Mansky, Yevhen Titar…
film profile], an authentic testimony of the ongoing war in Ukraine also included in a separate programme dedicated to Ukrainian films. The picture was co-produced with Ukrainian, Czech and US partners.
Moreover, two minority co-productions involving Latvian studios have been selected for the children's and youth film competitions. The first is the Finnish feature Arnold Cautious and the Happiness Stone (co-produced by Tasse Film and producer Aija Bērziņa), whilst the second is Enzo d'Alò's latest animated flick, A Greyhound of a Girl [+see also:
film review
trailer
film profile], co-produced by seven countries, in which Latvia is represented by Rija Film Studio and producer Vilnis Kalnaellis.
In the Rebels with a Cause section, Latvia will be present with the world premiere of Tomas Vengris's Five and a Half Love Stories in an Apartment in Vilnius, Lithuania, co-produced with Lithuania and Ireland, and with Studio Locomotive serving as the Latvian co-producer. Moreover, the out-of-competition official selection includes Rainer Sarnet's surreal The Invisible Fight [+see also:
film review
trailer
film profile], a co-production involving Latvia's White Picture, now screening in cinemas nationwide.
Latvia is also represented within the festival's shorts programmes. In detail, Tīna Zariņa's Limo will be screened in the Shorts Alternatives section, and Polish director Marta Magnuska's animation Misaligned (co-produced by Latvia's Atom Art) is one of the contestants in the international short-film competition.
Meanwhile, Industry@Tallinn & Baltic Event kicks off on 13 November and is the region's largest market for films and work-in-progress projects (see the news). Projects nearing completion are being showcased in the Works in Progress programme, which also hosts a separate Baltic section.
This year, four of the nine selected projects are led by Latvian auteurs, and each of them has previously been backed by the National Film Centre of Latvia. These projects are Dzintars Dreibergs' Escape Net (produced by Kultfilma), Alise Zariņa's Impressions (produced by Mima Films), Dāvis Sīmanis' Maria's Silence (produced by Mistrus Media) and Armands Začs' Youth Eternal (produced by White Picture).
Furthermore, Industry@Tallinn & Baltic Event will host some additional Latvian projects. Matīss Kaža has been selected for the MIDPOINT Series Launch programme with his series Arizona Joe, whilst director Reinis Kalviņš and producer Gints Grūbe will take part in the Co-production Market to present their forthcoming feature, The Bog. Finally, another project in the making is a co-production with Estonia, titled Dirt in Your Face, directed by Jaak Kilmi and staged by Film Angels Productions in Latvia.
The Tallinn Black Nights Film Festival also offers several training and development programmes for young talents, all of which are gathered under the label of the Black Nights Discovery Campus. Besides this, acting talents will gather as part of the Black Nights Stars initiative, for which an international jury has selected eight promising young actors.
This year, Ritvars Logins, who is best known to Latvian audiences as the lead actor in the series Crime Solving for Beginners (2022), has entered this selection of young talents. Together with his colleagues, he will take part in a number of events aimed at paving the way for their international career. In addition, two more emerging talents – composer Katrīna Anna Verhoustinska and DoP Aleksandrs Vasks – will take part in the Music Meets Film and in the Frame within a Frame programmes, respectively.
Finally, it has already been reported that the LKA National Film School teaching staff and other film-education professionals will also be working within the industry section of the Tallinn Black Nights Film Festival: an international conference on the specifics of film education and further initiatives unfolding in the Baltic states will be held on 15 November.
You can find out more about the event here (in Latvian).