– João Salaviza and Renée Nader Messora's documentary about the indigenous Krahô people in Brazil scooped the International Competition award, while Vista Mare won the Italian Competition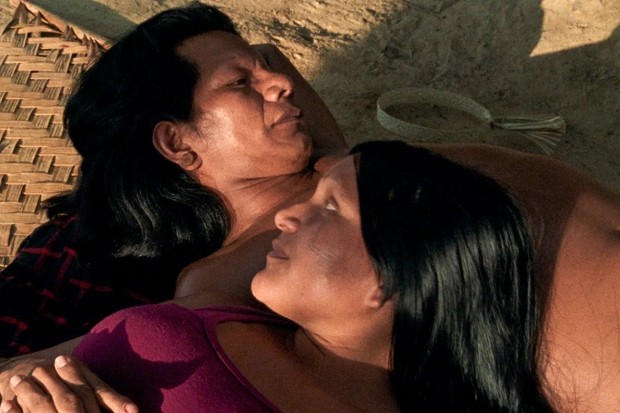 The Buriti Flower by João Salaviza and Renée Nader Messora
The Buriti Flower [+see also:
film review
trailer
interview: João Salaviza and Renée Nad…
film profile] by João Salaviza and Renée Nader Messora, a film telling the tale of the indigenous Krahô people in Brazil's Amazon rainforest whose existence is continually threatened by the globalised western world, has won the title of Best International Feature Film at the 64th Festival dei Popoli. The prize consisting of 8,000 euros was awarded by an international jury composed of director Nataša Urban (Serbia), producer Alice Lemaire (Belgium) and curator and distributor Johannes Klein (Germany), for the following reasons: "From the very first scene, this film enchanted us. We immersed ourselves in the Krahô community, loving, suffering and dreaming alongside them, to the point that their loss and their fight became ours. The full beauty and horror of this world is wonderfully encapsulated in this film. It isn't just politically relevant in the current age, it's a timeless film revealing an endless cycle of violence and predation". The Buriti Flower, sold by Films Boutique, also walked away with the Best Cast prize in the Un Certain Regard section of the Cannes Film Festival. 
The title of Best Italian Documentary, meanwhile, went to Vista Mare by Julia Gutweniger and Florian Kofler, which sheds light on the lesser known summer holiday jobs up for grabs along the Adriatic coast. The jury explained their choice as follows: "Adopting an unusual viewpoint on a reality which is there for all to see, the authors successfully uncover the grotesque and paradoxical side of a world which seems fun and exciting on the surface. A world which turns out to be a cold and millimetric mechanism which traps, deceives and is ultimately all-encompassing. The film's dry, analytical approach which will prove unforgettable, thanks not least to its brutal causticity."
The Gian Paolo Paoli Prize for Best Anthropological Film was awarded to Oskar Alegria's Spanish movie Zinzindurrunkarratz. The CG Entertainment Prize for Best Italian Film – providing the winner with the opportunity to be distributed on home video – went to Agàpe by Velania A. Mesay and Tomi Mellina Bares. CG Entertainment will also offer the European champion of the Habitat section – Bottlemen [+see also:
film review
trailer
interview: Nemanja Vojinović
film profile] by Nemanja Vojinović – the opportunity for on-demand distribution on the cgtv.it platform.
"The ongoing space dedicated to the industry arm of the festival, Doc at Work", explained artistic director Alessandro Stellino, "was attended by countless representatives from the major international festivals and many Italian professionals from the sector too, which can only help promote the selected projects in progress. In fact, over time, the Festival dei Popoli intends to confirm its status as a laboratory for films of the future, and the huge amount of work carried out in order to draw in younger generations by way of the Popoli for Kids & Teens section is also important to mention".
The list of award-winners is as follows:
International Competition
Best Feature Film
The Buriti Flower [+see also:
film review
trailer
interview: João Salaviza and Renée Nad…
film profile] – João Salaviza, Renée Nader Messora (Portugal/Brazil)
Best Medium-Length Film
Stand Out of My Sunlight – Messaline Raverdy (Belgium)
Best Short Film
Ever Since, I Have Been Flying – Aylin Gökmen (Switzerland)
Best Anthropological Film
Zinzindurrunkarratz – Oskar Alegria (Spain)
Audience Award
Dancing on the Edge of a Volcano [+see also:
film review
trailer
interview: Cyril Aris
film profile] – Cyril Aris (Lebanon/Germany)
Italian Competition
Best Italian Documentary
Vista Mare – Julia Gutweniger, Florian Kofler (Austria/Italy)
Audience Award
Nessun posto al mondo – Vanina Lappa
Other awards
"Human Rights" Award – Amnesty International Italy
Twice Colonized [+see also:
film review
interview: Lin Alluna
interview: Lin Alluna
film profile] – Lin Alluna (Denmark/Canada/Greenland)
"Il Cinemino" Cinema Distribution Prize
Dalla parte sbagliata – Luca Miniero (Italy)
AMC Prize for Best Editing
Dalla parte sbagliata – Luca Miniero
Special Mention
Toxicily [+see also:
trailer
film profile] – François-Xavier Destors, Alfonso Pinto (France/Italy)
CG Entertainment Distribution Prize
Bottlemen [+see also:
film review
trailer
interview: Nemanja Vojinović
film profile] – Nemanja Vojinović (Serbia/Slovenia)
Popoli for Kids and Teen Prize
Children of Mavungu – Mirjam Marks (Holland)
(Translated from Italian)