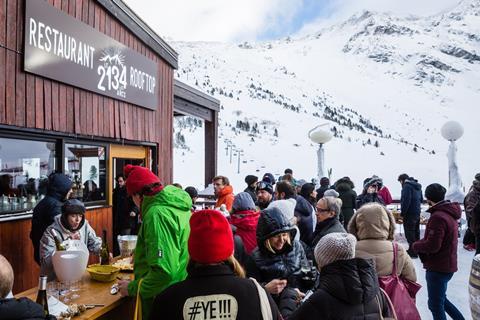 France's Les Arcs Film Festival has unveiled the 18 European feature film projects that will be presented in the 15th edition of its Co-production Village, running December 16-19 in the French Alps.
The showcase aims to connect projects in various stages of development with co-producers, sales agents, distributors and other co-financing partners. This year's roster boasts a 50-50 gender parity, with nine projects from female filmmakers and nine from male directors. 10 are first fiction features and five are second films, representing 15 different countries. All the projects will compete for the ArteKino International Award worth €6000. Organisers said 36% of the 269 submissions were directed by women.
This year's selection includes prolific Scottish filmmaker Michael Caton-Jones' The Big Sheep, produced by the UK's Braintrust and based on a French novel The Incredible Story Of The Sheep Who Saved A School inspired by true events about locals on an imaginary tiny island in Brittany who enroll a sheep as a pupil to save their school from closure.
Dutch filmmaker Emma Westenberg, whose road drama pairing Ewan McGregor and real-life daughter Clara premiered at SXSW this year, returns with her second feature Angels produced by The Netherlands' Halal and Belgium's De Wereldvrede.
Slovakian filmmaker Michal Blasko will attend with his second feature, coming-of-age drama Cowgirl, produced by Slovakia's nutprodukcia and Czech Republic's nutprodukce. Blasko's drama Victim is Slovakia's submission for best international feature at the upcoming Oscars and debuted at Horizons in Venice before playing in Contemporary World Cinema at Toronto.
Lithuanian director Irma Pužauskaitė, whose first feature The 9th Step premieres at Tallin International Film Festival this week, will attend with her follow-up film Hold Me Closer, produced by Lithuania's Smart Casual.
Norwegian director Anders Emblem, whose A Human Position made its rounds on the festival circuit last year, will present with Also A Life, produced by Norway's Staer.
Bosnian-Dutch filmmaker Ena Sendijarević brings The Possessed, produced by The Netherlands' Aventura. Sendijarević's second feature Sweet Dreams competed at Locarno this year where it won two prizes after her debut feature Take Me Somewhere Nice won the Special Jury award at Rotterdam and the top prize at Sarajevo Film Festival. The film is also part of Les Arcs' festival's 2023 competition where it will compete alongside eight other features for the festival's top prize la Flèche du Cristal (Crystal Arrow).
Les Arcs will honour Dutch Cinema throughout its festival and industry events and has selected three projects from The Netherlands for the co-production Village as well as a delegation of professionals from the country.
The Industry Village will once again host a series of conferences, meetings, workshops and masterclasses whose 2023 themes include tackling production issues in the AI era, mental health in cinema, focus on women in film with Le Lab Femmes de Cinema, and a case study of Venice-winning Hungarian film Explanation for Everything in addition to its always boisterous Music Village, gathering more than 100 professionals from music and film. Ruben Ostlund will be guest of honour and mentor first-time filmmakers at the parallel Les Arcs Talent Village.
Les Arcs Film Festival runs December 16-23.
The full list of Co-production Village projects:
A Friend (Fin)
Dir. Teppo Airaksinen
Prod. Tack Films
Also A Life (Nor)
Dir. Anders Emblem
Prod. STAER
Angels (Neth-Bel)
Dir. Emma Westenberg
Prod. Halal, De Wereldvrede
Bells of Kabul (Fr)
Dir. Chabname Zariab
Prod. Alta Rocca
Basarda (Sp)
Dir. Salvador Sunyer
Prod. Avalon
Cowgirl (Slovakia-Czach)
Dir. Michal Blasko
Prod. Nutprodukcia, nutprodukce
Hold Me Closer (Lithuania)
Dir. Irma Pužauskaitė
Prod. Smart Casual
Don't Let Us Drown (Neth)
Dir. Emiel Sandkte
Prod. Room For Film
I Matter (Rom)
Dir. Alina Serban
Prod. Microfilm
Kingdom Of The Blind (Fr)
Dir. François Robic
Prod. Moderato
Shitballs (Ice)
Dir. Álfrún Örnólfsdóttir
Prod. Compass Films
One Can't Invent The Ocean (Fr)
Dir. Ingrid Chikhaoui
Prod. Les Films Norfolk
I Won't Die for Love (Sp)
Dir. Marta Matute
Prod. Solita Films
Sub (Swe-Den)
Dir. Peter Modestij
Prod. Hobab, Motor
The Big Sheep (UK)
Dir. Michael Caton-Jones
Prod. Braintrust
The Odyssey Of The Deep (Fr)
Dir. Jacques Loeuille
Prod. Météores Films
The Possessed (Neth)
Dir. Ena Sendijarević
Prod. Aventura
To See a Woman (Ger-Aus)
Dir. Manuela Bastian
Prod. Tellfilm GmbH, KGP Kranzelbinder Gabriele Produktion