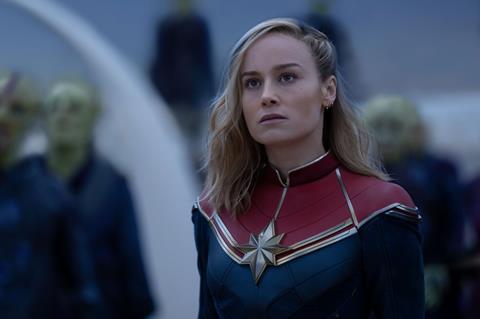 Worldwide box office November 10-12 
| | | | | | | |
| --- | --- | --- | --- | --- | --- | --- |
|  Rank |  Film (distributor)  |  3-day (world) |  Cume (world) |  3-day (int'l) |  Cume (int'l) |  Territories |
|  1. |  The Marvels (Disney) |  $110.3m |  $110.3m |  $63.3m  |  $63.3m |  52 |
|  2. |  Five Nights At Freddy's (Universal) |  $24.4m |  $251.9m |  $15.4m  |  $124.7m |  77 |
|  3. |  Last Suspect (various) |  $11.5m |  $49.9m |  $11.5m |  $49.9m |  1 |
|  4. |  Tiger 3 (various) |  $11.5m |  $11.5m |  $9.3m |  $9.3m |  105 |
|  5. |  Killers Of The Flower Moon (Paramount) |  $10.7m |  $137.1m |  $6m |  $77.2m |  66 |
|  6. |  Taylor Swift: The Eras Tour (various) |  $8.4m |  $240.9m |  $2.5m |  $68.4m |  54 |
|  7. |  Be My Family (various) |  $6.7m |  $6.8m |  $6.7m |  $6.8m |  1 |
|  8. |  Paw Patrol: The Mighty Movie (Paramount) |  $5.1m |  $188.7m |  $3.3m |  $124.2m |  66 |
|  9. |  Priscilla (A24) |  $4.8m |  $12.8m |  – |  – |  1 |
|  10. |  The Boy And The Heron (various) |  $4.0m |  $89.0m |  $4.0m  |  $89.0m |  6 |
Credit: Comscore. All figures are estimates.
Post mortem begins as 'The Marvels' lands below projections
In March 2019, Disney/Marvel's Captain Marvel opened at cinemas worldwide, delivering $457m in its debut session – the biggest opening for a female-led film. The sci-fi adventure went on to achieve a final total of $1.13bn.
That context is important when considering the outcome for sequel The Marvels, which debuted at the weekend with an estimated $110.3m globally: $47.0m for North America, and $63.3m from 51 international markets.
As recently as a week ago, worldwide projections for The Marvels were hovering around the $140m mark.
The $110.3m opening is the second-lowest for any film from the Marvel Cinematic Universe, below disappointments such as 2021 duo Eternals ($162m debut) and Black Widow ($159m), as well as just below 2015's Ant-Man ($113m). In June 2008, under-achiever The Incredible Hulk – the second film in the MCU, following Iron Man the month before – debuted with $55.4m in North America and $31m in 38 international markets, on its way to a $263.5m worldwide total.
Despite the disappointing numbers for The Marvels, Disney claims bragging rights that the film tops the box office in all 52 releasing markets, or else is top for a non-local film (for example in China and India). (In France, Universal has a rival claim on the top spot – see Five Nights At Freddy's item, below.)
Among international territories, China is strongest with an estimated $11.7m, ahead of UK/Ireland ($4.3m), Indonesia ($3.7m), South Korea ($3.5m) and France ($3.1m). China continues to be a challenge for Disney and Marvel – Captain Marvel achieved a lifetime gross of $154.1m there, whereas The Marvels will perhaps reach one fifth of that number.
Disney faced the challenge of promotional efforts disrupted by the ongoing SAG-AFTRA strike, which only resolved last Wednesday (November 8), by which time the film had opened in markets such as France and Germany.
A bigger lesson may be that just because a film exceeds $1bn at the global box office (as Captain Marvel did), that doesn't mean audiences are excited for a second instalment.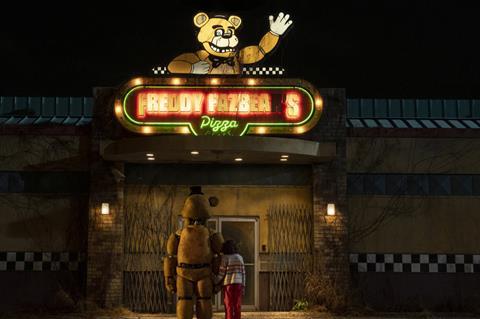 'Five Nights At Freddy's' hits $250m worldwide
With a production budget reported to be well north of $200m, The Marvels looks set to be a cash loser for Disney. The exact opposite is already the case for Blumhouse/Universal's Five Nights At Freddy's which added an estimated $24.4m for its third weekend of play, taking the global total to $251.9m – divided between $124.7m for international and $127.2m in North America. The film has a production budget reported at $20m.
For international, Five Nights At Freddy's dropped 62% from the previous session in holdover markets, but numbers were boosted by the film's arrival in France – opening with an estimated $3.7m, the biggest Blumhouse debut ever in the territory (beating previous record holder Split).
Mexico leads the league table for international markets with $19.5m so far (record takings for a Blumhouse film, overtaking the locally popular The Black Phone). Next comes UK/Ireland with $11.9m, ahead of Brazil ($9.2m), Australia ($7.8m), Spain ($6.5m) and Germany ($5.6m).
Five Nights At Freddy's is closing in fast on two Blumhouse titles that rank among the company's three biggest successes at the global box office: David Gordon Green's 2018 Halloween reboot ($259.9m) and Jordan Peele's Get Out ($255.4m). Blumhouse's top-grossing film worldwide remains M Night Shyamalan's Split, with $278.5m.
Two major markets have yet to release Five Nights At Freddy's – the film arrives in South Korea this Wednesday (November 15) and in Japan next February.
Local hits power box office in China, India and Poland
In China, local hit Last Suspect continues to hold at the top of the box office – and the film's $11.6m weekend takings were enough to earn third place in Comscore's worldwide chart. The cumulative total for the crime thriller is $49.9m. Zhang Xiaofei stars as a lawyer who is forced to defend a death-row suspect after her own daughter is kidnapped.
One place below Last Suspect in the worldwide chart is Yash Raj's action thriller Tiger 3, which grossed an estimated $9.25m in international markets, led by India, and $2.25m in North America, combining to deliver an $11.5m opening.
Tiger 3 is a sequel to 2017's Tiger Zinda Hai (Tiger Is Alive), and is the fifth film in the YRF Spy Universe, which also includes Ek Tha Tiger (2012), War (2019) and Pathaan (2023). The new film stars Salman Khan, Katrina Kaif and Emraan Hashmi, and is directed by Maneesh Sharma (2016's Fan, starring Shah Rukh Khan).
Poland is enjoying a strong local hit with Hugh Welchman and DK Welchman's The Peasants – their follow-up to animated hit Loving Vincent (2017), and made in the same hand-painted animation style. The Peasants has proved very consistent since releasing in mid-October, for example achieving 111,000 admissions on the fourth weekend, barely below the 115,000 admits for the opening session. Total for The Peasants going into the fifth weekend was above 1 million admissions – top for a Polish film so far this year.