Sony was betting big on turning PlayStation into a live-service juggernaut, but it sounds like the platforms shift into online multiplayer games hasn't been anywhere near as quick or smooth as it once hoped. Unlike originally planned, Sony president Hiroki Totoki told investors six of the company's 12 upcoming live service games won't arrive until 2026 and beyond.
Thank You, PS Plus, For Making My Backlog Even Bigger
"We are reviewing this…we are trying as much as possible to ensure [these games] are enjoyed and liked by gamers for a long time," Totoki said according to a transcription by VGC. "[Of] the 12 titles, six titles will be released by FY25 – that's our current plan. [As for] the remaining six titles, we are still working on that."
Sony's president went on to say that its big live service push for PlayStation reamins the "unchanged policy of the company," but that "game quality" will be the most important thing overall as it makes production and scheduling decisions. The full slate of 12 games had originally been promised by around the end of 2025. The man who made that promise, Jim Ryan, is currently in the middle of retiring as the head of PlayStation.
While a good year overall for PlayStation, 2023 has been anemic for big first-party releases outside of Horizon Forbidden West's Burning Shores expansion and Spider-Man 2, which Sony confirmed sold 5 million copies in its first week despite being a PlayStation 5 "next-gen" exlclusive. A lack of new announcements has similarly left fans who upgraded to the new hardware wondering what's coming down the pipeline, especially with regard to the big single-player games Sony has become known for in recent years.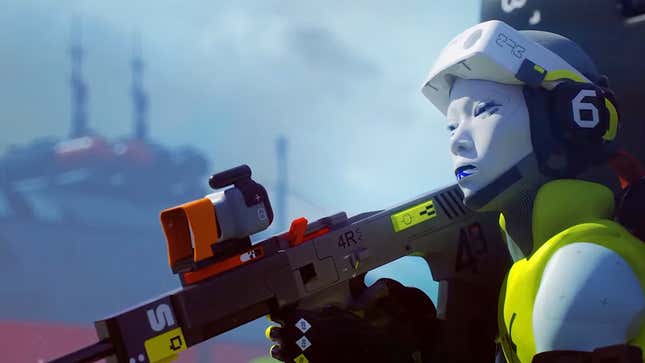 Instead, Sony revealed a number of upcoming live-service games at its big PlayStation Showcase back in May. The livestream included teases for a heist shooter by Haven called Fairgame$, a sci-fi adventure called Concord by Firewalk Studios, a third-person alien shooter sequel Helldivers 2, and more. Very few of them had any concrete release date, however, and some seem to have since been delayed.
Marathon, Bungie's revival of an old sci-fi franchise as a multiplayer extraction shooter, was also revealed at the May showcase. Bloomberg recently reported it has been delayed from next year to 2025. A long-awaited multiplayer spinoff to The Last of Us Part 2 is also still MIA. Bloomberg reported the game had recieved a negative internal evaluation at a portfolio review with Bungie, and Kotaku later heard from a source involved in production that the game, while not cancelled, eseentially remained "on ice" until Sony decided what to do with it next.
Live-service games have been a gold mine for the companies who have managed to make them work. Money players spend in games like Madden and Call of Duty now outpaces revenue from sales of the games themselves. But several companies who have tried to chase the trend have come up painfully short. BioWare's attemtp to emulate Destiny 2 with its action-RPG Anthem crashed and burned, and even Destiny 2 itself has recently struggled. Bloomberg reported that Bungie laid off around 100 staff after the sci-fi MMO missed revenue projections by 45 percent this year.
Even if Sony managed to ship all 12 of its planned live service games ontime, fans have worried the glut of projects would lead to few successes and many failures, wasting resources and potentially leading ot more mass layoffs at the studios involved in them. Creative Assembly recently laid off tons of developers after Sega decided to cancel its upcoming extraction shooter Hyenas, reportedly taking a huge write-down on its most expensive unreleased game ever.