Suwannee Hulaween celebrated its 10-year anniversary over Halloween weekend, welcoming 20,000 fans back to its home at Spirit of the Suwannee Music Park in Live Oak, Florida.
Hulaween stands as one of the last truly independent, large-scale music festivals thriving amongst today's corporatized concert landscape. Heralded as one of the leading immersive art experiences across the U.S. festival market thanks to Spirit Lake, this year's event offered its most robust programming to date with over 20 installations.
The festival was brimming with talented sculptors, fire workers, painters, thespians and lighting designers as attendees reveled in lakefront projection mapping, got hypnotized with light shows and lost themselves in the vast array of interactive installations.
"The evolution of this event has been inspiring to witness," Jasper Mosher, who runs the projection-mapping company The Electric Dream Machine and works onsite at Hulaween, said in a recent interview with EDM.com. "Not only has the Spirit Lake production area continued to grow over the years, but the intricacies of the artwork, creative depth and the community of creators has developed by leaps and bounds. Thankfully, Spirit Lake has managed to retain the original personality from its youth while blossoming into the creative behemoth of an immersive environment that it is today. I personally find the Spirit Lake artists' use of natural elements to be a true part of its charm."
Hulaween continues to be emblematic of what makes a festival unique, cultivating an ineffable space for creative expression, interconnectedness and true magic. To celebrate its persevering reputation as a pioneering festival at the intersection of music and art, we compared 10 artists to the overall feeling evoked by its various immersive art installations in 2023.
The String Cheese Incident – Spero Totems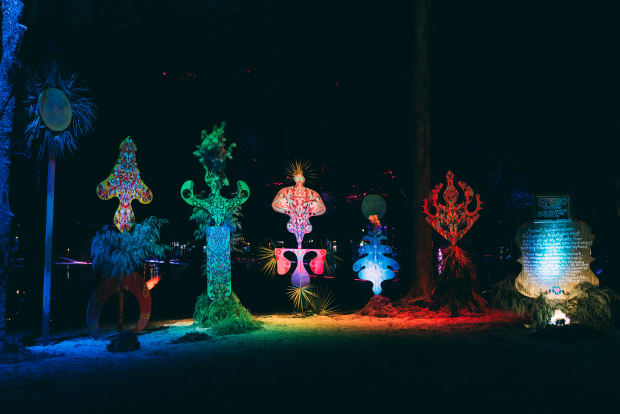 Futuristic archetypes exist within all of us—morsels from past lives, love and new experiences waiting to be unearthed and explored. The String Cheese Incident undeniably represent the spiritual core of Hulaween throughout its decade-long history.
Through each of the band's six sets over the weekend, Hulaween's 10th anniversary celebrating its Full Moon Family Reunion relayed more than just music to fans. Just like the six pillars of the Spero Totems, all six members of The String Cheese Incident cultivated a space to explore the inner world that lives within each of us with child-like awe.
Elderbrook – Cosmic Portal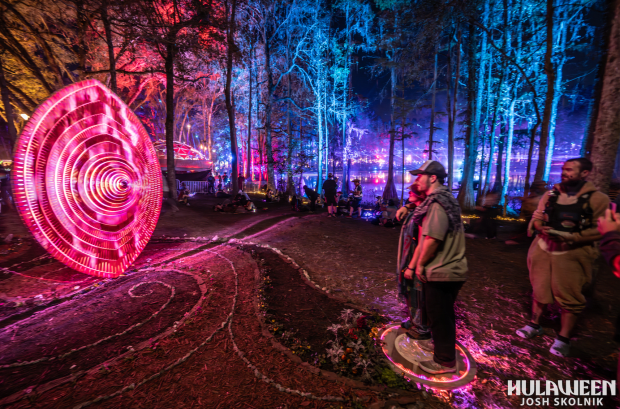 Step into the Cosmic Portal, where we embark on a journey of transformation by exploring the dichotomy of light and dark within nature.
Blending his organic and raw vocals with electronic production, Elderbrook offered a sanctuary where dance music naturally formed through his emotive and grounding soundscapes. Just as you started to settle into your ethereal trance, the renowned producer and singer-songwriter brought back the beat to rediscover the wonders of vibrational music.
John Summit – Mural Maze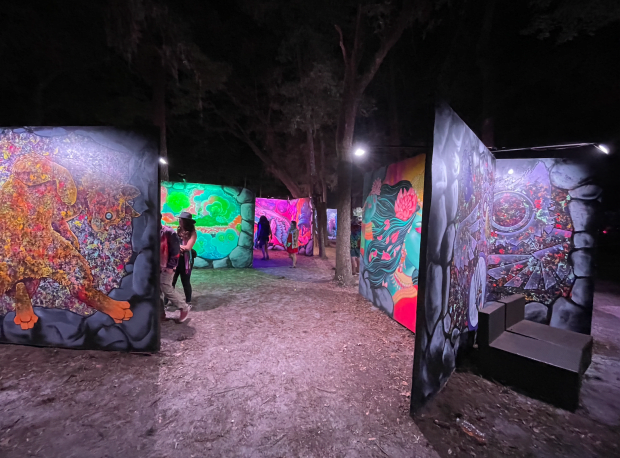 Having originated at the debut Hulaween in 2013, the Mural Maze sprawled across 15,000 square feet and provided an immersive experience.
Just as you would turn a corner of the mural maze not knowing what to expect, John Summit's performances over the weekend had attendees on their knees as he played through nearly every genre of electronic music. From his classic house and techno takes to the surprise flashes of dubstep and drum & bass, Summit was a musical maze to be reckoned with.
MZG b2b Manic Focus – Bioshrooms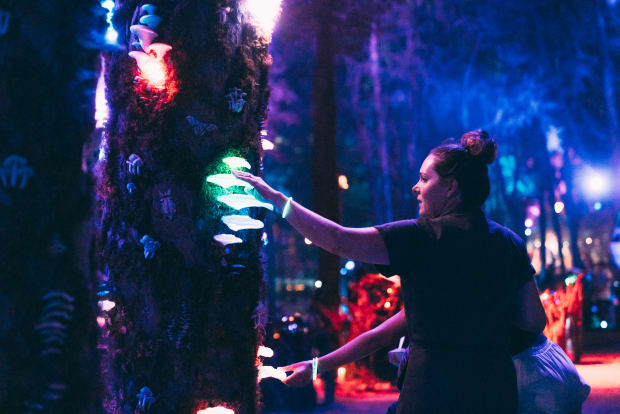 A selection of Spirit Lake lit up at night as interactive, bioluminescent mushrooms grew on the side of select trees. While Hulaween veterans MZG and Manic Focus both played their own sets, together they summoned quite the sonic trip for fans at their b2b set on the Incendia Stage.
Just like naturally-occurring mushrooms in nature, the b2b performance saw the producers at their best together, delivering a trippy and one-of-a-kind experience for attendees.
Channel Tres – Alebrijes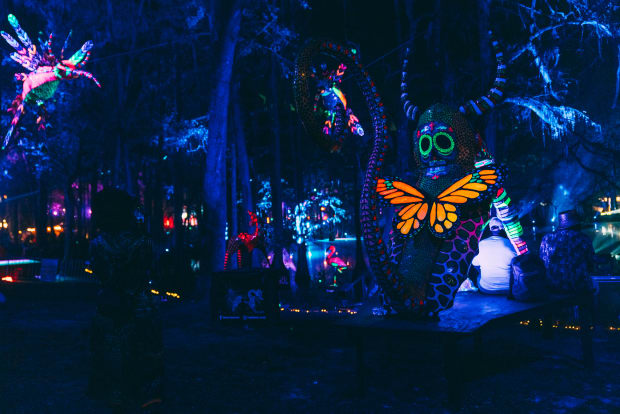 Considered ambassadors of Mexico abroad, the monumental Alebrijes are created by mixing pictorial and sculptural elements of contemporary art by the artist Emanuel Zarate Ortiz. These breathtaking installations are meant to honor tales of traditional Mexican storytelling and inspire spiritually expansive messages to the Hulaween attendees.
Channel Tres—usually seen onstage with his live band—changed it up and treated us to a DJ set wherein the R&B and house music virtuoso cycled through his kaleidoscopic arsenal of disco and remixes of classic pop anthems.
Pretty Lights – Chatterpillars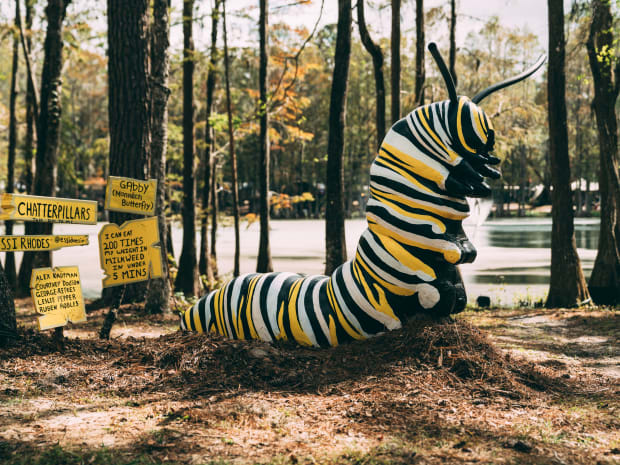 When we open our hearts and our minds, there is no limit to what we can do. The power of human connection can not be understated, and the two sets from Pretty Lights over Hulaween weekend proved that to be true.
With his innovative sound and ethos of collaboration and community, Pretty Lights reminds us what's possible through innate human creativity, just as the Chatterpillars installation centered our intentions around the powers of communication.
Khiva – Fleeble Flobbler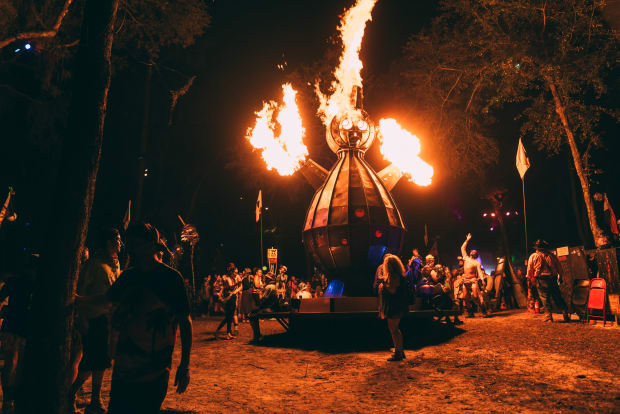 Fiery, wild and raunchy, the Fleeble Flobbler brings silliness and open-heartedness to the front of the mind while pushing us out of our comfort zones and connecting us with one another. Khiva brought a daring, glowing and warm energy to her Hulaween set with flaming deep dub connecting the crowd.
Giolì & Assia – The Spider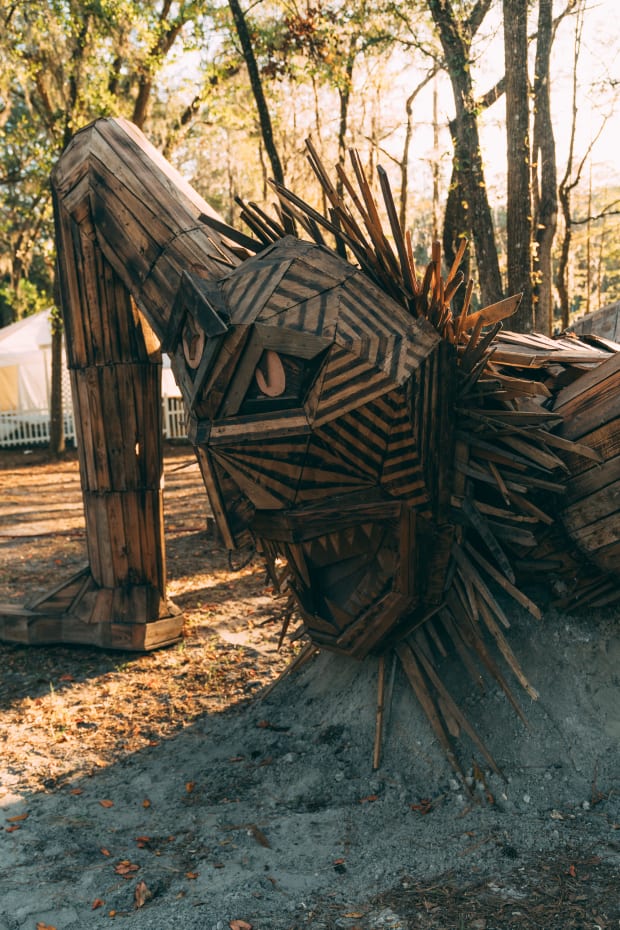 A center of gravity within Spirit Lake, the Spider brought us into close quarters to make memories, just as Giolì & Assia brought uplifting and collaborative energy to the Amp. With the theme of togetherness at its core, their stunning live set collided expert mixing with unique sound design.
Pigeons Playing Ping Pong – Bird House Village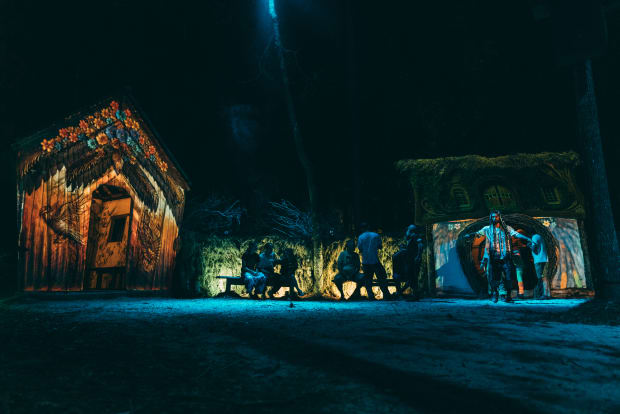 Made from upcycled and locally harvested natural materials, the Bird House Village showed us there's always more than meets the eye—and to never underestimate how things can come together in a perfect way to create something special.
Pigeons Playing Ping Pong united a variety of sounds, instruments and vibes to weave special moments together in a curious and unique way in their special "Daft Side Of The Moon" set, which saw the four-piece psychedelic funk band play their take on Daft Punk and Pink Floyd classics.
Lab Group – Lost Lighthouse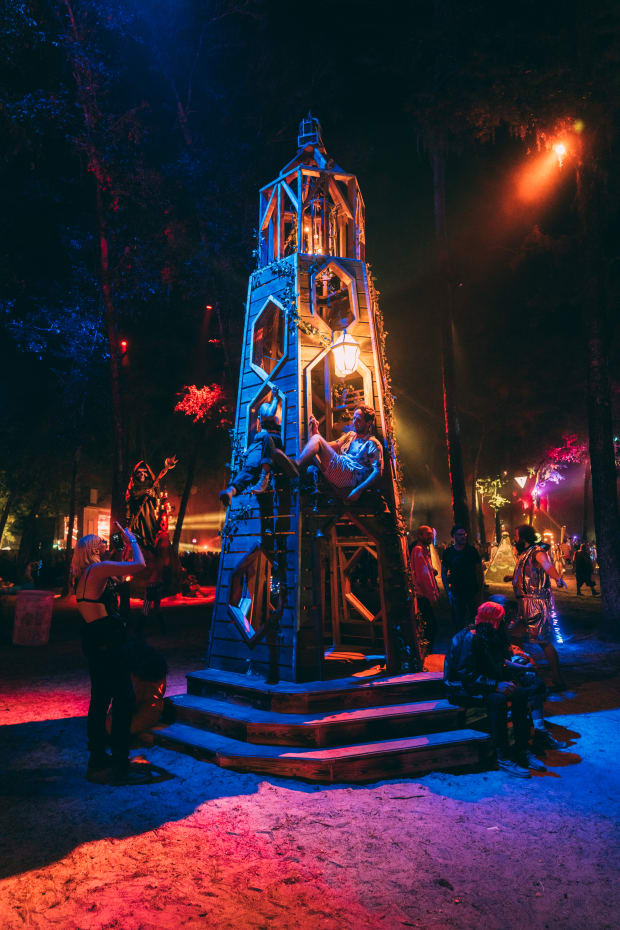 Just like the Lost Lighthouse acted as a beacon of radiant light to guide the path, as well as a meeting place for those who aren't afraid to wander, Lab Group provided a glowing shimmer of powerful energy to inspire and connect.
Check out a photo gallery of the 10th annual Hulaween below, courtesy of the festival's press team.