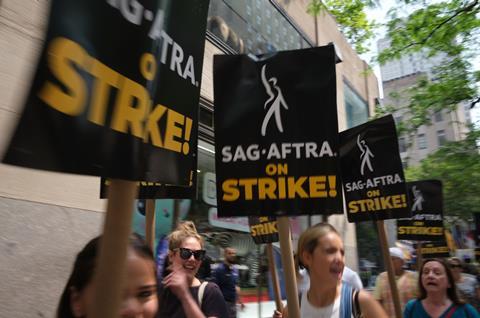 UK unions and industry bodies are celebrating the tentative deal that has been reached between SAG-AFTRA and the studios and streamers, as word came in overnight that the 118-day US actors' strike had reached its end.
While the strike concerned members of the US actors' union negotiating on issues such as sufficient payment and safeguarding against artificial intelligence (AI), it had a colossal impact on the UK industry, with major US studio and streamer productions grinding to a halt leaving thousands of below-the-line crew out of work.
UK productions that were shuttered and are expected to start back up shooting again soon include How To Train Your Dragon (shooting in Northern Ireland's Titanic Studios), Deadpool 3 (shooting at Pinewood Studios, with Ryan Reynolds confirming on X this morning a release date of summer 2024) and Wicked (shooting at Sky Studios Elstree).
Productions that paused mid-cycle are expected to start back up again quickly having been actively planning since the end of the Writers Guild of America (WGA) strike in October. Post-Christmas is when the UK production boom is anticipated to hit.
Philippa Childs, head of UK film and TV union Bectu, said: "We congratulate our SAG-AFTRA colleagues on their determination in holding out for a deal that meets their objectives. We wholeheartedly welcome this news after what has been and incredibly difficult period for our members, and the whole UK film and TV industry.
"I want to pay tribute to Bectu members for weathering this unprecedented time and showing solidarity to their fellow trade unionists in the US. It cannot be understated how much UK film and TV workers have suffered at the hands of the AMPTP's failure to reach an acceptable agreement with SAG-AFTRA. This news will come as a huge relief and provide some hope after months and months of instability.
"Our members are highly skilled, talented professionals and the backbone of our film and TV sector, and we look forward to them getting back to work as soon as possible."
"A deal being reached and strikes ending is such good news for the industry. This has been a long and challenging road for everyone," noted Lyndsay Duthie, CEO of the Production Guild of Great Britain (PGGB). "We look forward to reading the deal in full, but [are] absolutely delighted and relieved that UK production talent can soon get back to what they do best, creating world class content. We know our studio partners have been scenario planning post the WGA strikes ending to enable to productions to start up as soon as we had this news, so we anticipate a busy time ahead."
Adrian Wootton, CEO of the British Film Commission, said: "Today's news will bring relief to cast, crews and the wider industry on both sides of the Atlantic. We're thrilled that an equitable agreement on such a complex set of issues was achieved, and we look forward to productions in the U.K. restarting as soon as possible, assuming the final vote on Friday ratifies the deal. We also want to recognise that this has been an extremely challenging time for many in the UK production community, so this agreement provides a welcome end to a tough period.
"The UK has an incredibly strong relationship with the US, with many major productions based here and working with our stellar UK talent. We look forward to building on that, to provide jobs and opportunities for all levels in the UK film and TV sector."
Uzma Hasan, acting CEO of Ffilm Cyrmu, described it as "a watershed moment of change for the industry, and we are excited to see new films starting production in Wales and around the world as part of a fair and sustainable screen sector". 
Producers' trade body Pact added: "Pact welcomes the news that the SAG/AFTRA negotiation committee voted unanimously to accept the AMPTP offer. Moreover, the news that work may recommence will be received positively by the Pact members who had to postpone production or development of projects that involved SAG members."
On its own relationship with UK actors' union Equity, Pact said: "Pact and Equity recently agreed terms for a three-year deal to increase minimum payments under our own agreement. We also meet with the Union in a constructive and collaborative forum to discuss AI uses."
Equity told Screen that it was waiting to see the full terms of the deal before releasing a comprehensive statement in reaction, but posted on X (formerly Twitter): "We're pleased to hear that our sister union @sagaftra has approved a tentative agreement with the AMPTP and that the strike has been suspended. Solidarity with all who stood strong during this action and we wish @sagaftra the best as they deliberate the contents of this deal."
Terms of the three-year TV and theatrical deal have not been disclosed and are expected to emerge after the union's national board examines the deal on Friday (November 10). SAG-AFTRA has promised "a deal of extraordinary scope" which it said was valued at more than $1bn.