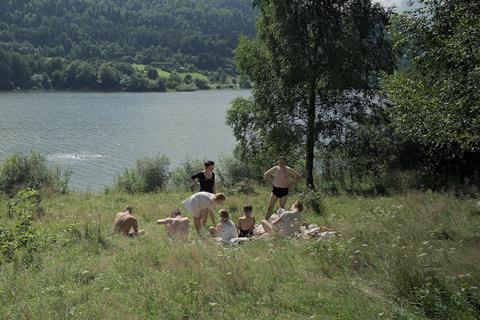 The European Film Academy has revealed the nominees for the main categories of the European Film Awards which take place in Berlin on November 9.
The Academy has shortlisted five of the highest profile films to come out of Europe this year for its best European film category, with the directors of the five films also all nominated in the best European director category. The five films also dominate the acting and screenwriting categories.
Three of the best European film nominees world premiered at Cannes. Justine Triet's Palme d'Or winner Anatomy Of A Fall has been nominated alongside Jonathan Glazer's Holocaust drama The Zone of Interest, which won the Grand Prix and Fipresci prize at Cannes. Aki Kaurismäki's gentle tragicomedy Fallen Leaves, which picked up Cannes jury prize and topped Screen's jury grid at the festival, is also nominated.
They compete against two immigration dramas that launched at Venice: Agnieszka Holland's Green Border, which won the special jury prize at the festival, and and Matteo Garrone's Io Capitano, which earned Garrone the best director Silver Lion and the best new actor prize for the film's leading actor Seydou Sarr.
German actress Sandra Huller is nominated twice in the best actress category for her performances in The Zone Of Interest and Anatomy Of A Fall.
The nominations are based on the votes of 4,600 members of the European Film Academy who watched the films included in the annual Academy Selection.
The nominations are as follows:
European Film:
Anatomy Of A Fall directed by Justine Triet (Fr)

Fallen Leaves directed by Aki Kaurismäki (Fin-Ger)

Green Border directed by Agnieszka Holland, produced by Marcin Wierzchosławski, Fred Bernstein & Agnieszka Holland (Pol-Fr-Cz-Bel)

Me Captain (Io Capitano) directed by Matteo Garrone, produced by Matteo Garrone, Paolo Del Brocco, Ardavan Safaee & Joseph Rouschop (It-Bel)

The Zone Of Interest directed by Jonathan Glazer, produced by James Wilson & Ewa Puszczyńska (UK-Pol-US)
European Documentary:
Apolonia, Apolonia directed by Lea Glob (Den-Pol)

Four Daughters directed by Kaouther Ben Hania (Fr-Tun-Ger-Saudi) 

Motherland directed by Hanna Badziaka & Alexander Mihalkovich (Swe-Ukr-Nor)

On The Adamant directed by Nicolas Philibert (Fr-Jap)

Smoke Sauna Sisterhood directed by Anna Hints (Est-Fr-Ice)
European Director:
Justine Triet for Anatomy Of A Fall

Aki Kaurismäki for Fallen Leaves

Agnieszka Holland for Green Border

Matteo Garrone for Me Captain

Jonathan Glazer for The Zone Of Interest
European Actress:
Sandra Hüller in Anatomy Of A Fall

Eka Chavleishvili in Blackbird Blackbird Blackberry

Alma Pöysti in Fallen Leaves

Mia McKenna-Bruce in How To Have Sex

Leonie Benesch in The Teachers' Lounge

Sandra Hüller in The Zone Of Interest
European Actor:
Thomas Schubert in Afire

Jussi Vatanen in Fallen Leaves

Josh O'Connor in La Chimera

Mads Mikkelsen in The Promised Land

Christian Friedel in The Zone Of Interest
European Screenwriter:
Justine Triet & Arthur Harari for Anatomy Of A Fall

Aki Kaurismäki for Fallen Leaves

Maciej Pisuk, Gabriela Łazarkiewicz-Sieczko & Agnieszka Holland for Green Border

İlker Çatak & Johannes Duncker for The Teachers' Lounge

Jonathan Glazer for The Zone Of Interest
European Discovery – Prix FIPRESCI:
20,000 Species Of Bees directed by Estibaliz Urresola Solaguren (Sp)

How To Have Sex directed by Molly Manning Walker (UK-Greece)

La Palisiada directed by Philip Sotnychenko (Ukr)

Safe Place directed by Juraj Lerotić (Cro-Slov)

The Quiet Migration directed by Malene Choi (Den)

Vincent Must Die directed by Stéphan Castang (Fr-Bel)