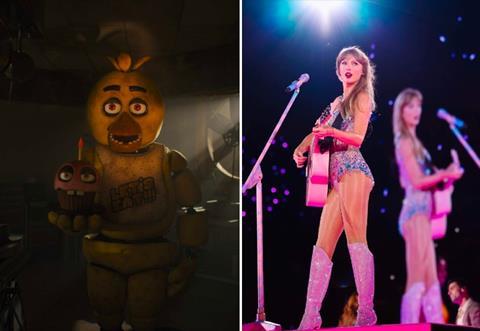 Worldwide box office November 3-5
|  Rank |  Film (distributor)  |  3-day (world) |  Cume (world) |  3-day (int'l) |  3-day (int'l) |  Territories |
| --- | --- | --- | --- | --- | --- | --- |
|  1. |  Five Nights At Freddy's (Universal) |  $55.0m |  $217.1m |  $35.6m  |  $103.5m |  75 |
|  2. |  Taylor Swift: The Eras Tour (various) |  $25.1m |  $231m |  $11.6m  |  $65.1m |  114 |
|  3. |  Killers Of The Flower Moon (Paramount) |  $18.9m |  $119.2m |  $11.9m |  $66.9m |  67 |
|  4. |  Last Suspect (various) |  $17.8m |  $23.4m |  $17.8m |  $23.4m |  1 |
|  5. |  Trolls Band Together (Universal) |  $13.2m |  $56.9m |  $13.2m |  $56.9m |  54 |
|  6. |  Paw Patrol: The Mighty Movie (Paramount) |  $10.0m |  $181.7m |  $8.0m |  $119.7m |  68 |
|  7. |  The Boy And The Heron (various) |  $8.1m |  $81.8m |  $8.1m |  $81.8m |  5 |
|  8. |  Godzilla Minus One (Toho) |  $7.8m |  $7.8m |  $7.8m |  $7.8m |  1 |
|  9. |  Priscilla (A24) |  $5.1m |  $5.3m |  – |  – |  1 |
|  10. |  Radical (various) |  $4.3m |  $10.3m |  $1.6m  |  $7.6m |  2 |
Credit: Comscore. All figures are estimates.
International strength balances North America slide for 'Five Nights At Freddy's'
On a weekend that was originally set for the release of Dune: Part II, cinemas worldwide struggled with a depleted release calendar. In North America, total weekend box office is estimated at $56m – one of the lowest market totals so far this year. Globally, holdover titles dominate, with Chinese film Last Suspect the highest new entry in the weekend chart, in fourth place (see below).
Blumhouse/Universal's Five Nights At Freddy's retained the top spot at the North American, international and global box office – but saw numbers slide alarmingly in the domestic market, where the film is simultaneously available to stream on Peacock.
North American weekend box office for the videogame adaptation is estimated at $19.4m, down 76%. The estimated international number is a healthier $35.6m, down 54% in holdover markets. Cumulatively, the film, which has a production budget reported at $20m, has grossed a highly profitable $113.6m in North America, $103.5m for international, and $217.1m worldwide, after just two weekends of play.
Five Nights At Freddy's expanded from 64 to 74 international markets at the weekend, opening with an estimated $5.0m over five days in Spain, and an estimated $4.0m in Italy.
Mexico topped international holdover markets, adding an estimated $4.6m, ahead of Brazil ($2.5m), Australia ($1.9m) and UK/Ireland ($1.8m). With a $16.9m total in Mexico, Freddy's is the second-biggest Blumhouse film of all time in the market, behind the locally popular The Black Phone.
In cumulative totals, UK/Ireland ranks second behind Mexico among international markets for Freddy's with $10.6m, ahead of Brazil ($7.7m) and Australia ($6.5m).
Freddy's has several key territories yet to release, including France this Wednesday (November 8), South Korea next week (November 15) and Japan next February.
Globally, Blumhouse's top title remains M Night Shyamalan's Split ($278.5m), with David Gordon Green's 2018 Halloween reboot and Jordan Peele's Get Out virtually neck and neck, with $255.4m and $255.4m respectively – all according to Box Office Mojo.
Also for Universal, DreamWorks Animation's Trolls Band Together added an estimated $13.2m at the weekend, taking the international tally to $56.9m – all ahead of the North America release on November 17.
Trolls Band Together expanded from 43 to 54 territories, landing in a range of relatively small markets including Peru, Singapore and Greece. In holdover markets, which include France, UK/Ireland and Mexico, the overall drop was just 14% – auguring well for a strong run. Next to open is Italy, on Thursday (November 9).
'Taylor Swift: The Eras Tour' moves back up box office chart
After falling fast in its second weekend of play following a powerful opening, and arresting the pace of decline in the third weekend, Taylor Swift: The Eras Tour has bounced back on its fourth weekend – perhaps due to fans motivated by the notion that the film will play only limited dates in the current run.
In North America, The Eras Tour grossed an estimated $13.5m, a slim fall of 12%. For international, the concert film grossed an estimated $11.6m, up 73% from the previous session, albeit boosted by its arrival in fresh markets including Brazil, South Korea and India.
Those numbers mean that The Eras Tour has risen from third to second place in the worldwide weekend chart, knocking aside Martin Scorsese's Killers Of The Flower Moon.
Total after four weekends of play is $231.0m. That number still lags behind the lifetime box office of the biggest ever concert film, Michael Jackson's This Is It, with $261.2m in 2009. 
'Killers Of The Flower Moon' enjoys solid holds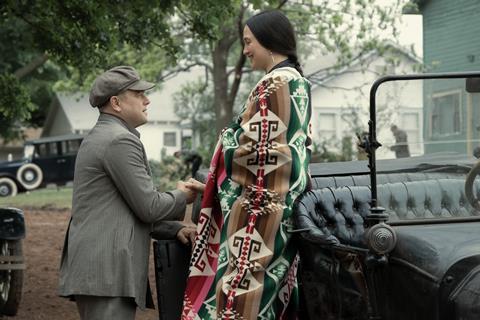 While Paramount Pictures' Killers Of The Flower Moon lost its place in the global box office ranking to Taylor Swift, the film enjoyed a very creditable hold, facing negligible fresh competition in key markets.
In North America, where estimated weekend takings are $7.0m, the drop was a mild 25%. For international, with estimated takings of $11.9m, the fall was 24% in holdover markets. Totals after three sessions are $52.3m in North America and $66.9m for international, combining to deliver $119.2m worldwide.
Top international market on the big-budget Apple Studios' production remains UK/Ireland with $9.5m, although France (where Killers fell just 1% at the weekend) is closing in with $8.2m to date. Next come Germany ($5.6m), Spain ($4.2m) and Australia ($3.7m).
In the all-time global Scorsese ranking, Killers has pushed past 1995's Casino ($116.1m worldwide), although that comparison is not adjusted for inflation. There remain six Scorsese films ahead of it, led by The Wolf Of Wall Street ($406.9m, 2013). Killers still has a fair way to go to match the likes of Hugo ($185.8m, 2011), Gangs Of New York ($193.8m, 2002) and The Aviator ($213.7m, 2004) – which are the next tier of titles above it in the Scorsese global box office ranking. Still further ahead are Shutter Island ($294.8m, 2010) and The Departed ($291.5m, 2006). (Netflix did not report box office numbers on 2019's The Irishman.)
China's 'Last Suspect' lands in fourth place worldwide with $18m
The highest new entry at the worldwide box office at the weekend was Chinese crime thriller Last Suspect (aka Who's The Suspect), landing in fourth place in the chart with $17.8m for the weekend period, and $23.4m including previews.
Directed by Mo Zhang, the Beijing Dino Films production stars Zhang Xiaofei as a lawyer who is forced to defend a death-row suspect after her own daughter is kidnapped.
Last Suspect leads a fairly lacklustre weekend at the Chinese box office, well ahead of second-placed Only The River Flows ($4.1m in its third weekend of play, according to Artisan Gateway).