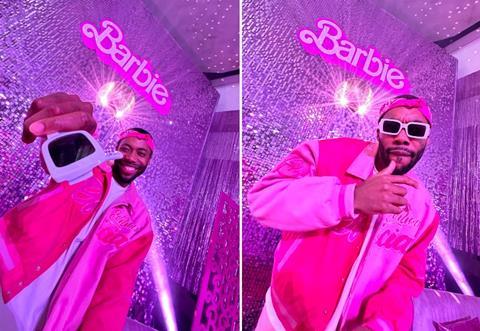 The importance of social media influencers in a film's release campaign has been cemented in a year that has seen US actors unable to promote their films due to the SAG-AFTRA strike, while the success of Warner Bros' July release of Barbie perfectly illustrated the ability of social-media influencers to reach the tricky Gen Z audience.
But is the line between film journalism, film criticism and social media influence becoming blurred? And if it is, does it matter?
In the UK, whether it involved posing with Margot Robbie on the pink carpet, sipping Barbtini cocktails at the Savoy Hotel, or simply watching the film prior to its release, influencers were urging their legions of followers to see Barbie.
"They were showing something the typical everyday person cannot get to experience," explains influencer talent manager Jamie Sharp. "It was all about invoking FOMO [fear of missing out] and getting people wanting to go to the cinema to join in."
In the build-up to a film's release, an influencer can secure an invite to one of three screenings depending on their reach: a multimedia screening; an influencer screening at an 'Instagrammable' venue; or the official premiere. The threshold for each tier can vary but Sharp, managing director of the agency Sharp Talent, suggests that for major premieres like Barbie it can be as high as 250,000 followers, unless you have a particularly well-matched audience niche.
Two of Sharp's clients made the cut for the Barbie premiere after they were "submitted" by the agency for the shortlist. Payment for attending premieres is rare — though sources tell Screen International some were paid for Oppenheimer events — as the exposure and experience is often enough. "With something like Barbie, it was so popular that [influencers] knew they could make great content from it and build their own popularity," says Sharp, whose clients are mostly beauty and lifestyle influencers with a target audience of women aged 18-30.
Sharp's two influencers collectively posted more than 30 pieces of content across a 24-hour period with a reach of around a million people. "And it cost Warner Bros absolutely nothing," Sharp is quick to point out. "You try and find any other means of advertising your film to a million people for nothing."
Unwritten rules
Annie McMonagle-Wilmot, who heads the filmed entertainment team at London-based PR agency Premier, says there is no official requirement for influencers to post about a screening if they have not been paid. "There's an unwritten understanding that if they've attended an event and they're enjoying it and getting great content, they'll post about it," she explains.
But it is not just about filling up Insta­gram feeds with snaps from the red carpet. Influencers have opinions on the films they watch too. In fact, social media embargoes are generally lifted prior to a reviews embargo.
The consensus on this strategy seems unclear and multiple studios either declined or did not return Screen's request for an interview. Sharp points to the fast-paced environments of apps like Instagram and TikTok that require film to capitalise on trends as soon as possible, while McMonagle-Wilmot says it is about building hype. "There's a fine line because you don't want to give too much away too early [with reviews] but also you want to create a buzz and a 'talkability' around the film's release," she says. "That's when social media comes in."
Distributors cannot rely on influencers to go easier than critics on a film either. After attending a screening of Warner Bros' Meg 2: The Trench, Sharp reveals a client of his labelled it "one of the worst films of 2023" on her Instagram story. "We always say that if an influencer is invited to a screening, they have full range to speak about the film both positively and negatively," Sharp says. "But I'll always tell [the influencer] to highlight a thank you and an appreciation for the invite."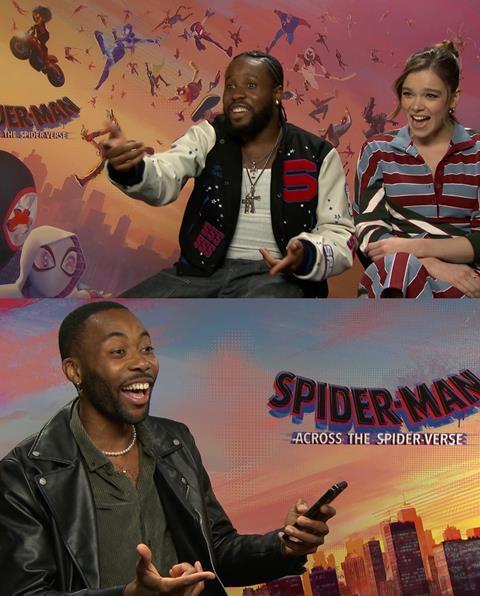 UK-based influencer and actor Dujon Anderson, who posts content around Marvel, sci-fi and genre films, says that while "positive reactions" are often encouraged at screenings, he has never felt pressured to do so. "There comes a point where you have to take a stance and be like, 'I do have an opinion on this film and that's okay,'" says the 27-year-old, who has 40,000 Insta­gram followers. "It's about being honest with your audiences. The fact that you're discussing the film gets people talking about it and wanting to make their own opinion on it."
In addition to attending screenings, Anderson often interviews actors on press junkets to create content for TikTok. When asked if he considers himself a journalist, he says, "the only real difference is that we're marketing ourselves as well [as the film]". His audience has the added bonus of not just watching the actor they like but watching their favourite influencer too. His interactions often have a different tone as well. "We're just having fun with the [actor or filmmaker]," Anderson explains. "It's important to show those actors as just human beings. Where journalists have certain beats to hit, we have, too."
Among those who spoke to Screen, there is no desire for influencers to take over from journalists and critics. Premier's McMonagle-­Wilmot insists film critics and journalists are "still priority" for a PR campaign.
UK entertainment publicist Amber Muotto suggests influencers are not replacing journalists so much as they are filling the spaces in a dwindling media landscape. "I've been in situations where it's like drawing blood from a stone to get journalists to cover [a smaller title]," explains Muotto, who specialises in independent films. "When we're not going to get those reviews we were hoping for, we have to pivot to influencers to fill those gaps."
For the UK April release of Loving Highsmith, MetFilm Distribution's documentary about novelist Patricia Highsmith, Muotto turned to 'BookTok' — a niche TikTok space for book lovers — to drum up hype for the film. "We had a good interaction with journalists on that [documentary] but it also made sense to reach out to people who had a genuine interest in literature," notes Muotto. "Influencers reach audiences that traditional publications just don't. They serve a different function, a different purpose. The two can coexist."
As the SAG-AFTRA actors strike passes 100 days, some believe influencers could find themselves taking on an even bigger role in the film marketing machine as awards season cranks up. However, SAG-AFTRA warned that influencers continuing to work with studios could forget about ever becoming a member, and many individuals — even those who do not consider themselves actors — have chosen to not participate in campaigns beyond previous contractual obligations.
"Just because the strikes have happened doesn't mean that we stop loving film and TV, but we do understand why they're [striking] and we want to support that," says Anderson, who is an actor himself. "But we don't know how long this is going to take and what's going to happen. And this is our livelihood too."
It seems the presence of social-media stars in film campaigns is here to stay as the industry evolves with the zeitgeist.
"There's still a lot of snobbery around the term 'influencer', but at the end of the day it's about getting bums on seats," says Muotto. "And getting as many people as possible to watch these amazing films and using all the tools at our disposal to do so. We all want cinema to still be here, don't we?"