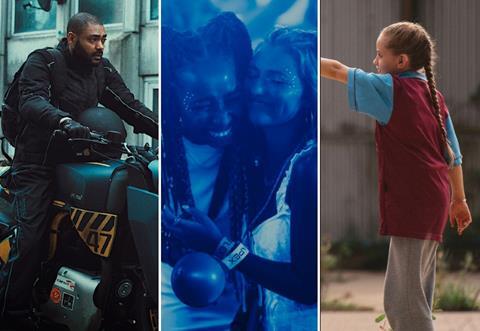 All Of Us Strangers
Dir. Andrew Haigh
Haigh's feature follow-up to his 2017 film Lean On Pete marks a return to the UK, where this intimate, mysterious Searchlight Pictures drama — starring Andrew Scott, Paul Mescal, Claire Foy and Jamie Bell, and freely adapted from Taichi Yamada's 1987 Japanese novel — is set. Premiering at Telluride, it immediately drew strong reviews and pulled Scott's performance into contention for acting honours (Charlotte Rampling was Oscar-nominated for her role in Haigh's 45 Years in 2016). Opening in late December in the US, All Of Us Strangers should rank among the most talked-about films of the season.
Chicken Run: Dawn Of The Nugget
Dir. Sam Fell
Aardman's Chicken Run predated the animated feature Oscar and Bafta categories, but never­theless netted two Bafta nominations in 2001 for visual effects and British film. (The company scooped the animated feature Oscar in 2006 with Wallace & Gromit: The Curse Of The Were-Rabbit.) This Netflix-backed sequel world premiered at the BFI London Film Festival in October, and releases in UK cinemas on December 8, landing a week later on Netflix. Director Fell is a best animated feature nominee at Oscar for ParaNorman and at Bafta for Para­Norman and Flushed Away.
Dance First
Dir. James Marsh
Marsh won an Oscar and Bafta in 2009 with Man On Wire — respectively for documentary feature and best British film. His latest biographical feature, scripted by Neil Forsyth (a double Bafta Scotland winner for TV's Guilt), tells the life story of Irish playwright Samuel Beckett, played respectively in youth and older age by Fionn O'Shea and Gabriel Byrne. Studiocanal releases for Sky Cinema in the UK.
The End We Start From
Dir. Mahalia Belo
Belo makes her feature debut with an adaptation (by Alice Birch) of Megan Hunter's novel about a young mum fleeing a flooded London. Two-time TV Bafta winner Jodie Comer will likely vie for indie acting honours, though this environmental apocalypse fable — which premiered at Toronto — could also score in technical categories. Paramount's Republic Pictures label will handle the North American release in December.
Femme
Dirs. Sam H Freeman, Ng Choon Ping
Freeman and Ng's Bafta-nominated 2021 short of the same provides inspiration for this drama starring Nathan Stewart-Jarrett as a drag queen who is attacked by a troubled ex-con (George MacKay), before their relationship enters highly ambiguous, constantly shifting terrain. A low-key launch in the Berlinale's Panorama sidebar has been followed with increasing momentum on the autumn festival circuit for this daring drama backed by BBC Film and Anton.
Girl
Dir. Adura Onashile
Onashile (2020 short Expensive Shit) makes her feature debut with a Glasgow-set drama about a refugee (Déborah Lukumuena from Houda Benyamina's Divines) and her intense relationship with her 11-year-old daughter (newcomer Le'Shantey Bonsu). Backed by the BFI and BBC Film, and produced by Scottish outfit barry crerar, Girl premiered at Sundance, then making its UK debut opening Glasgow Film Festival.
How To Have Sex
Dir. Molly Manning Walker
Bursting through the frame with the audaciousness of youth and its young creative team, How To Have Sex won the top Un Certain Regard prize at Cannes. It is the most brash and most poignant of this year's strong crop of UK debut films, headlined by a breakthrough performance from Mia McKenna-Bruce as a teenager on a boozy post-exam trip to Greece. Mubi has major territories including North America and the UK.
In Camera
Dir. Naqqash Khalid
UK rights were still under discussion at press time, but producers are aiming to qualify for this year's Baftas — building on momentum from Karlovy Vary, Zurich and BFI London film festivals, and placement on the Bifa longlists. Khalid's formally playful, BFI/BBC Film-backed feature debut stars Nabhaan Rizwan as an actor navigating a callous auditions process, with Amir El-Masry (Limbo) and Rory Fleck Byrne as his flatmates on their own journeys.
The Kitchen
Dirs. Kibwe Tavares, Daniel Kaluuya
Tavares made a splash on the festival circuit with his three short films including 2011's Robots Of Brixton. Kaluuya won an Oscar and Bafta in 2021 for his performance in Judas And The Black Messiah. Now the pair make their joint feature directing debut with a London drama set in a dystopian 2040, scripted by Kaluuya and Joe Murtagh (Calm With Horses). Film4 is among the producers, and Netflix will release following its premiere as the BFI London Film Festival's closing film. 
Pretty Red Dress
Dir. Dionne Edwards
Natey Jones leads Edwards' debut feature set in south London with an award-contending performance as a man, fresh out of prison, questioning his masculinity. A red dress becomes the centre of his family — which includes his girlfriend, West End star Alexandra Burke, and his daughter, newcomer Temilola Olatunbosun. The drama premiered at the BFI London Film Festival in 2022 and was released theatrically by the BFI this summer.
Rye Lane
Dir. Raine Allen-Miller
A fresh twist on the Richard Curtis era of London-set romcoms, this debut from Allen-Miller premiered at Sundance before a Hulu release in the US and a theatrical run in the UK through Searchlight/Disney in March. David Jonsson and Vivian Oparah star as two heartbroken 20-somethings who spend the day wandering around south London. Director and both stars are award contenders, as are Nathan Bryon and Tom Melia who penned the tight script, with voter attention likely to be keenest in its UK home market. 
Saltburn
Dir. Emerald Fennell
Fennell's Promising Young Woman won her a best original screenplay Oscar and Bafta, alongside Oscar nods for director and picture. Her follow-up is another psychological thriller, fusing Brideshead Revisited with The Talented Mr. Ripley. Barry Keoghan, Bafta winner for The Banshees Of Inisherin, stars as an impoverished Oxford student befriended by a privileged fellow undergrad (Jacob Elordi, Elvis in Priscilla), who invites him to the family's country pile for the summer — the Saltburn of the title — with tragic consequences. This Telluride premiere receives a theatrical release in November, before streaming on Prime Video.
Scala!!!
Dirs. Ali Catterall, Jane Giles
UK film practitioners with nostalgic affection for the titular London repertory cinema will be first in line to watch this lively documentary (subtitled Or, The Incredibly Strange Rise And Fall Of The World's Wildest Cinema And How It Influenced A Mixed-Up Generation Of Weirdos And Misfits). Former Scala manager Giles directs with UK film journalist Catterall, and producers include Andrew Starke's Anti-Worlds. The BFI distributes in the UK.
Scrapper
Dir. Charlotte Regan
Triangle Of Sadness breakout Harris Dickinson and newcomer Lola Campbell shine as estranged father and daughter in Regan's debut, which won Sundance's grand jury prize in world cinema dramatic. Scrapper has exceeded $600,000 (£500,000) at the UK/Ireland box office for Picturehouse Entertainment, an impressive feat for the BFI- and BBC Film-backed indie, with breakthrough nods on the horizon for Regan and Campbell.
The Zone Of Interest
Dir. Jonathan Glazer
Loosely adapted from Martin Amis's 2014 novel of the same name, Glazer's fourth film in 23 years centres on Auschwitz commandant Rudolf Höss (Christian Friedel) and his wife Hedwig (Sandra Hüller, who also has Anatomy Of A Fall out this year) as they build their dream home and raise a family next to the infamous extermination camp. As devastating as it is oblique — the horrors of Auschwitz are kept (mostly) offscreen — The Zone Of Interest premiered at Cannes Film Festival where it won the grand jury prize and has been selected as the UK entry to the Oscars' best international feature category. 
Awards contender profiles by Ellie Calnan, Ben Dalton, Charles Gant, Tim Grierson, Fionnuala Halligan, John Hazelton, Lee Marshall, Mark Salisbury, Neil Smith