– The international co-production forum, organised by the Madrid Audiovisual Association, the Community of Madrid and Madrid City Council, will be held on 2 and 3 November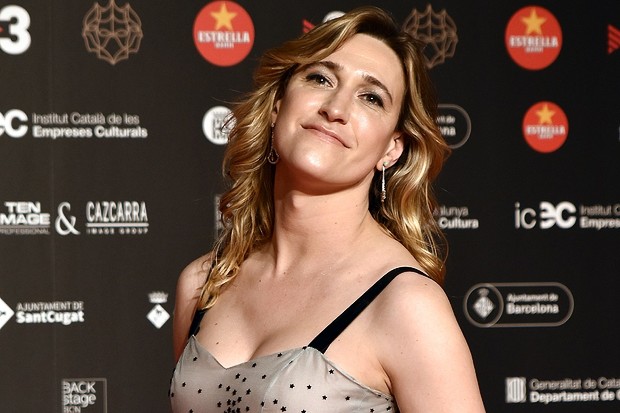 Actress and director Abril Zamora, who is participating at the event with Malditos treinta (© Guillem Medina)
Over two days, on 2 and 3 November, the Círculo de Bellas Artes in Madrid will host the ninth Ventana CineMad: International Co-production Forum and Laboratory, which aims to promote the internationalisation of the Spanish capital's audiovisual fabric. For this edition, 16 projects from Madrid have been selected to give pitches to professionals from the industry. In addition, seven financial prizes totalling more than €63,000 will be awarded, as well as financial support for export to all participating projects. The international presence at this year's event also comes from Canada, Belgium, Germany, France, Switzerland, Sweden and Norway.
The programme will begin on Thursday 2 November with an institutional presentation followed by project pitch sessions (detailed below) and professional meetings. Among the 94 titles registered, based on their quality and artistic value, international potential, financial viability and relationship with the region of Madrid, a committee of experts has selected 16: eight of them are feature-length fiction films, three series, four documentaries and one is animation.
The selection committee was made up of Luisa Romeo, producer of Frida Films; Millán Vázquez, general director of Freak Independent Film Agency; Guadalupe Arensburg, director of the short film department of Movistar Plus+; Beatriz Gómez Molinero, script analyst, story editor and expert in project development; Martín Cuesta, head of film programming at the Conde Duque Contemporary Culture Centre; and María Prada, head of film promotion in Madrid.
On Friday 3 November, as part of the Ventana CineMad Lab, a meeting with Eurimages will be held for members of the Madrid Audiovisual Association (AMA) by invitation only. Two round tables will also be held in the afternoon: "But can blockchain be used to finance my film?", moderated by the lawyer specialising in art and culture Marta Suarez Mansilla, with the participation of producer Orlando Pedregosa, director of Film.io; Inma Turbao, founder of TransilvaniaLab; and Xavier Rull, media manager at VOTTUN; and "Business opportunities in Canada", moderated by journalist Irene Jiménez, with the participation of Marielle Poupelin, from Telefilm Canada; Gonzalo Samper, from Casting Works; Daniela Mujica, from Productions Ocho; and Koldo Zuazua, producer at Kowalski Films.
Ventana CineMad is an International Co-Production Laboratory and Forum organised by the Madrid Audiovisual Association (AMA), in collaboration with the Community of Madrid and Madrid City Council, with the support of PIAF y EGEDA. The project is funded by the ICAA (Institute of Cinematography and Audiovisual Arts) and the European Union Next Generation EU. Participants include the Embassy of Canada, Invest Canadá, Telefilm Canadá, Hub Brussels, Screen.Brussels, Institut Français de España, Film Madrid and Madrid Film Office.
The selected projects:
Fiction feature films
El bosque sumergido – Marina Seresesky
Production: Meridional Producciones
Una cabeza en la pared – Manuel Manrique
Production: Kabiria Films
Tres edades – Jiajie Yu Yan
Production: Solita Films
Balazos y palomitas – Eva Vázquez de Reoyo
Production: Smiz & Pixel, Love Monsters Films, Screen Art Films 
Madre hambre – Day García
Production: Aquí y Allí Films
Malditos treinta – Abril Zamora
Production: Atlantika Films
Alegre y olé – Clara Santaolaya
Production: Capitán Araña, Guion Alto, Batiak Films, Palco Films AIE, La Soga Producciones 
22 preguntas – Lucía Telló Díaz
Production: Cineworld 
Animated feature films
Obictus – Blanca Bonet
Production: Tiwa Studio, Tourmalet Films
Feature documentaries
Este cuerpo mío – Afioco Gnecco, Carolina Yuste
Production: Potenza Producciones
El silencio de las hormigas – Francisco Montoro
Production: Apnea Films, Malvalanda
Señor, llévame pronto – Guillermo F. Flórez
Production: Guillermo F. Flórez Films, Societé du Sensible
Atlas de la desaparición – Manuel Correa
Production: Gusano Films, Artefacto
Series
Mar menor – Blanca Torres
Production: Powehi Films, Morena Films 
Positividad Tóxica – Pedro Rudolphi
Production: Amania Films, Alpha Producciones 
Superada – Ainhoa Menéndez Goyoaga
Production: Sideral
(Translated from Spanish by Vicky York)