– We take a closer look at the European works in progress that were under the spotlight in the industry strand of the largest Czech documentary gathering
The participants at the 2023 New Visions Forum Europe (© Štefan Berec/Jihlava IDFF)
This year, the Ji.hlava International Documentary Film Festival hosted the third edition of the Ji.hlava New Visions Forum and Market, focused on auteur-driven documentary projects in development and production from across Europe (see the news) and the USA (see the news). Cineuropa takes a closer look at the European projects at the production and post-production stage.
Godsterminal – Georg Tiller (Austria/Sweden)
Produced by Maéva Ranaïvojaona (Subobscura Films), this hybrid documentary film follows Edward Weki, a 75-year-old Sudanese man with Parkinson's, who is guided by Bergmanesque phantasms, including figures from Persona and The Seventh Seal, through a journey of lost memories. The film offers a deep dive into memory and mysticism, and aims to give a voice to marginalised people. The editing phase is currently wrapping, while sixpackfilm is attached as the sales agent. The producer is looking for festivals, distribution partners and an international press agent.
If Pigeons Turned to Gold – Pepa Lubojacki (Czech Republic/Slovakia)
Produced by Wanda Kaprálová and Klára Mamojková (CLAW), and co-produced by Matej Sotník (guča films), this personal documentary follows the director and her family over the course of three years. While Pepa is at university and sober, her brother and cousins grapple with homelessness and addiction. The film delves into trauma, co-dependency and family ties, highlighting the challenges of acceptance and letting go. The film has an essayistic form, shot on a combination of camera and iPhone. The Czech Film Fund, Slovak Audiovisual Fund and Prague Film Fund all supported the project. The producers are looking for post-production partners, festivals, distribution partners and sales agents. The premiere is expected in late 2024 or early 2025.
Lost Paradise – Nicola von Leffern, Jakob Carl Sauer (Austria)
Directors Nicola von Leffern and Jakob Carl Sauer delve into the aftermath of the 2020 Beirut explosion. Lost Paradise interweaves stories of a Syrian refugee family planning their escape, artists seeking solace and a Lebanese family facing their faith after a loss. It is a poignant mosaic on resilience and recovery shot in a fly-on-the-wall and direct cinema style. The producer, Peter Drössler of Golden Girls Film, is looking for festivals, TV pre-sales and distribution. The premiere is slated for February 2024.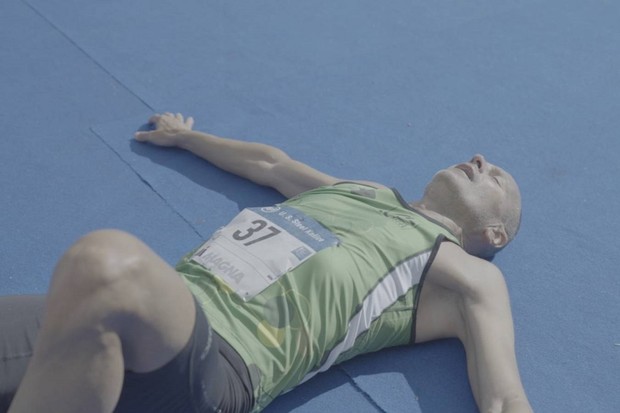 Marathon by Peter Kerekes
Marathon – Peter Kerekes (Slovakia/Czech Republic/Hungary)
Marathon delves into the century-old marathon in Košice, a city that has changed governments but has kept up this sporting tradition. It is being directed by award-winning Slovak helmer Peter Kerekes (107 Mothers [+see also:
film review
trailer
interview: Peter Kerekes
film profile]). Highlighting runners who raced for freedom, against time or out of sheer passion, the film intertwines the city's history with the legacy of the marathon. The project is in the middle of production, and is being co-produced with Czech outfit Hypermarket Films and Hungary's Éclipse Films. The final cut should be ready in early 2025, and producer Tereza Tokárová (kerekesfilm) is seeking co-production and post-production partners and distributors.
Riding with Ghosts – Piotr Malecki, Maciej Nabrdalik (Poland)
Produced by Short Docs Media, this documentary by two photojournalists looks into Time photojournalist Christopher Morris's PTSD, stemming from his coverage of wars from Bosnia to Afghanistan. Living in a US suburb, his haunted past is kept at bay by his family. The film, shot in black and white, and with a 50 mm camera lens, probes the question of whether he will confront sealed wartime archives. Producer Joanna Tatko is looking for additional financing, distribution partners, broadcasters, festivals and sales agents. The premiere is set for May 2025.
Society – Thomas Østbye (Norway/Indonesia)
Thomas Østbye's philosophical film contrasts societal structures and group dynamics across classes in Norway and Indonesia, exploring themes of oppression and inclusion. Interviews are set to be conducted with people in parallel societal roles in both nations. Production is due to unfold in spring 2024, and the doc has been supported by the Norwegian Film Institute. Producer Ellen Ugelstad (Twentyone Pictures) is seeking co-producers, pre-sales and sales agents.
Still Nia – Paula Onet (Romania/France)
Still Nia follows Ștefania, who, after a misdiagnosis, reconnects with her body through dance, exploring themes of memory, self-discovery and vulnerability. Romanian-born, French-based director Paula Onet employs a poetic visual language as she observes the protagonist, who faces the trauma of a misdiagnosis that changed her life. Producer Diana Caravia of microFILM is looking for international sales, distribution partners and festivals.