– Özcan Alper's movie scoops the Antigone d'Or, The Vanishing Soldier bags both a Special Mention and the Critics' Award, and 20,000 Species of Bees walks away with the Audience Award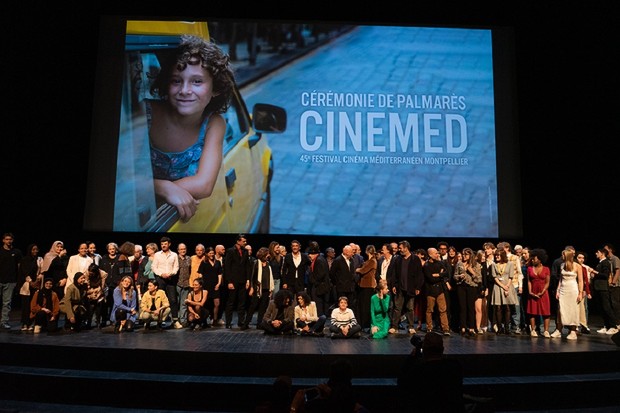 A group photo of the award-winners
Black Night by Özcan Alper has been awarded the 2023 Antigone d'Or, courtesy of a jury led by Pascal Elbé (and further composed of Zineb Triki, Nadia Ben Rachid, Jean-Baptiste Durand and Arnaud Rebotini), which singled out the Best Fiction Feature Film of the 45th Montpellier Mediterranean Film Festival.
Having already won various prizes in Antalya and Ankara in particular, the Turkish filmmaker's 5th fiction feature film follows in the wake of Ishak, a man who lives alone in the province of Anatolia and who earns a crust playing the lute in a nightclub. One night, he receives an urgent phone call from his village which he hasn't returned to for a very long time. His mother is ill and wishes to see him before she dies. Having been forced to leave the village seven years previously, Ishak returns with all kinds of worries and questions in his mind… Produced by Turkey's Nar Film and their fellow Turks at BKM and Bakyus Yapim, alongside French firm La Fabrica Nocturna Cinéma and Germany's Arthood Films (who are also steering international sales), Black Night will be distributed in France by Outplay on 24 January 2024.
An impressive three awards, meanwhile, were won by The Vanishing Soldier [+see also:
trailer
film profile], directed by Israel's Dani Rosenberg (discovered in competition in Locarno): namely a Jury Special Mention, the Critics' Prize and the trophy for Best Score (going to Yuval Semo).
The Audience Award, for its part, went to the Berlin prizewinner 20,000 Species of Bees [+see also:
film review
trailer
interview: Estíbaliz Urresola
film profile] by Spain's Estibaliz Urresola Solaguren, which is nominated for the upcoming LUX Audience Award and is set to be distributed in France by Jour2Fête on 14 February 2024.
Also worth a mention is the Best First Film Award (across all genres) won by Moroccan director Asmae El Moudir's The Mother of All Lies (which Arizona Distribution are releasing in France on 28 February 2024), as well as the victory of French-Algerian filmmaker Lina Soualem's Bye Bye Tiberias [+see also:
film review
trailer
interview: Lina Soualem
film profile] in the documentary competition (due for release in France on 24 April via JHR Films), and the Special Mention awarded to Dancing on the Edge of a Volcano [+see also:
film review
trailer
interview: Cyril Aris
film profile] by Lebanon's Cyril Aris.
The full list of winners is as follows:
Feature Films
Antigone d'or
Black Night – Özcan Alper (Turkey/Germany/France)
Special Mention
The Vanishing Soldier [+see also:
trailer
film profile] – Dani Rosenberg (Israel)
Critics' Award
The Vanishing Soldier – Dani Rosenberg
Audience Award
20,000 Species of Bees [+see also:
film review
trailer
interview: Estíbaliz Urresola
film profile] – Estibaliz Urresola Solaguren (Spain)
Activités Sociales de l'Energie Prize
Anna [+see also:
interview: Marco Amenta
film profile] – Marco Amenta (Italy/France)
Jam Prize for Best Score
Yuval Semo – The Vanishing Soldier
Documentaries
Ulysse Decipro – Montpellier Méditerranée Métropole Prize
Bye Bye Tiberias [+see also:
film review
trailer
interview: Lina Soualem
film profile] – Lina Soualem (France/Palestine/Belgium/Qatar)
Special Mention
Dancing on a Volcano [+see also:
film review
trailer
interview: Cyril Aris
film profile] – Cyril Aris (Germany/Lebanon)
Short Films
Montpellier Méditerranée Métropole Grand Prize for Best Short Film
La voix des autres – Fatima Kaci (France)
Special Mention
Et si le soleil plongeait dans l'océan de nues – Wissam Charaf (France/Lebanon)
La Gazette – Titra Film Audience Award
Sokrania 59 – Abdallah Al-Khatib (France/Algeria/Jordan)
City of Montpellier Young Audience Award
Une histoire non vécue – Ramazan Kilic (Turkey)
Canal+ Award
Petit Spartacus – Sara Ganem (France)
Other awards
Student Prize for Best First Film
The Mother of All Lies – Asmae El Moudir (Morocco/Qatar/Saudi Arabia/Egypt)
(Translated from French)