– The Lebanese production wins the Golden Palm for the best film of the festival, the award for Best Cinematography and Best Soundtrack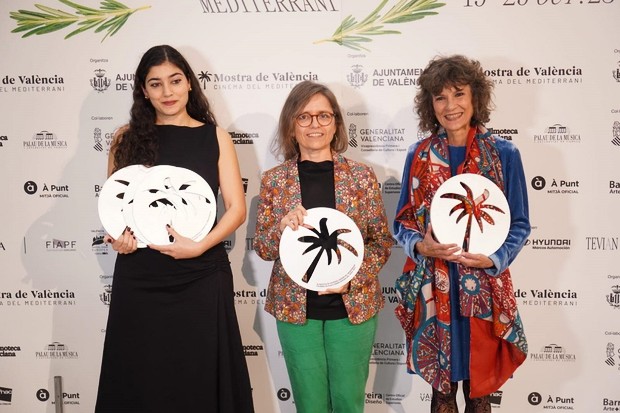 (g-d) Riverbed actress Omaya Malaeb, Cidade Rabat director Susana Nobre and Marina, Unplugged actress Claudia Faci, with their awards (© Mostra de València)
One title stood out among the list of winners at the 38th Mostra de València – Cinema del Mediterrani, announced at the closing gala on Saturday 28th October. The Lebanese Riverbed, by Bassem Breche, winner of the Golden Palm for Best Film, as well as Best Cinematography (for Nadim Saoma) and Best Soundtrack (for Sharif Senhaoui).
The film's "visual poetry" made it a worthy winner of these awards. According to the jury made up of Maria Hatzakou, Diana Al-Halabi, Fatma Cherif and Michela Occhipinti, uniting "two different temporalities and the fact that the interior and exterior spaces become as strong a character as the two main actresses, make this film explain in an unexpected way a story about being a woman, motherhood and the rejection of this within social constructs". The film has won the main prize of 30,000 euros for production and 15,000 euros for Spanish distribution.
It was following by the Portuguese-French co-production Cidade Rabat [+see also:
film review
trailer
film profile], by Susana Nobre, which won the Silver Palm (20,000 euros). The film moved the jury for its treatment of "loss, loneliness and femininity, as well as for its tender portrayal of a woman's everyday life through unpretentious and delicate mise-en-scène". And the Moroccan film Deserts [+see also:
film review
interview: Faouzi Bensaïdi
film profile], a comedy with mystical touches that condemns the abandonment of the villages of southern Morocco, won the Best Director award for Faouzi Bensaïdi and Best Actor, ex-aequo for its two leading actors, Fehd Benchemsi and Abdelhadi Talbi.
The award for Best Actress went to Claudia Faci, the absolute star of Marina, Unplugged [+see also:
film review
film profile], the Valencian film directed by Alfonso Amador that delves into the rhetoric of the extreme right. The award for Best Script went to Vladimir Perišić and Alice Winocour for Lost Country [+see also:
film review
trailer
interview: Vladimir Perišić
film profile], a film set in Belgrade in 1996, during an election campaign that Milošević's party unexpectedly lost.
Outside the Official Selection, in the Informative Section, the main prize (the À Punt Audience Award, which includes the purchasing of the feature film's broadcasting rights by this public channel) went to Dancing on the Edge of a Volcano [+see also:
film review
trailer
interview: Cyril Aris
film profile]. A documentary by Cyril Aris that tells the complex situation faced by the film crew of the film Costa Brava, Lebanon [+see also:
film review
trailer
film profile] (also screened at the festival), when an explosion occurred in the port of Beirut just as production was about to begin in the middle of the pandemic.
The list of awards:
Golden Palm
Riverbed – Bassem Breche (Lebanon)
Silver Palm
Cidade Rabat [+see also:
film review
trailer
film profile] – Susana Nobre (Portugal/France)
Best Director
Faozi Bensaïdi – Deserts [+see also:
film review
interview: Faouzi Bensaïdi
film profile] (France/Germany/Morocco/Belgium)
Best Script
Vladimir Perišić, Alice Winocour – Lost Country [+see also:
film review
trailer
interview: Vladimir Perišić
film profile] (Serbia/France/Croatia/Luxembourg)
Best Actress
Claudia Faci – Marina, Unplugged [+see also:
film review
film profile] (Spain)
Best Actor
Fehd Benchemsi, Abdelhadi Talbi – Deserts
Best Cinematography
Nadim Saoma – Riverbed
Best Soundtrack
Sharif Senhaoui – Riverbed
À Punt Audience Award
Dancing on the Edge of a Volcano [+see also:
film review
trailer
interview: Cyril Aris
film profile] – Cyril Aris (Lebanon/Germany)
(Translated from Spanish by Vicky York)