Hello everyone, and welcome to the week! It's time once again for our look back at the noteworthy updates of the last seven days. Barring the inevitable latecomers, this should be more or less the last batch of Halloween-themed updates for this year. How the time flies, eh? Of course, you can keep an eye out for updates yourself by participating in the TouchArcade forums. This weekly summary is just here to fill you in on the things you might have missed. Let's go for it!

Samba de Amigo: Party-To-Go,

Samba de Amigo: Party-To-Go gets its first major update, adding three new songs to the game along with some extra customization options. You get a tune from Space Channel 5 Part 2, one from Sonic Frontiers, and vocaloid song KING by Kanaria. There's a Sonic costume available for Amigo, plus the Sonic ring sound effect and a Sonic icon. Some of the songs have had their difficulties relabeled as well, perhaps to more closely reflect reality. I'd like to see new songs hitting this app more frequently, but we take what we can get I suppose.

Animal Crossing: Pocket Camp, Free

Is this really six years old? I guess it must be. Icons never lie, after all. In addition to the usual set-up for future events, the cap has been raised on the maximum animal Friendship Level and limit for held materials, some new maps have been added to Gulliver's Ship including a new Isle of Style, and some adjustments have been made to the UI. Nothing too exciting, but if you've hit any of the aforementioned caps you'll probably be quite happy to see them being raised.

Injustice 2, Free

Injustice 2 doesn't get updated super-often, and it's usually a new character or something like that. Well, this time it's a new feature. League Invasions see Leagues of players battling each other in PVP. Build up your base and facilities, defend it against invaders, and bring the fight back to them. You also get some bug fixes, because we all love bug fixes. It will be interesting if this new feature can rekindle this game in the charts.

Honkai Impact 3rd, Free

Hm. I hyped this as a Halloween updates edition and we're lacking in them so far. Oh well. There's a new battlesuit, Lunar Vow: Crimson Love. It's a PSY-type battlesuit, which I was hoping would mean it was Gangnam Style, but no. It just has lightning damage and a chainsaw. Boring! There's a new story chapter, a new event, and some new equipment to round things out. That will do, even if it isn't holiday-themed.

Gardenscapes, Free

Surely Gardenscapes, in its official capacity as our obligatory free-to-play matching puzzle game update for this week, will help us out with a Halloween update. Let's have a look. Austin is starring in a mystical musical. Winston White is hunting down a criminal that is at large at a secret research base. Bill is trying to clear his ancestor's name, and a city official is trying to ruin the Town Fair. Larry Palmer is also causing more trouble as the Wonderwood Pictures story reaches its climax. None of this is Halloween! Very unhelpful, Austin!

Grindstone,

Oh, here's another one celebrating an anniversary. And another one that I don't think is doing anything particularly Halloween-related. In this case, it's a four-year anniversary. Yes, that about lines up with Apple Arcade, doesn't it? The update adds some new hats, and I'd imagine it takes care of some other stuff behind the scenes while it's at it. But front-facing, just some new hats. Luckily we all like hats, don't we? They cover our heads, keeping us warm and hiding our baldness. It's win-win. That's all I've got to say about this one, so let's move on to the finish.

Cypher 007,

I hereby declare Cypher 007 the winner of the coveted UMMSotW for this week simply because it gives us our first holiday-themed update. Not Halloween, mind you, but Dia de Lost Muertos. But that is fine! You can unlock a special Bond outfit that pays homage to the holiday, and it looks pretty cool. Go get yours and be even more stylish than Bond's usual.

PAC-MAN Party Royale,

Oh, I think Bond might have broken the seal here. Pac-Man Party Royale's update is definitely Halloween-themed. There's a new Spooky Cemetery Maze them available, and I'd imagine the ghosts are right at home for once. Unless they're from a different cemetery. Then it's still just the away team's arena. Also in this update, Adventure Mode adds two more Special Worlds, bringing you sixteen levels in the Cemetery where you'll have to play with the lights out. Only brief flashes of lightning will give you any idea what's where. Grab pumpkins to expand your field of view, and keep your eyes peeled for traps lurking in the darkness.

Angry Birds Reloaded,

The latest update to Angry Birds Reloaded chooses to ignore Halloween and keep building out the Space missions. Get your butt to Mars and retrieve the Rover before those boorish swine abscond with it. There are thirty new levels to play set on the planet, and there are naturally more hidden Eggsteroids to find as you go. If that's not enough to keep you busy, there are eighteen new Achievements to unlock in the Secret Area. And if that's not enough… you'll have to wait until the next update or play something else. That's all there is.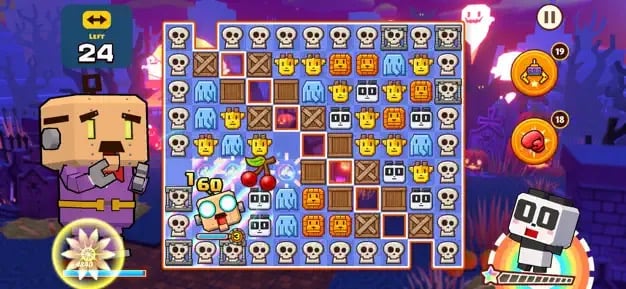 Zookeeper World,

I suppose in the end we only had two holiday-themed updates in this article. That's just how it is. This latest version of ZooKeeper World doesn't do anything for that because it was already in the last update. Instead, we get a new Diorama feature that allows you to build a diorama and decorate the Zoo. You also get twelve new stages to play, with the new puzzle gimmick of the Feed Bucket. Hm, that sounds like it's probably going to be unpleasant. Well, it wouldn't be much of a game like this if there wasn't a lot of struggle. Maybe struggle is the real scare. Something to ponder.
That about wraps it up for last week's significant updates. I'm sure I've missed some, though, so please feel free to comment below and let everyone know if you think something should be mentioned. As usual, major updates will likely get their own news stories throughout this week, and I'll be back next Monday to summarize and fill in the blanks. Have a great week!