– The Croatian documentary triumphs in the Opus Bonum section, and Ivan Ostrochovský and Pavol Pekarčík's award-winning Photophobia is named Best Czech Documentary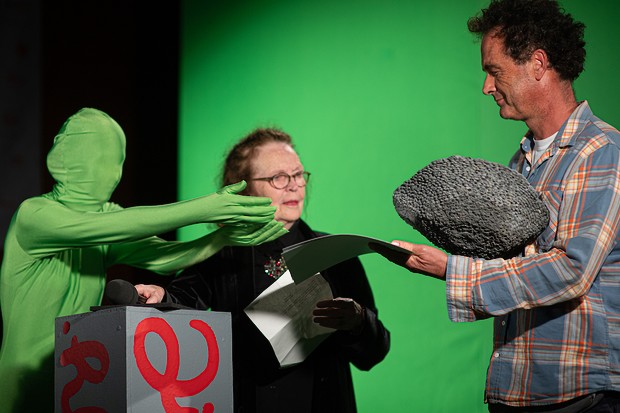 Director Elvis Lenic receiving award from Dominique Auvray (© Štefan Berec / Ji.hlava IDFF)
The 27th Ji.hlava International Documentary Film Festival honoured innovative documentary filmmaking with its array of awards. The Opus Bonum competition's main prize was awarded to Ship by Elvis Lenić, an observational documentary that chronicles the decline of Uljanik, one of Croatia's largest shipyards, after its closure following 160 years of operation. The jury lauded it as "an impressive, meticulously crafted, and visually stunning story of a Croatian shipyard, whose rise and fall mirrors the political fate of the former Yugoslavia."
Matej Bobrík, a Slovak-born director now based in Poland, secured the award for the best Central and Eastern European documentary with his time-lapse film Distances. The jury praised it for its "intimate, relentless portrayal of a family trying to survive the harrowing experience of migration – from Nepal to Poland."
The Best Visegrad Film accolade went to The Third End of the Stick by Slovakian documentarist Jaro Vojtek. This film delves into the lives of those doubly marginalised: individuals who are outcasts within an already sidelined community.
Meanwhile, You Will Never See It All by Štěpán Pech was deemed the best documentary debut. The film offers a poignant portrait of Czech conceptual visual artist Ján Mančuška, who passed away in 2011. The jury commended it for "creating a comprehensive portrait of an artist, successfully capturing the intensity and diversity of his work, and the profound impact of his untimely death on those left behind."
The jury in the Czech Joy competition crowned Photophobia [+see also:
film review
trailer
interview: Ivan Ostrochovský, Pavol Pe…
film profile] as the best domestic film. This already award-winning hybrid film, created by Ivan Ostrochovský and Pavol Pekarčík, garnered commendation from the jury: "The filmmakers have expertly crafted a poetic and cinematically compelling depiction of childhood, set against the devastating backdrop of the ongoing war in Ukraine. Their courage to film amidst such challenging conditions is noteworthy. Beyond showcasing the war in Ukraine, Photophobia underscores the sweeping human tragedies engendered by wars – whether manifested in the enduring refugee crisis or, more recently, the harrowing events in Gaza."
Experimental Czech filmmaker Martin Ježek received accolades for both best editing and best sound design for his film Satan Among Us. Premiering at the festival, Ježek, in an innovative approach, projected the material using three projectors and "edited" the film in real-time, toggling between the projectors. Consequently, the final film unveiling was as new to him as it was to the audience. The jury recognised and admired this "performative editing with its parasitic nuances."
The festival presented accolades in the VR competition, singling out Clément Deneux's Missing Pictures: Naomi Kawase in which the acclaimed Japanese filmmaker delves into themes of self-acceptance, set against the backdrop of a romantic bicycle journey. The jury remarked, "The winning entry masterfully harnesses the potential of VR: providing a real-time interactive experience that empowers viewers with movement freedom and a deep immersion in the narrative. It prompts us to not only reimagine real scenarios we were distant from, but also fictional ones. The work adeptly navigates scale and presence, facilitating a vivid portrayal of characters and their arcs within a diligently constructed, coherent, and emotive storyline."
In addition, the festival saluted the remarkable artistry of Hungarian director Béla Tarr by bestowing upon him the Contribution to World Cinema Award. Meanwhile, the festival-goers' choice went to the domestic film Is There Any Place For Me, Please? by Jarmila Štuková. The time-lapse documentary is a candid account of the lead, Martina, who suffered severe upper-body burns and total loss of vision after an acid attack by her ex-boyfriend. The film chronicles her inspiring and transformative journey towards reclaiming her life, finding purpose, and emerging as an activist.
Here is the full list of award winners at the 26th Jihlava IDFF:
Opus Bonum
Best Film
Ship – Elvis Lenić (Croatia)
Best Central and Eastern European Documentary
Distances – Matej Bobrik (Poland)
Best Film from the Visegrad region
The Third End of the Stick – Jaro Vojtek (Slovakia)
Best Debut
You Will Never See It All – Štěpán Pech (Czech Republic/Slovakia)
Award for Original Approach
East Wind – Maia Gattás Vargas (Argentina)
Students Jury Award
La Reine – Nikola Klinger (Czech Republic)
Czech Joy
Photophobia [+see also:
film review
trailer
interview: Ivan Ostrochovský, Pavol Pe…
film profile] – Ivan Ostrochovský, Pavol Pekarčík (Slovakia/Czech Republic/Ukraine)
Special Mention
My Paradise Is Darker Than Your Hell – Kateřina Dudová (Czech Republic)
Best Editing
Satan Among Us – Martin Ježek (Czech Republic)
Best Sound Design
Satan Among Us – Martin Ježek (Czech Republic)
Best Cinematography
Bedwetter – Jan Hušek (Czech Republic)
Award for Original Approach
Notes from Eremocene – Viera Čákanyový (Slovakia/Czech Republic)
Students Jury Award
The World According to My Dad – Marta Kovářová (Czech Republic/Slovakia)
Testimonies
MIGHTY AFRIN: In the Time of Floods – Angelos Rallis (Greece/France)
Special Mention I
One Of The Thousand Hills [+see also:
film review
interview: Bernard Bellefroid
film profile] – Bernard Bellefroid (Belgium)
Special Mention II
Not That Kind Of Guy – Signe Roselund-Hauglid (Norway)
Fascinations
Silhouette – Yoshiki Nishimura (Japan)
Special Mention I
BLUE – Violena Ampudia (Belgium/Cuba)
Special Mention II
Dinosauria, We – Maxime-Claude L´Écuyer (Canada)
Exprmntl.cz
The Commodity Catalogue – Zdeněk Baladrán (Czech Republic)
Special Mention I
But Not for Ever – Anežka Horová, Klára Trsková (Czech Republic/Portugal/São Tomé and Príncipe)
Special Mention II
One Sol in the Life of Curiosity – Vít Růžička (Czech Republic)
Audience Award
Is There Any Place For Me, Please? – Jarmila Štuková (Czech Republic)
Contribution to World Cinema Award
Béla Tarr