– Ferzan Ozpetek's new movie is incredibly personal, telling the story of a love which never was, beginning in the early '70s and continuing into the present day, whose real protagonist is an old cinema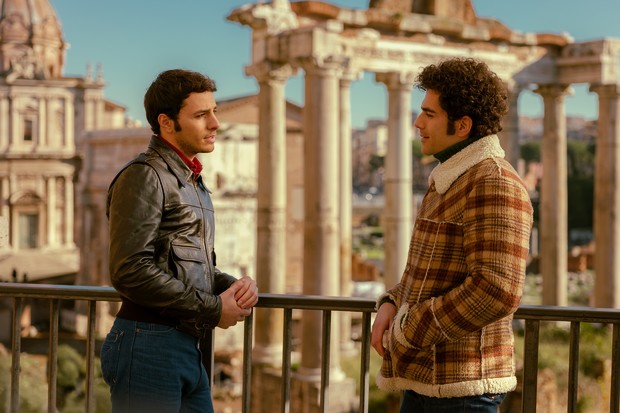 Damiano Gavino and Andrea Di Luigi in Nuovo Olimpo
Cinema, love at first sight, a picture-postcard representation of Rome, the 1970s, protests… Making Nuovo Olimpo, Ferzan Ozpetek's first "platform" film (and his 14th feature film overall), involved the director digging deep inside his most personal memory banks. Presented in a premiere within the Grand Public section of the 18th Rome Film Fest, this heartrending tale of a love only fleetingly consumed, subsequently lost, but secretly yearned for for over thirty years, is due for exclusive release on Netflix on 1 November. It's a film which is also a declaration of love for the seventh art, whose beating heart is located within an old cinema auditorium, but which audiences will only get to see on the small screen. That's the way it goes.
The film opens in Rome in 1978. Enea and Pietro's eyes meet for the first time on a film set where the former is working as an assistant and the latter a curious passer-by. They cross paths again, by chance, in a movie theatre called the Nuovo Olimpo in Rome's city centre, a cinema which screens great arthouse classics and where young gay men tend to meet and occasionally have quickies in the toilets. It's a case of love at first sight for aspiring director Enea and medical student Pietro (the former, more professional and nonchalant, is played by Damiano Gavino; the latter, self-conscious due to this being his first experience with a man, is played by Andrea Di Luigi): the scene-stealing box office cashier, Titti (Luisa Ranieri) – who's coiffed and made-up like the singer Mina, who doesn't miss a beat of what goes on in the dark movie theatre and who only wants the best for everyone, like a kindly aunt – can definitely attest to this.
But instead of the toilets in the Nuovo Olimpo, it's a splendid apartment with a terrace overlooking the Roman Forum – rented by Enea from his lover-friend-future collaborator Alice (Aurora Giovinazzo) – which forms the backdrop to the passion shared by these two boys, who are barely twenty and feel immediately overcome with deep emotion. The next day, however, a protest leads to violent clashes with the police and an accident sees the two lovers parting ways. The following three acts in the film, set in the early Nineties and then 2015, sees both of our protagonists fully established in their respective fields and each involved in romantic relationships: Enea with chiselled Antonio who borrows the features of former rugby player Alvise Rigo and Pietro with devoted, middle-class Giulia, a.k.a. Greta Scarano. The two men haven't seen each other since that fateful day in the late Seventies, but they've never forgotten one another, either.
"Everything we explore is always autobiographical in one way or another, but I never intended it to be quite so direct", Ozpetek admitted, having had this project in mind for approximately eight years and having devised and written it with his faithful collaborator Gianni Romoli. The film is free and explicit when it comes to nudity and sex scenes, but the story isn't blindingly original: it's the familiar tale of a lasting love which has never been fulfilled, and several aspects of the story are totally implausible. But the nostalgic impact is undeniable, with the Turkish-Italian director depicting the Italy he fell in love with and which he chose to make his home 48 years ago. In fact, the reconstruction of the old cinema in the heart of Rome and of that lively microcosm which once inhabited it, is the most interesting and captivating element of the entire film.
Nuovo Olimpo is produced by R&C Produzioni together with Faros Film.
(Translated from Italian)