– A total of 18 films either in production or post-production will be presented in the three sections of the Estonian gathering's Works in Progress sessions on 16 and 17 November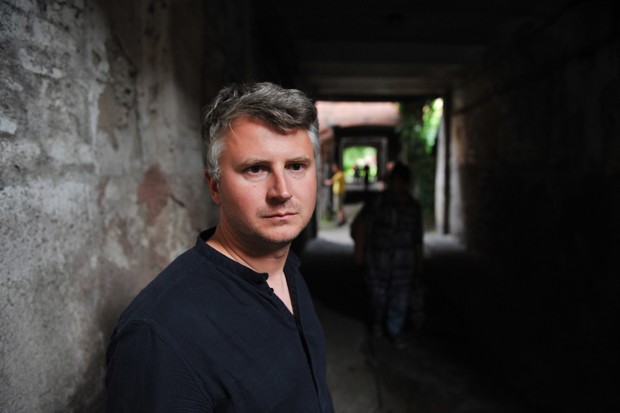 Director Dāvis Sīmanis, who is taking part with Maria's Silence
From 13-17 November, Industry@Tallinn & Baltic Event, the summit for film and audiovisual industry professionals, will take place alongside the Tallinn Black Nights Film Festival. During this event, a selection of 18 films currently in production or post-production, seeking sales agents or opportunities for international premieres, will be showcased across the three Works in Progress sub-sections. These projects will be unveiled on 16 and 17 November at the Coca-Cola Plaza cinema hall.
The line-up features fresh projects from acclaimed directors and debutants, spanning various genres. At its 21st edition, Baltic Event Works in Progress will introduce eight projects. Among these, a dynamic directorial duo from Estonia, Andres Maimik and Rain Tolk (The Man Who Looks Like Me [+see also:
film review
trailer
interview: Andres and Katrin Maimik
film profile]), will enter the competition with a dramedy titled Aurora. Estonia's contribution to the selection also includes Love and Life, the debut feature by Helen Takkin, a well-established director in the realm of the short format, plus Rolling Papers by Meel Paliale.
Latvia is well represented with four projects. Among these, there's the debut feature Youth Eternal by award-winning editor Armands Zacs (January [+see also:
film review
trailer
film profile]), which revolves around a group of millennials embarking on a wild journey of self-discovery. Additionally, Escape Net delves into the story of Dzidra Karamiseva, the first Latvian basketball player on the USSR team, brought to the screen by Dzintars Dreibergs (Blizzard of Souls [+see also:
trailer
film profile]). Award-winning director Alise Zarina offers up Impressions, a dramedy that explores the impact of absent fathers on their children. Meanwhile, Dāvis Sīmanis (The Year Before the War [+see also:
film review
trailer
interview: Dāvis Sīmanis
film profile]) presents the poignant historical drama Maria's Silence, which is inspired by the true story of renowned actress Maria Leiko. Lithuania, on the other hand, is represented by the drama Southern Chronicles, directed by Ignas Miškinis (Kings' Shift [+see also:
trailer
film profile]). The film follows the story of Rimants, a 17-year-old, as he falls in love with Monika.
The ninth International Works in Progress section is set to feature five projects, each offering captivating narratives adopting a global perspective. Renowned traveller and filmmaker Philippe Prouff presents his debut feature, a road movie titled Truth or Consequences, which follows a delusional French author navigating New Mexico. After the Fog, written and directed by Miriam Heard (Wastelands [+see also:
trailer
film profile]), immerses viewers in the intimate and personal experiences of individuals caught in the midst of era-defining events in Chile in 1988. Writer-director Liliana Torres (What Went Wrong? [+see also:
film review
interview: Liliana Torres
film profile]) returns to Tallinn with Mamífera, a dramedy that delves into the realms of womanhood and motherhood (see the news). The Bulgarian drama The Platform, helmed by Nikolay Moutaftchiev, unravels the story of stateless young refugees. Lastly, The Tower of Strength, directed by Nikola Vukcević, portrays the selfless sacrifice of a Muslim hero who goes to great lengths to save an innocent Christian child.
Projects in the children's and youth film category are featured in the Just Film Works in Progress strand, with five films selected. Kärt Väinola, the manager of Just Film Works in Progress, says it's heartening to witness the growing international scope of Works in Progress's youth and children's section as it expands. "We are thrilled to showcase projects from around the world. This year, our line-up features projects from Mexico, Argentina, Slovenia, the UK and Estonia. The selected projects present an array of children's and youth films, offering cultural perspectives and storytelling that we hope will captivate audiences."
The Baltic Event Works in Progress and International Works in Progress jury includes Yohann Comte (Charades, France), Nadine Rothschild (Coproduction Office, France) and TJ Smith (Tubi, USA). The best projects in both the Baltic and International Works in Progress will be granted €7,000, consisting of €6,000 worth of services by Studio Beep together with a €1,000 travel allowance.
Here is the full list of selected projects:
Baltic Event Works in Progress
Aurora – Rain Tolk, Andres Maimik (Estonia)
Producer: Madis Tüür (Kuukulgur Film)
Escape Net – Dzintars Dreibergs (Latvia)
Producers: Inga Pranevska, Marta Romanova-Jekabsone, Arta Giga, Dzintars Dreibergs (Kultfilma)
Impressions – Alise Zarina (Latvia)
Producer: Alise Rogule (Mima Films)
Life and Love – Helen Takkin (Estonia)
Producers: Kristian Taska, Adeele Tähemaa (Taska Film)
Co-producers: Tanel Tatter, Veiko Esken (Apollo Film Productions)
Maria's Silence – Dāvis Sīmanis (Latvia/Lithuania)
Producer: Gints Grūbe (Mistrus Media)
Co-producer: Juste Michailinaite (Broom Films)
Rolling Papers – Meel Paliale (Estonia)
Producers: Tõnu Hiielaid, Rain Rannu, Urmet Piiling (Tallifornia)
Southern Chronicles – Ignas Miškinis (Lithuania/Estonia)
Producer: Lukas Trimonis (In Script)
Co-producer: Esko Rips (Nafta Films)
Youth Eternal – Armands Zacs (Latvia)
Producer: Alise Gelze (White Picture)
International Works in Progress
After the Fog – Miriam Heard (Chile/UK/France)
Producers: Miriam Heard, Dominique Rammsy, Stephanie Douet, Anna Holburn (Echo Art Films)
Mamífera – Liliana Torres (Spain)
Producers: Carla Sopedra Salvadó (Edna Cinema), Miriam Porté (Distinto Films)
The Platform – Nikolay Moutaftchiev (Bulgaria)
Producers: Mira Boyadzhieva, Lubomira Stoyanova (Samsara)
Co-producer: Nikolay Mutafchiev (PREMIERstudio Plus)
The Tower of Strength – Nikola Vukcević (Montenegro/Serbia/Germany)
Producer: Milorad Radenović (Galileo Production)
Co-producers: Nevena Savić, Ivica Vidanović, Christoph Thoke (Embrio Production)
Associate producer: Dario Domitrović
Truth or Consequences – Philippe Prouff (France)
Producer: Xavier Arias (Walter Films)
Just Film Works in Progress
Highly Inflammable – Cheryl White (UK/Spain)
Producers: Rose Kowalski (Lost for Words), Horizontal Films
The Inferno of the Living – Alberto Gieco (Argentina)
Producer: Azul Sioli (Muchasiesta Coop Audiovisual)
Tartini's Key – Vinci Vogue Anžlovar (Slovenia)
Producer: Zoran Dževerdanović (Blade Production)
Two of Me – Raul Esko, Romet Esko (Estonia)
Producers: Rain Rannu, Tõnu Hiielaid, Kirill Volkov (Tallifornia)
Violent Butterflies – Adolfo Dávila García (Mexico)
Producers: Gabriela Gavica Marrufo (Mandarina Cine), Adolfo Dávila García (Neural)