Unshackled by creative constraints, ISOxo understands the significance of breaking free of conventional norms in the ever-changing world of electronic music.
The prolific producer, whose real name is Julian Isorena, today unveiled his long-awaited debut album, kidsgonemad!. With 13 tracks that span a plethora of genres and contrarian sounds, it's obvious he set out to make a statement with the music, which reflects his unbridled determination to express himself authentically.
"I'm big on individualism and growing into yourself, growing into your own skin," ISOxo told EDM.com in an interview in Los Angeles before a secretive pop-up rave. "The whole project as a whole is just really about becoming myself, and it's a story about growth."
"And the artistic process—there's a lot of ups and downs with this shit, but ultimately all that pressure and that rollercoaster of emotions helped me become who I am, and I wouldn't want to be anywhere else," he adds.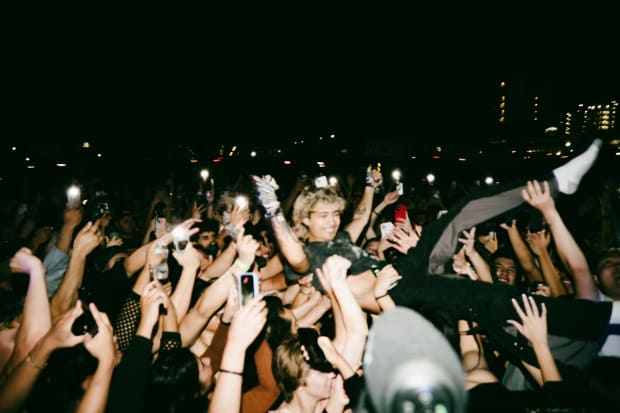 Few in electronic music have experienced as meteoric a rise as Isorena, who was named to the EDM.com Class of 2022 last year. But he's embraced the expectations that have come along the way, channeling them into sources of motivation and growth.
"When I'm making a song, I'm like, 'Oh, will the old fans like this? Will the new fans like this? Will this do well on Spotify?'" Isorena says. "These are valid questions, but in the end, they shouldn't matter because, to me, I feel like art should be expressed through pure fun. That's the whole reason why I got into music production. It was a fun outlet for me to create."
Combining elements of trap, house, breaks and even drum & bass in his music, the 23-year-old beatsmith has attributed his distinct approach to sound design to a carefree mentality.
"To be completely honest, I don't really know what I'm doing most of the time," Isorena explains. "Something that I've learned—and it's a lot easier said than done for sure—but trying to create without any limitations in the back of my mind is what I feel yields the best outcome. Nowadays, I'm like okay, I don't give a fuck what it's going to sound like at the end. As long as I'm having fun while I'm producing it, I think that's the way to go."
While kidsgonemad! has already made waves with its three singles, "dontstopme!," "SHYPOP" and "STARsound," they're tantamount to a simple snapshot of a continuum of musical experiences awaiting within the album. Isorena describes it as a "spectrum" where unpredictability is canon.
"'dontstopme!,' the first single—I felt that was the perfect lead single to the album. It was the one that everyone wanted," he explains. "Don't get me wrong, I love that song to death. I feel like it's the most textbook 'ISOxo' song you'll find. It's hard-hitting, it's angsty, and you know, after being on almost a year hiatus, I feel like I needed to put that one out. And for myself, too, I feel like I needed to put that one out."
"…And the second single, 'SHYPOP' with Ninajirachi, that one was on the complete opposite side of the spectrum of what kidsgonemad! is," Isorena continues. "So imagine the album is on a spectrum. 'dontstopme!' is on the far left, and then 'SHYPOP' is on the far right. I've never released anything like ['SHYPOP'] before; it's very hyperpop and sort of nightcore in a sense."
He says the shape-shifting "STARsound" falls right in the middle and "embodies a lot of the different themes that are shed on kidsgonemad!."
The release of kidsgonemad! marks the inception of an exciting chapter in the San Diego native's career. Not only is he set to play four sold-out nights at LA's Shrine Expo Hall, but he's also brimming with anticipation to unveil a series of new projects, collaborations and fresh music, ensuring that fans have plenty more ISO material to look forward to in the months ahead.
"I do have a lot of music in the works," says Isorena. "I will say though, throughout the whole writing process of kidsgonemad! I was only focused on those 13 tracks. I just feel very creatively free now that the album's done, and there are a handful of collabs that I'm itching to get out."
He specifically mentions a hotly anticipated collaboration with electronic music icon Skrillex, his "biggest idol," who has a pair of rumored albums expected to release in 2023. Fans saw them take the stage together at last year's OMFG! NYE festival in San Diego, where they performed the unreleased song live.
"I know that a lot of people wanted that one on the album, and I'm not going to say it's not going to come out, because it will eventually," Isorena explains. "But with kidsgonemad!, I just wanted to… make the majority of the album my own records. I really wanted to establish myself as my own artist without needing the—for lack of a better word—clout from another artist."
"Don't get me wrong," he continues. "Skrillex is my biggest idol, and I'm so lucky to have this relationship with him. But kidsgonemad! is my first project and I just wanted to make a statement of, 'Yo I can be sick as fuck on my own.'"
Next up for Isorena is a barnstorming album tour, which will hit 13 cities in early 2024. Powered by the plucky team behind Brownies & Lemonade, the tour will feature secret venues, warehouses, new production elements and special guest appearances.
For ISOxo, kidsgonemad! is about much more than just the music—it's emblematic of his creative liberation. As he kicks off an electrifying album tour, it's clear that ISOxo's phenomenal achievements thus far are only the beginning of a future that promises to be as dynamic as his music itself.
kidsgonemad! is out now via 88rising. You can listen to the album below.
Follow ISOxo:
Facebook: facebook.com/ISOxo
X: twitter.com/isoxo_
Instagram: instagram.com/isoxo_
Spotify: spoti.fi/3dwtO3h