– The third feature by Norwegian director of Kurdish descent Hisham Zaman is full of snow, love and empathy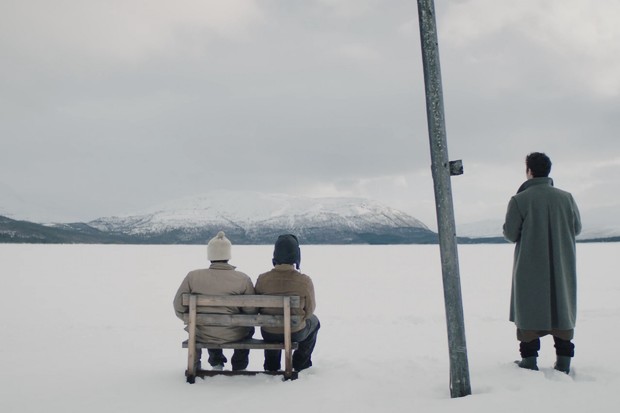 l-r: Ravand Ali Taha, Mohamed Salah and Salah Qadi in A Happy Day
Somewhere in Northern Norway, under a thick blanket of snow, young hearts are beating with love and yearning. Tiny figures against a snowscape bound by mountains that seem insurmountable, Hamid (Salah Qadi), Aras (Ravand Ali Taha) and Ismail (Mohamed Salah) dream of bigger, more colourful things. They are the protagonists of the newest film by Hisham Zaman, an award-winning Norwegian director of Kurdish descent. A Happy Day [+see also:
trailer
film profile] world-premiered in Toronto's Centrepiece strand, and it has now opened the Bergen International Film Festival in addition to being released domestically.
A Happy Day is Zaman's third feature and shows off his strengths as a writer-director with a singular vision of the awkwardness that exists between humans, nature and politics. Almost ten years after making Letter to the King [+see also:
trailer
interview: Hisham Zaman
film profile], which showed five characters on a day trip from a refugee camp to Oslo, now he offers a look turned inward, to an isolated asylum centre in the deep North. Teenagers grow up together, they play, eat and sleep together, while the only gender division kicks in after 8 PM. That said, kids will be kids, and they all have a way of turning a dire situation into something fun. The trio of protagonists are a prime example of that, spending their time intellectually plotting their escape. A rather idealistic task, given the circumstances, but it testifies to their youthful spirit and desire to discover the world for themselves. Especially since the world has been taken away from them.
Even though the trio has strayed far from the asylum centre before, upon realising their helplessness, they've always hoped to be rescued. Meanwhile, the snow and the freezing cold don't seem to bother them as much as the yearning to be somewhere else. Zaman's characters are sketched out, psychologically speaking, without any excessive background, but with hearts of gold. Even their petty teen squabbles – as well as the boys' jealousy when a young girl disrupts their established dynamic – are endearing, as the guiding principle is firmly "us against the world".
While the centre is certainly not a prison, its remote location and tiny microcosm feel way too constrictive for them as teenagers of nearly 18 years old. That age is crucial here because once a youngster hits that number, they're celebrated in a very special way. What everyone dubs "a happy day" refers precisely to this birthday party, where one gets a rather stilted song sung to them and is sent off with a brand-new suitcase: 23 kilos to fit their life into. However, these scenes are ripe with black humour, but never mocking. It's mostly the realisation that life can only offer so much communal support to displaced young people, before they have to fend for themselves, with or without a passport.
But being young is an asset that shouldn't be underestimated. For Hamid, who is already a gifted poet, love is an unexpected gift. Out of nowhere, a strange new girl named Aida (Sarah Aman Mentzoni) appears. She's feisty, rather aggressive, and very, very independent. None of these qualities stop her from taking a liking to Hamid's awkward warmth, and he soon falls for her hard, too, much to his two friends' dismay. From then on, touches of magical realism seep into Lukasz Zamaro's stylish cinematography in the form of dreams, or desires as sequences, underscoring both the sociopolitical inertia and the need for escapism. However, the film is enchantingly beautiful to look at, all the while being aware of the circumstances that inform these children's situation. For A Happy Day, Zaman draws on his own experiences as a refugee from Iraqi Kurdistan that make the film truthful and empathetic, a gesture of hope and a promise that there's light in the darkest of times. Even if it's the sun's reflection in the snow.
A Happy Day was produced by Norway's Snowfall Cinema in co-production with Zentropa Denmark, while REinvent handles the world sales.