Weapon mods can be crafted by spending Platinum in Starfield, a valuable resource that you can farm best on planets close to your character's location as you travel through the galaxy. A Rare Tier 2 material, Platinum, may also be bought from New Atlantis, Neon, and Akila City vendors. However, knowing which systems hold this resource might be better if you would rather harvest this item without spending money.
Materials do not have to be farmed by your character manually if you build a Resource Extractor at an Outpost on a world with the item(s) you want. Buying Outpost upgrades in Starfield for this Extractor will allow you to get more Platinum or other items quickly, even as you travel. Make sure to also create a Transfer Container so you can transport goods from your Outpost to your ship whenever you want.
All Planets For Farming Platinum in Starfield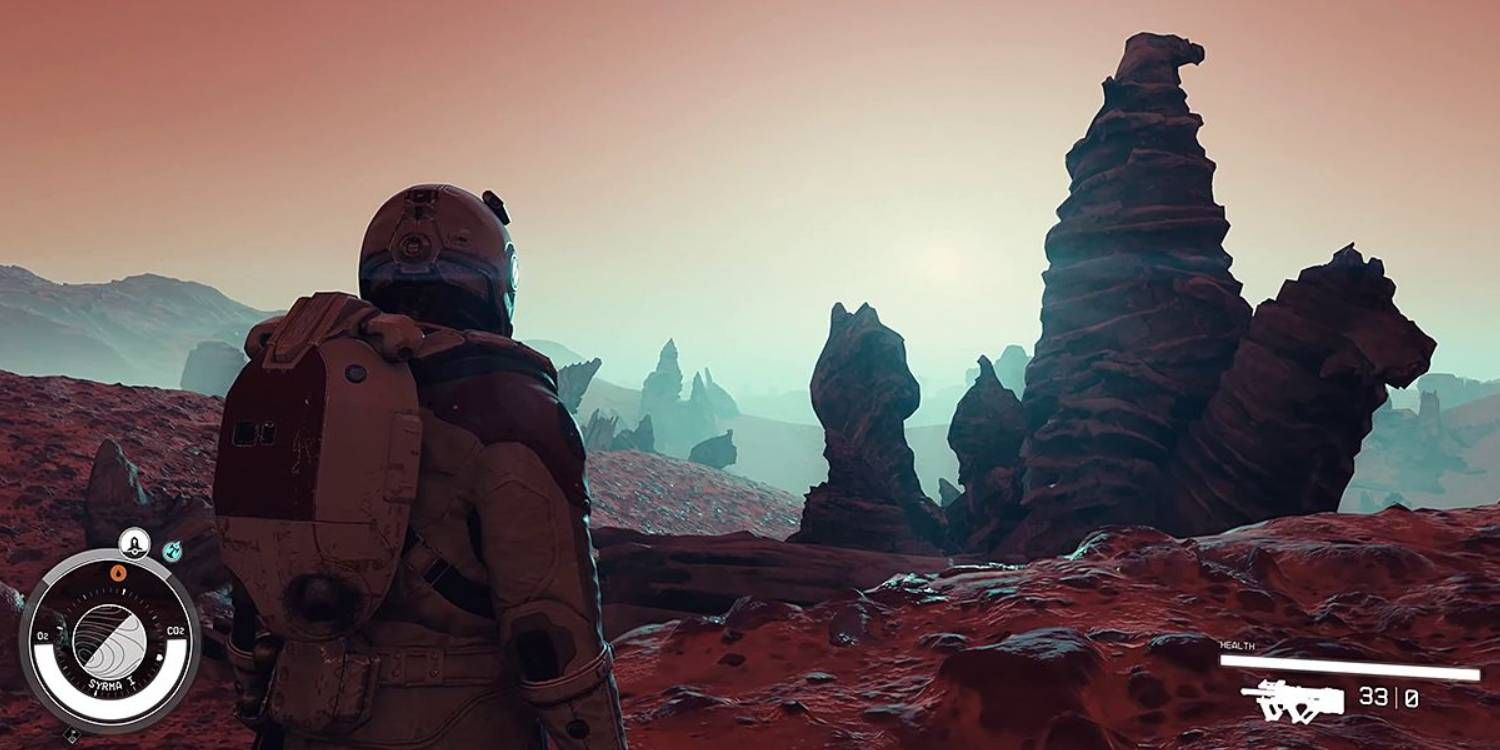 A combination of 67 planets and moons holds all the Platinum you will ever need in Starfield to have every ingredient for the High Velocity, Bullet Hose, and Hair Trigger weapon mods. High Velocity enhances a gun's accuracy and speed, while Hair Trigger increases the overall rate of fire on a weapon. On the other hand, a Bullet Hose significantly boosts accuracy, rate of fire, ranger, and tracer frequency of an attached weapon.
In order to get the three mods available through this resource for your best weapons in Starfield, you will need at least 3 Platinum for High Velocity and Hair Trigger, while only 2 Platinum is needed for Bullet Hose alongside other materials.
Every Place to Find Platinum

System

Planet/Moon

Altair

Alpha Centauri

Tau Ceti

Tau Ceti I
Tau Ceti V
Tau Ceti VIII-d

Oborum Prime

Kapteyn's Star

Cheyenne

Indum

Bessel

Lunara

Heisenberg

Beta Ternion

Enlil

Nikola

Eta Cassiopeia

Cassiopeia II
Cassiopeia IV-c

Piazzi

Muphrid

Shoza

Hyla

Freya

Rutherford

Kumasi

Rivera

Lantana

Lantana VIII-b
Lantana VIII-d

Sparta

Linnaeus

Alchiba

Xi Ophiuchi

Xi Ophiuchi V
Xi Ophiuchi VI-d
Xi Ophiuchi VII-b

Zeta Ophiuchi

Newton

Bel

Foucault

Maal

Bannoc

Masada

Syrma

Syrma II
Syrma V
Syrma VI-c
Syrma VII-a

Rana

Bardeen

Leonis

Zelazny

Zelazny V
Zelazny VII-b
Zelazny VIII-c

Charybdis

Charybdis VI
Charybdis VII-d

Archimedes

Archimedes I
Archimedes V-b
Archimedes VI

Marduk

Marduk II
Marduk IX
Marduk IX-a
Marduk IX-b

Pyraas

Bohr

Fermi

Verne

Hawking

Hawking VI-a
Hawking VI-b
Those who find the best planets close to their character for farming Platinum in Starfield should make sure to have plenty of cargo space on their ship to hold as much of this resource as they can.
Source: HardCore Gamer/Adam Tozer
Platform(s):

PC, Xbox Series X/S

Released:

2023-09-06

Developer(s):

Bethesda Game Studios

Publisher(s):

Bethesda Softworks

Genre(s):

Open-World, RPG, Sci-Fi

ESRB:

M

Summary:

Bethesda Game Studios presents Starfield – the first original IP from the studio in twenty-five-plus years. Set in the year 2310, the United Colonies and Freestar Collective are observing a shaky truce after a war set 20 years prior. The player will customize their character as a member of a space exploration team called Constellation while navigating The Settled Systems and the conflicts between the warring factions. According to Bethesda, players can explore over 100 systems and 1000 planets to find resources and build their ships, living out their own sci-fi journeys.