According to hip-hop lore, Def Jam founder Russell Simmons bailed Slick Rick out of jail for a few weeks in the winter of 1990 in a bid to have the British-born and Bronx-raised rapper record as much music as possible before going away to prison on an attempted murder charge. At the time, Rick was basking in the creative glow of his acclaimed debut album, 1988's The Great Adventures Of Slick Rick. But a series of events and altercations with Rick's former bodyguard (and first cousin) Mark Plummer culminated in the rapper shooting Plummer in circumstances Rick claimed were self-defense. Released to the world in 1991, The Ruler's Back emerged from Rick's personal and legal tumult – recorded during his time before prison – and stands as a showcase of the rapper's storytelling prowess, even under the pressure of a whirlwind recording setup.
Listen to Slick Rick's The Ruler's Back now.
From the outset, there's a markedly uptempo feel to the production powering The Ruler's Back. Crafted by Rick's long-time collaborator Vance Wright, the album's BPMs are a notch above those on The Great Adventures Of Slick Rick, and the MC ups his flow and syllable count to keep pace. "If you forgot who was the man, I'll stand and live kid/ You will be bouncing up and down 'cause I'm a grand individual," raps Rick with cocksure fleetness on album opener "King," before comparing himself to Caesar and boasting how "Rick could make a milly in a day."
The Ruler's Back continued Rick's focus on storytelling and conceptual rap writing. The project's lead single, "I Shouldn't Have Done It," touches on the effects of jealousy, insecurity, and infidelity within a relationship; subsequent cut "Bond" is an international secret agent-styled caper that culminates in the hero swanking off with $20 million; and "Top Cat" pulls off the improbable idea of Rick stepping into the role of a stray kitten scooped up from a New York City alley. (Yes, the song includes sampled meows in the mix.)
The Ruler's Back is an album inevitably parsed in the shadow of Slick Rick's legal issues. There's a franticness to elements of the production and Rick's flow that seems to mirror the project's rushed gestation period. But the turmoil also teased out one of the MC's most tender career moments with the ode to fatherhood "It's A Boy." Relaying a mix of vows to his son and doubts about how to handle parenthood, at one point Rick asks, "Sneezing, now what do I do when he cry for no reason?" Then Rick delivers a sign-off that manages to radiate humility ahead of a period of personal and creative estrangement: "Wish us luck, world, as we enter a new beginning/ And like I said, any toy/ I'm trying to tell you that midst the toys/ That they destroy, annoy/ Though me and his moms in middle of fits of joy/ And it's a boy."
Listen to Slick Rick's The Ruler's Back now.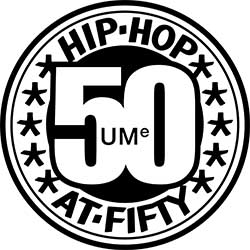 In celebration of hip-hop's 50th anniversary, uDiscover Music is publishing 50 album reviews throughout 2023 that highlight the breadth and depth of the genre. The Hip-Hop 50 logo was designed by Eric Haze, the mind behind iconic graphics for EPMD and LL Cool J.
[newpostarosa]
[newpostarosa]
[newpostarosa]
[newpostarosa]
[newpostarosa]
[newpostarosa]
[newpostarosa]
[newpostarosa]
[newpostarosa]
[newpostarosa]
[newpostarosa]
[newpostarosa]
[newpostarosa]
[newpostarosa]
[newpostarosa]
[newpostarosa]
[newpostarosa]
[newpostarosa]
[newpostarosa]
[newpostarosa]
[newpostarosa]
[newpostarosa]
[newpostarosa]
[newpostarosa]
[newpostarosa]
[newpostarosa]
[newpostarosa]
[newpostarosa]
[newpostarosa]
[newpostarosa]