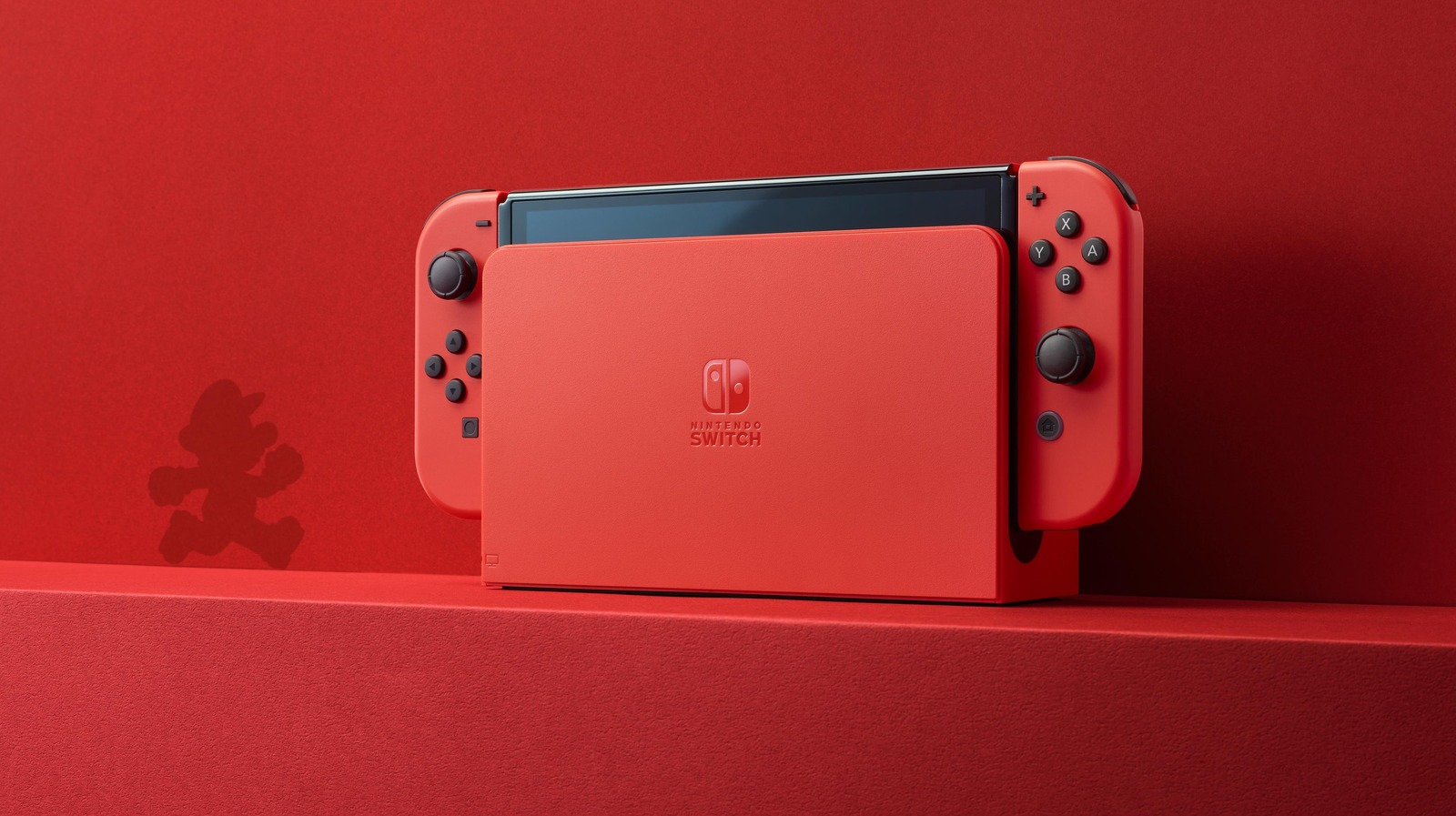 The "Mario Red Edition" Switch OLED console is decked out in the distinctive shade of red that we've come to know and associate with the plucky plumber. The console itself, its dock, and both of its included Joy-Con controllers are colored red, while the dock has a few extra tidbits. On the dock's back bottom-left, you can see a small silhouette of Mario in mid-run, and if you pop open the rear panel, you'll find a gaggle of coins next to the dock's external ports.
Warp into a world of games with the #NintendoSwitch – OLED Model: Mario Red Edition system!

The system features a console, dock, and Joy-Con controllers all in the iconic Mario Red color, with a silhouette of Mario on the back of the dock.

Learn more: https://t.co/sGAG1rfH4p pic.twitter.com/giOAawtDWI

— Nintendo of America (@NintendoAmerica) August 31, 2023
Besides the unique coloration, the "Mario Red Edition" Switch OLED features the same functionality as the standard Switch OLED model. The 7-inch OLED screen provides a wider, crisper display in handheld mode than the default Switch model, plus enhanced onboard speakers, a wider adjustable display stand, and 64 GB of onboard storage. The OLED model dock also features a wired LAN port for a hardline internet connection, which may prove beneficial when playing "Super Mario Bros. Wonder" online.
The "Mario Red Edition" Switch OLED console is available for pre-order now on Nintendo's online storefront for $349.99. It is not currently known if Nintendo will be offering a bundled version of the console with a copy of "Super Mario Bros. Wonder" or which retailers will be carrying it once it is released. Based on the releases of previous limited-edition Switch models, the console and the game will likely need to be purchased separately.

[newpostarosa]
[newpostarosa]
[newpostarosa]
[newpostarosa]
[newpostarosa]
[newpostarosa]
[newpostarosa]
[newpostarosa]
[newpostarosa]
[newpostarosa]
[newpostarosa]
[newpostarosa]
[newpostarosa]
[newpostarosa]
[newpostarosa]
[newpostarosa]
[newpostarosa]
[newpostarosa]
[newpostarosa]
[newpostarosa]
[newpostarosa]
[newpostarosa]
[newpostarosa]
[newpostarosa]
[newpostarosa]
[newpostarosa]
[newpostarosa]
[newpostarosa]
[newpostarosa]
[newpostarosa]