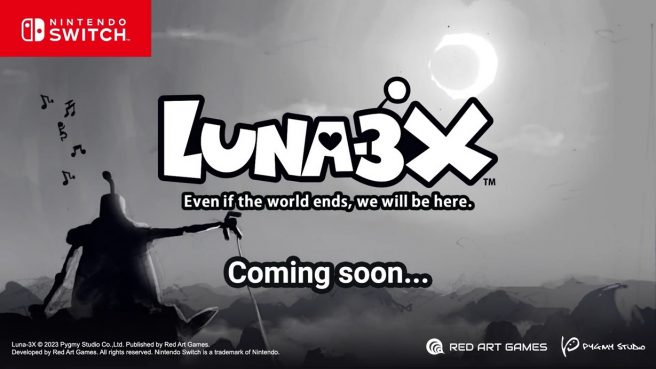 We finally have an update on Luna-3X, which was previously known as LUNAXXX.
The title, which is being led by Pygmy Studio, was one of the first games we heard about for the console as it was announced in May 2017. We later learned that original Chibi-Robo director Kenichi Nishi is involved. Years have gone by without any news.
It now looks like Red Art Games has stepped in to publish. Here's what has been shared officially thus far:
Help giant Luna and Yona the boy to rescue the planet's Creatures together in a synchronized action game!
The Great Tsunami prophesied by GE III is coming, and only seven days remain to save the world! Rescue as many Creatures you can before it's too late!

The world is inhabited by Creatures called Kemonon and Plan-Plan. When Yona plays the tambourine, they feel safe and approach! You might even find rare Kemonon and Plan-Plan hiding in various places. Save as many Kemonon and Plan-Plan as you can before the Great Tsunami hits!

Tilt the left Joy-Con to make Luna dip her fishing rod and sway Yona from side to side. Press the "A" button rhythmically or shake the right Joy-Con to make Yona play the tambourine. When the Creatures approach, gather them up and rescue them! Hold the ""L"" button to reel Yona and the Creatures up while dodging the obstacles! Be careful not to hit the sides too hard. If you do, the Creatures get angry and let go. Also, watch out for falling objects and sudden gusts of wind. If you team up with a partner to keep Yona safe, you'll surely do well!

Only seven days remain until the world ends. But if Luna and Yona are together, they can rescue Creatures anywhere! Whether it's in a sea full of fish, or a snowy landscape, or a raging storm, there's always a chance of finding a rare Creature you've never seen before…
Also now available is the first proper trailer for the game. We've included it below.
Switch Digital Announcement
We'll be sure to let you know when we hear more about the launch of the game.
Related
[newpostarosa]
[newpostarosa]
[newpostarosa]
[newpostarosa]
[newpostarosa]
[newpostarosa]
[newpostarosa]
[newpostarosa]
[newpostarosa]
[newpostarosa]
[newpostarosa]
[newpostarosa]
[newpostarosa]
[newpostarosa]
[newpostarosa]
[newpostarosa]
[newpostarosa]
[newpostarosa]
[newpostarosa]
[newpostarosa]
[newpostarosa]
[newpostarosa]
[newpostarosa]
[newpostarosa]
[newpostarosa]
[newpostarosa]
[newpostarosa]
[newpostarosa]
[newpostarosa]
[newpostarosa]