The Big Picture
Gran Turismo tells the story of Jann Mardenborough, a gamer turned professional driver.
Archie Madekwe who plays Mardenborough, explains how gaming helped him tap into the character's mindset.
The movie also stars David Harbour, Orlando Bloom, Djimon Hounsou, and Geri Horner, and opens on August 25.
Gran Turismo tells the story of Jann Mardenborough, a teenage gamer living in Cardiff, Wales, who was given the opportunity of a lifetime to take part in the GT Academy, a program run in collaboration with Nissan designed to take a video game player and put them behind the wheel of a real racing car, and become a professional driver.
The story sounds too nonsensical to be true, and yet it is. Archie Madekwe plays Mardenborough, who raced his way into professional driving status, and even went on to be his own stunt double during the making of the film. Naturally for Madekwe, he wanted to live the life of Mardenborough as closely as possible—and that included getting behind the wheel, not just in a car, but on a PlayStation as well, to the envy of his friends and family, as he explained to Collider's Steve Weintraub, in an interview conducted before the SAG-AFTRA strike.
"Everyone was, number one, very jealous, and number two, everyone wanted to join in and come and help me prepare for work," said Madekwe with a laugh. "But I was just saying, you know, I wasn't a gamer growing up because I've got quite an obsessive personality, so I just knew I had that thing where you play for hours and hours and hours, and then you think, "What have I done with my entire day?"
Look Past the Shame of Wasting the Day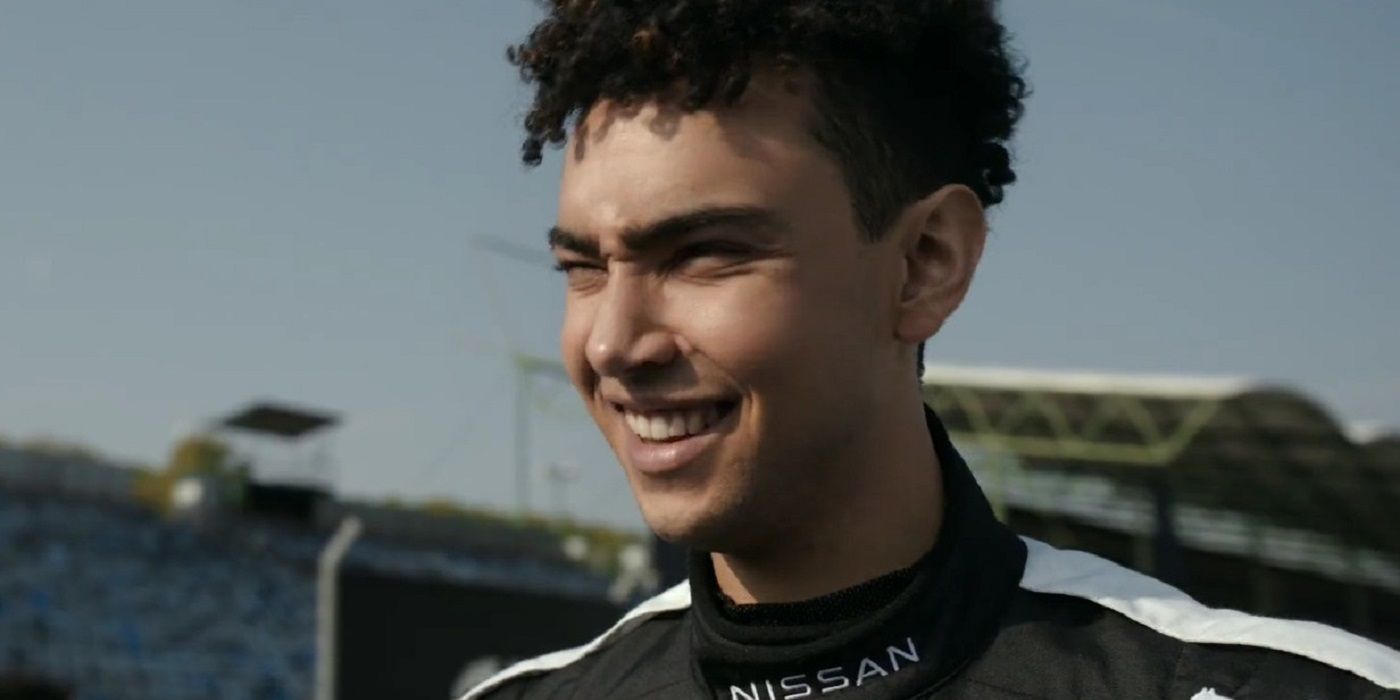 The actor went on to add that, unlike his character in the film, whose father accuses him of wasting his days in front of a computer screen, this relaxing pastime was actually an invaluable resource into the character's head and mindset.
"And it was this unbelievable opportunity to look past the shame of wasting the day, and being like, "I'm at work, I'm doing something productive. This is so great!" I could tap into what Jann was feeling, of being like, "This is actually leading to something, this is great. It's not just me playing The Sims for six hours, like, I'm doing something. I'm doing something constructive!" [Laughs] So, I mean, it was a dream come true. I love it."
Gran Turismo stars David Harbour (Stranger Things) as retired racecar driver, Jack Salter, Orlando Bloom as Nissan marketing executive Danny Moore, Takehiro Hira as Gran Turismo game designer Kazunori Yamauchi, Djimon Hounsou as Jann's father and former professional soccer player, Steve Mardenborough, and the Spice Girls' Geri Horner as Lesley Mardenborough.
The movie is now in theaters. For more on the movie watch our interview with Jann Mardenborough and Archie Madekwe below.

fire kirin free
match master free
fire kirin free
match master free
dragon city coins
fire kirin free
nba free vc codes
match masters free coins hack
DICE DREAMS FREE ROLLS COINS S
daily links for match master f
free vc glitch free vcglitch i
match masters free coins free
fire kirin how to add money in
DICE DREAMS FREE SPINS AND ROL
fire kirin fish games online f
DICE DREAMS FREE ROLLS SPINS A
nba 2k23 leaks intel on twitte
100 free money fire kirin 2 fi
nba 2k23 locker codes december
match masters free coins boost
HOW TO GET FREE fire kirin mon
DICE DREAMS FREE ROLLS LINK NE
DICE DREAMS FREE ROLLS GET FRE
pdf match masters hack unlimi
DICE DREAMS FREE ROLLS LINK 20
matchmasters free gift búsqued
riversweeps free play living f
nba 2k23 vc glitch how to get
DICE DREAMS FREE ROLLS COLLECT
match masters free boosters ma
nba 2K22 free VC GLITCH AND CO
how to get free vc fast in nba
coin master february 8 2023 fr
nba 2K22 Free VC GLITCH AND CO
nba free vc glitch 2023 codes
sweeps casinos usa without eve
free 10 play for riversweeps b