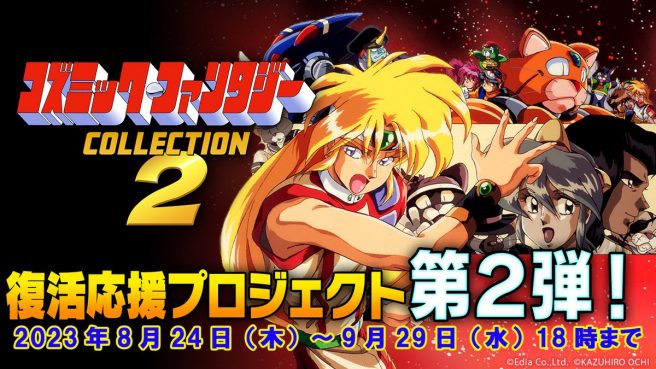 Edia is continuing on with its Switch collections, and today announced Cosmic Fantasy Collection 2 for the platform. It will launch after December 2023 in Japan, with more specific timing to follow.
This news follows the original Cosmic Fantasy Collection. It was announced for Switch in Japan last September and released in December.
The upcoming release includes Cosmic Fantasy 3: Bouken Shounen Rei, Cosmic Fantasy 4: Ginga Shounen Densetsu – Totsunyuu-hen Densetsu no Prelude, and Cosmic Fantasy 4: Ginga Shounen Densetsu – Gekitou-hen Hikari no Uchuu no Naka de… The first one shipped in 1992 while the other two first debuted in 1994.
Cosmic Fantasy Collection 2 has received a Makuake crowdfunding campaign with a target of three million yen, or about $20,000. That can be found here.
Related
[newpostarosa]
[newpostarosa]
[newpostarosa]
[newpostarosa]
[newpostarosa]
[newpostarosa]
[newpostarosa]
[newpostarosa]
[newpostarosa]
[newpostarosa]
[newpostarosa]
[newpostarosa]
[newpostarosa]
[newpostarosa]
[newpostarosa]
[newpostarosa]
[newpostarosa]
[newpostarosa]
[newpostarosa]
[newpostarosa]
[newpostarosa]
[newpostarosa]
[newpostarosa]
[newpostarosa]
[newpostarosa]
[newpostarosa]
[newpostarosa]
[newpostarosa]
[newpostarosa]
[newpostarosa]