Summary
Zachary Levi is open to returning as Flynn in a live-action Tangled remake but only if Florence Pugh is cast as Rapunzel.
Levi acknowledges his age may be an issue for playing the character since Rapunzel is 17 turning 18 in the story.
While there is no concrete news on a live-action Tangled, it would make sense for Flynn and Rapunzel to return, and Levi is enthusiastic about reprising his role if given the chance.
Zachary Levi has opened up about a potential return as Flynn in a live-action Tangled remake, but only if a specific actor were cast as Rapunzel. The original Disney animated film is an adaptation of Rapunzel, where the typical prince who rescues her from her tower is actually a thief named Flynn, played by Levi. Since its release in 2010, the film has maintained popularity as one of Disney's classic princess films.
Now, The Fan Club has uploaded a video of Levi speaking at FAN EXPO Chicago on August 14, where he addresses the possibility of returning as Flynn in a live-action remake of Tangled.
In Levi's answer, which starts at 24:21, he talks about how, while he'd like to come back as Flynn, his age may be an issue. However, he addresses rumors that Florence Pugh is in talks to play Rapunzel in a remake, describing the comedic reason he'd return if she was cast. Check out what Levi had to say below:
So here's the thing. I've had people come out to me for years now because there's always been these rumors of 'Oh, will there be a Tangled Broadway show?' Or 'The movie with the hair Broadway show?'…. And, or, a live-action version of said movie. And they go 'You're gonna be the guy you played in the thing, right? You're gonna do that?' And as much as I am honored that they would want me to continue playing the best prince ever.

Listen, I would love…to do another iteration…I would love to do it. But also, I am…per the story, Rapunzel is 17 turning 18. And, uh, I don't know…not that I haven't been younged down for some other roles, but I don't know.

There was this thing floating around the Internet, I just saw it earlier. Someone sent me that Florence Pugh potentially might play the role of Rapunzel [in Tangled]. And if Florence played Rapunzel, maybe! Which would also be a trip because my real last name is Pugh, by the way…so you'd have a 'Pugh Pugh' in Tangled? Come on! That would be really funny. But, from a story perspective, I'm not 24.
Will A Live-Action Tangled Happen?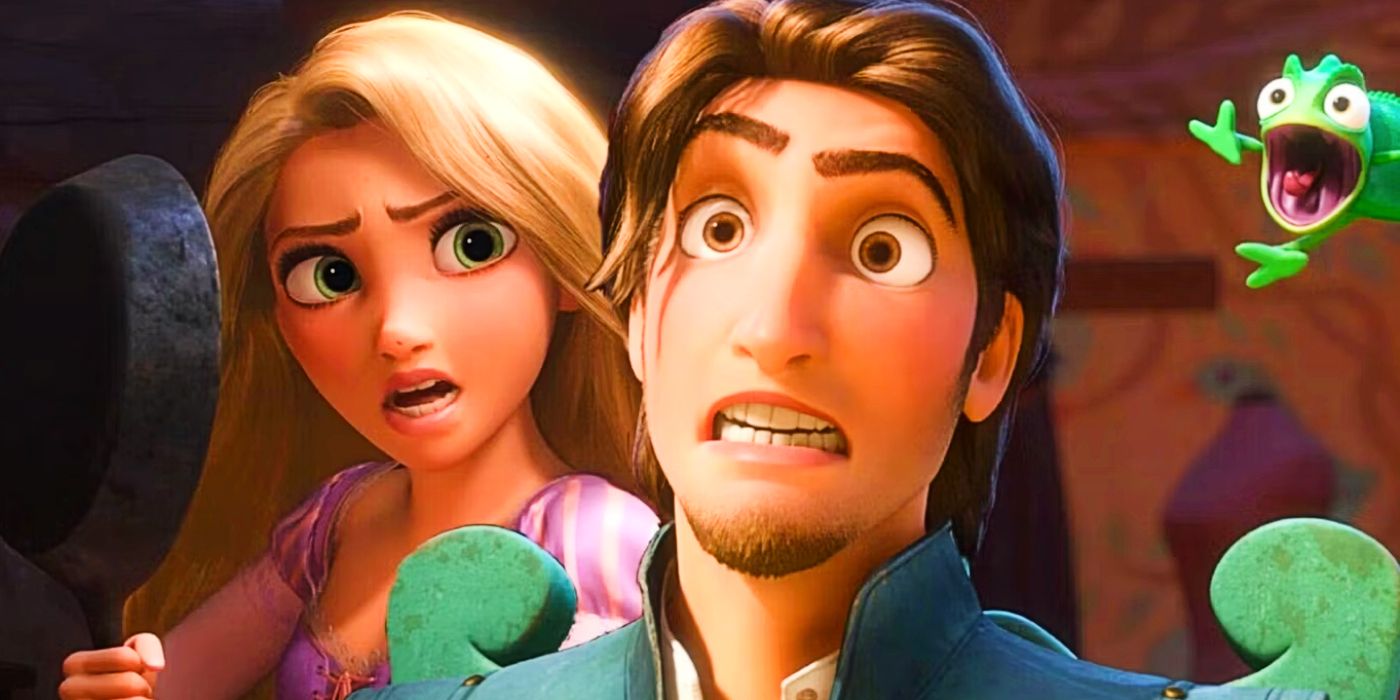 Despite no concrete news on if it would happen, there is a chance Disney will develop a live-action version of Tangled in the future. In 2020, it was reported that Disney was developing a live-action Rapunzel movie, though without any details on whether it would be inspired by their animated version. However, it would make sense for Flynn and Rapunzel to return in live-action form, given the original movie already exists as a blueprint.
While it's unconfirmed if Pugh really would play Rapunzel, she would be a fitting choice for the 18-year-old character. However, as Levi, who is 42, points out, the age difference between his Flynn and a possible new Rapunzel may not be fitting for the story. Even so, it's clear Levi is enthusiastic about the idea of returning as Flynn, showing that he loves the role enough to come back if given the chance.
Disney has already developed live-action versions of their classic Disney princess films like Cinderella and The Little Mermaid, with a remake of 2016's Moana already slated for 2025. Because of this, it wouldn't be surprising if a live-action Tangled is already being developed. For now, though, Pugh's casting is only speculation, which doesn't guarantee Levi's return depending on Disney's plans.
Source: The Fan Club/YouTube
fire kirin free
match master free
fire kirin free
match master free
dragon city coins
fire kirin free
nba free vc codes
match masters free coins hack
DICE DREAMS FREE ROLLS COINS S
daily links for match master f
free vc glitch free vcglitch i
match masters free coins free
fire kirin how to add money in
DICE DREAMS FREE SPINS AND ROL
fire kirin fish games online f
DICE DREAMS FREE ROLLS SPINS A
nba 2k23 leaks intel on twitte
100 free money fire kirin 2 fi
nba 2k23 locker codes december
match masters free coins boost
HOW TO GET FREE fire kirin mon
DICE DREAMS FREE ROLLS LINK NE
DICE DREAMS FREE ROLLS GET FRE
pdf match masters hack unlimi
DICE DREAMS FREE ROLLS LINK 20
matchmasters free gift búsqued
riversweeps free play living f
nba 2k23 vc glitch how to get
DICE DREAMS FREE ROLLS COLLECT
match masters free boosters ma
nba 2K22 free VC GLITCH AND CO
how to get free vc fast in nba
coin master february 8 2023 fr
nba 2K22 Free VC GLITCH AND CO
nba free vc glitch 2023 codes
sweeps casinos usa without eve
free 10 play for riversweeps b