The Big Picture
Miles Teller's first big movie role came after a near-death car accident that left him with scars, which actually worked in his favor during auditions.
Teller showcased his talent as a dramatic actor in Rabbit Hole, playing a reserved artist who forms an unlikely bond with Nicole Kidman's character.
The impactful emotional moments Teller delivers in Rabbit Hole demonstrate his ability to convey deep emotions without speaking, setting him apart from other actors.
Every actor probably has a great story about how they got into the business, or some anecdote concerning what landed them their first big gig. Miles Teller has an unbelievable tale that led to his first feature film role in the 2010 tearjerker drama Rabbit Hole, adapted from the 2006 Broadway play by David Lindsay-Abaire. The movie stars Nicole Kidman and Aaron Eckhart as two parents struggling to deal with the loss of their 4-year-old son. But it's a shaggy-haired, chubby-faced very young-looking 23-year-old Teller that steals the show. Both his performance as Jason, which established him as a legitimate dramatic actor, and the way he landed the part are worthy of attention. Sometimes truth really is stranger than fiction, and the unbelievable yarn is just as worthy as the nuanced and layered performance he delivers in the movie. Let's begin with the most unlikely coincidences that landed him on the big screen, and then we'll dig into his earnest and organic debut performance as well.
Miles Teller's Horrifying Near-Death Accident Led to 'Rabbit Hole'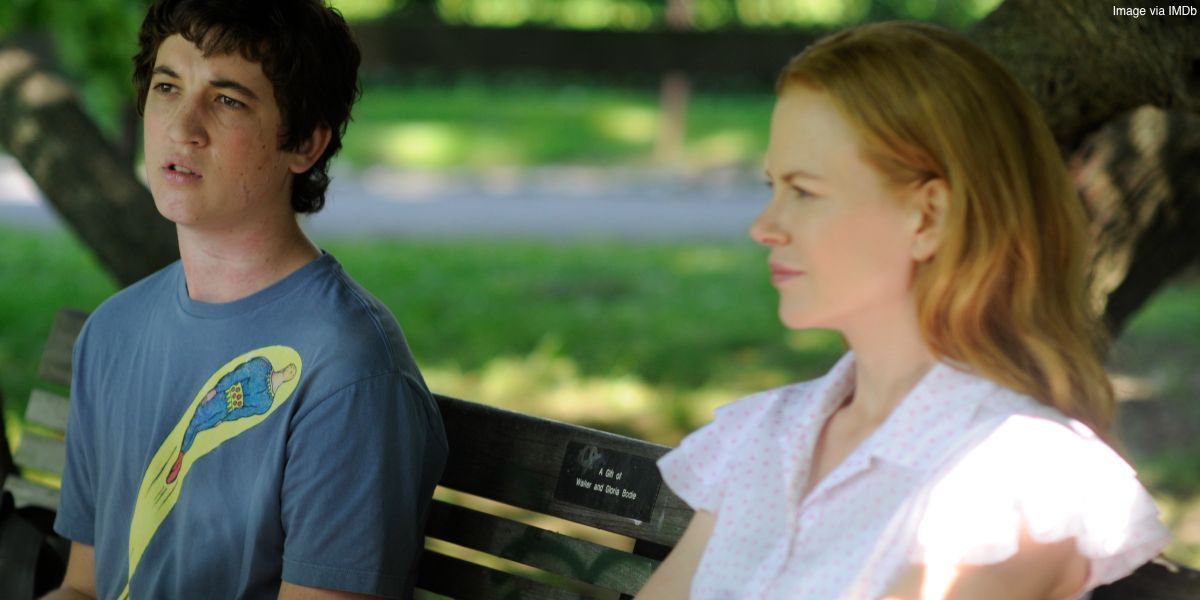 According to an interview with W, Miles Teller was exactly the kind of kid we've seen him play so very well in movies like the remake of Footloose, 21 & Over, and That Awkward Moment. He was a good athlete who starred in several sports in high school and was popular with his classmates to the tune of being named homecoming king his senior year. But it was after a horrifying car accident a couple of years later that made Teller realize it was time to step it up and pursue his acting career like a professional. He spoke about the pivotal moment, saying, "When I was 20, I was in a car accident. Some friends and I had been at the Gathering of the Vibes, a Deadhead festival in Connecticut, and we were driving back to my hometown in Florida. My buddy lost control of the car, jumped three lanes of traffic, and the car flipped eight times. I went out the window before the car started to roll. Everyone was yelling, 'Where's Miles?!' I was covered in blood by the side of the road."
RELATED: 'Whiplash' and 10 More Miles Teller Performances to Check Out After 'Spiderhead'
Did you know that Teller came so close to dying as a 20-year-old? It's an unbelievable story, and he had to have 20 staples put into his left shoulder while also sustaining a broken wrist, and deep gashes on the left side of his body. If you look closely, you can see some scarring still on his cheek and chin area. But it worked in his favor with director John Cameron Mitchell, as he relates, "I played a guy who is the catalyst for a deadly accident. The director thought it helped that I had scars." The fact that it turned out to be positive is just one of those things in life that is hard to explain but makes for a great breakout story. And certainly, one that will put life in perspective and light a fire under your ass to start living for the day.
Miles Teller Plays Against Type in 'Rabbit Hole'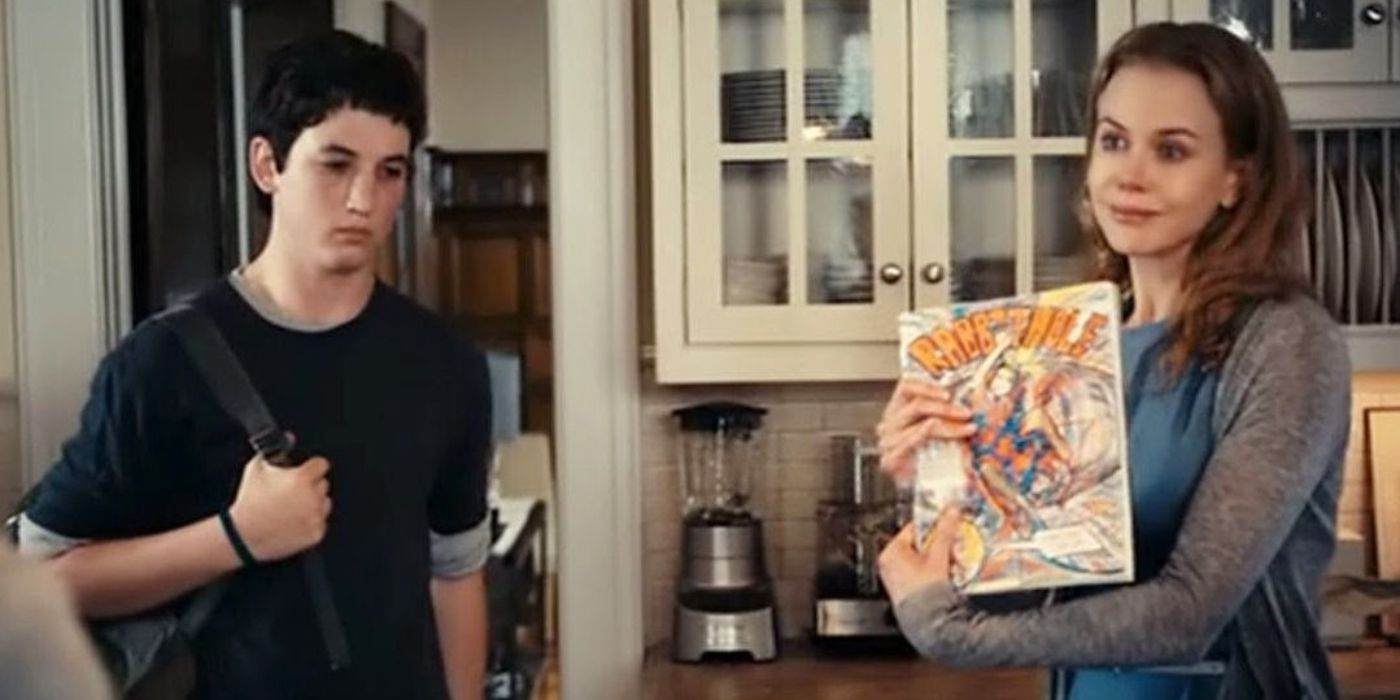 Miles Teller is known for his brash and emotionally charged roles like in Whiplash, War Dogs, and more recently in Top Gun: Maverick. So when you see him as a very shy and reserved artist named Jason who enjoys meeting with Becca (Kidman) on a park bench and having quiet cathartic therapy sessions about the tragic events that have inexorably bonded them, it's a little different. Their relationship has a dynamic to it that is hard to place, but also has an uncanny level of comfort. As the man who accidentally killed her son with his car, there is an unspoken distance between them that only getting to know one another seems to soothe. Teller should really do more of the soft-spoken, sensitive types because he is incredibly gifted with the material and shines in Rabbit Hole with limited screen time.
Teller also told Variety how his relative inexperience also worked in his favor with the A-list lead Nicole Kidman, "I had no film credits. Nicole Kidman will tell you she saw me blush, and she really liked that. When I auditioned, my character blushed. She thought it was so honest and real." Like we said, it's a truly organic story and even though Teller has made hay in Hollywood playing larger-than-life and charismatic types, he got his start by being who he is and by doing what comes naturally.
The Moment in 'Rabbit Hole' When You Know Miles Teller Will Be a Star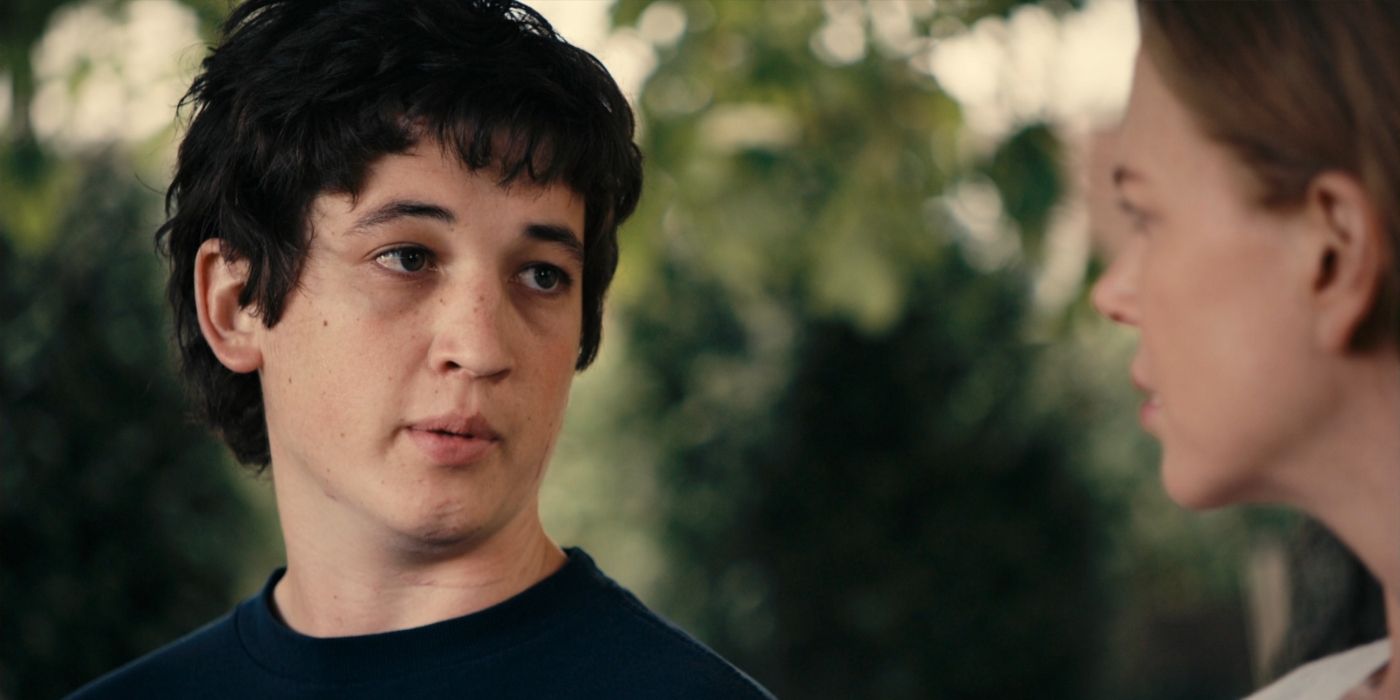 There are a number of emotional moments in Rabbit Hole and the entire film has a very despondent tone that you would expect with such sensitive material, but there is a sequence of two tight shots of Teller that leave you breathless and watching the film again. They serve as a reminder why he has been so successful in the industry. Toward the very end of the movie, there's a sequence that depicts the events of the tragic day when the accident takes place. As Jason gets out of the car, he sees the look of utter shock and devastation on Becca's face having witnessed the death of her only child. It is absolutely heartbreaking but made all the more impactful by the look that Teller matches Kidman with. It's a tight shot of him getting out of the car and looking back at her with a gut-wrenching look of confusion and bewilderment.
It is the unspoken emotion that he brings to this role and many since that separates him from other actors. A second shot of Teller as Jason is another tight shot of him as he is riding in a convertible car headed off to prom and sees Becca parked across the street bawling at the idea that she will never experience that moment with her son. Again, Teller conveys such enormous emotion with the look on his face. He is both shocked and stricken with sadness to see her in that state. Both moments happen within 20 seconds of each other and if you watch the movie, or rewatch it, you'll see exactly what we're talking about.
You also get a taste of it in his portrayal of Bradley "Rooster" Bradshaw in Top Gun: Maverick during some of the exchanges between him and Tom Cruise's Pete Mitchell. Catch Miles Teller in upcoming projects The Ark and the Aardvark as the voice of Gilbert in 2024, and The Gorge, which is still in production, or go back and see the one that started his journey to movie stardom in Rabbit Hole.
fire kirin free
match master free
fire kirin free
match master free
dragon city coins
fire kirin free
nba free vc codes
match masters free coins hack
DICE DREAMS FREE ROLLS COINS S
daily links for match master f
free vc glitch free vcglitch i
match masters free coins free
fire kirin how to add money in
DICE DREAMS FREE SPINS AND ROL
fire kirin fish games online f
DICE DREAMS FREE ROLLS SPINS A
nba 2k23 leaks intel on twitte
100 free money fire kirin 2 fi
nba 2k23 locker codes december
match masters free coins boost
HOW TO GET FREE fire kirin mon
DICE DREAMS FREE ROLLS LINK NE
DICE DREAMS FREE ROLLS GET FRE
pdf match masters hack unlimi
DICE DREAMS FREE ROLLS LINK 20
matchmasters free gift búsqued
riversweeps free play living f
nba 2k23 vc glitch how to get
DICE DREAMS FREE ROLLS COLLECT
match masters free boosters ma
nba 2K22 free VC GLITCH AND CO
how to get free vc fast in nba
coin master february 8 2023 fr
nba 2K22 Free VC GLITCH AND CO
nba free vc glitch 2023 codes
sweeps casinos usa without eve
free 10 play for riversweeps b