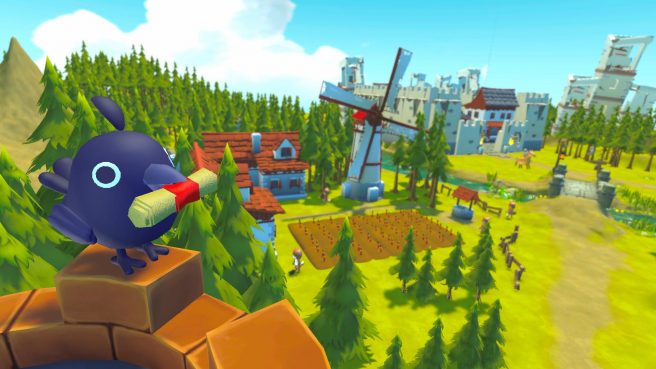 Unbound Creations, the developer behind Rain on Your Parade, has unveiled Just Crow Things as its next project – and it'll be on Switch. The studio is still figuring out launch timing, but 2024 is "likely".
Just Crow Things is officially described as a "sandbox-y adventure game" and "a wholesome yet mischevious birb simulator". Additional information can be found in the following overview:
Play as a cute crow, fly around town, poop on people, and steal their shiny trinkets! In this sandbox-y adventure game, help your animal friends create adorable chaos and have a beak-tastic time customizing your adorable crow appearance! Why? Just caws!

In this level-based, sandbox-y adventure game, you play as an adorable crow with one dream – to join the Cool Crow Clique! But to do so, you must prove you're the coolest bird in town. In each level, you will earn the trust of your animal friends by doing them favors and slowly building up your Crowputation. Some tasks will test your skill, some will test your intellect, and some are just really dumb. Either way – there's something for everyone here!

You can spread your wings and soar to new heights of cuteness as you customize your adorable crow-tastic appearance!
The first trailer for Just Crow Things should be coming in soon – we'll update this post when it's live.
Access the official website here.
Related
[newpostarosa]
[newpostarosa]
[newpostarosa]
[newpostarosa]
[newpostarosa]
[newpostarosa]
[newpostarosa]
[newpostarosa]
[newpostarosa]
[newpostarosa]
[newpostarosa]
[newpostarosa]
[newpostarosa]
[newpostarosa]
[newpostarosa]
[newpostarosa]
[newpostarosa]
[newpostarosa]
[newpostarosa]
[newpostarosa]
[newpostarosa]
[newpostarosa]
[newpostarosa]
[newpostarosa]
[newpostarosa]
[newpostarosa]
[newpostarosa]
[newpostarosa]
[newpostarosa]
[newpostarosa]