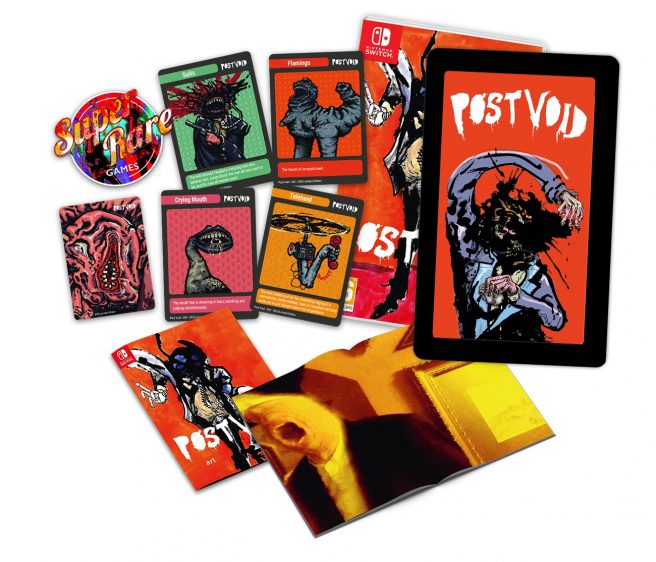 Super Rare Games is working on a physical version of Post Void for Switch, the company announced today.
The title will have 3,000 copies, split between 2,000 standard editions and 1,000 steelbooks. The standard version comes with the game on a physical cartridge, a full-color manual, an exclusive sticker, and trading cards. The Steelbook Edition has everything we just mentioned plus the stylish steelbook case.
Post Void first appeared on the eShop this past March. Learn more about it below.
Post Void is a hypnotic scramble of early first-person shooter design that values speed above all else. Keep your head full and reach the end. Kill what you can to see it mend. Get the high score or try again.

An incredibly fast-paced, surreal headache of an FPS where the rules are very simple – make it to the end of the level. The only way to live is to keep killing to stop your health idol from running out. Gain upgrades at the end of each level and try to reach the end of the void in a single run. POST VOID is fast, frantic, adrenaline-pumping action that requires speed, skill, and determination.

An all-out assault on the senses, from its daringly unique visual aesthetics and hypnotic animations, to its blink-and-you'll-miss-it lightning speed action.
You can pre-order the physical release of Post Void for Switch starting on August 24, 2023 at 10 AM PT / 1 PM ET / 6 PM in the UK / 7 PM in Europe here. Copies should ship soon after.
Related
[newpostarosa]
[newpostarosa]
[newpostarosa]
[newpostarosa]
[newpostarosa]
[newpostarosa]
[newpostarosa]
[newpostarosa]
[newpostarosa]
[newpostarosa]
[newpostarosa]
[newpostarosa]
[newpostarosa]
[newpostarosa]
[newpostarosa]
[newpostarosa]
[newpostarosa]
[newpostarosa]
[newpostarosa]
[newpostarosa]
[newpostarosa]
[newpostarosa]
[newpostarosa]
[newpostarosa]
[newpostarosa]
[newpostarosa]
[newpostarosa]
[newpostarosa]
[newpostarosa]
[newpostarosa]